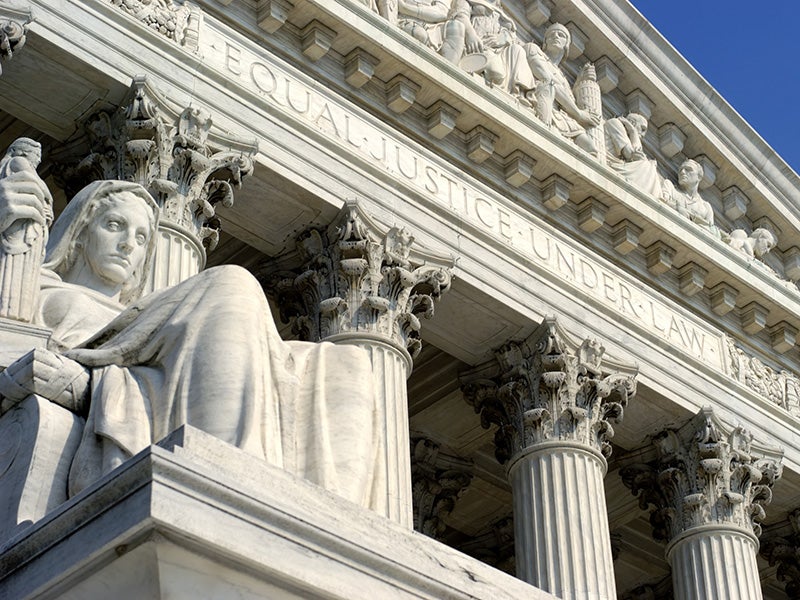 Jason Speros / Shutterstock
OUR STRATEGY
As expert legal strategists, we take on the big environmental fights—high-stakes cases where we can have an enduring impact—and stick with them until we win.
High Stakes: Will something significant be lost or gained?
Landmark Impact: Will a positive ruling set a powerful precedent for other cases and help set national policy across the country?
Strong Partnerships: Will the lawsuit help build strong, lasting partnerships with diverse local and/or national groups?
Unique Expertise: Can Earthjustice leverage its expertise and resources to add value to a case in a unique way?
CORNERSTONE ENVIRONMENTAL LAWS
"I can't imagine what our country would be like without our cornerstone environmental laws, but I know we would be less of a people and America would be less magnificent."
- Trip Van Noppen, Earthjustice President
We rely on five cornerstone laws to achieve big wins for the environment.
ENDANGERED SPECIES ACT (ESA)
Earthjustice uses the ESA to protect imperiled species and their habitats. Retired Earthjustice attorney Mike Sherwood pioneered this important work with precedent setting efforts in the '70s and '80s to protect West Coast salmon and the palila. After decades of work, we've secured ESA protection for more than a thousand plants and animals—and our fights continue in defense of wolves, grizzly bears, bowhead whales, salmon and a host of other creatures.
CLEAN AIR ACT
Earthjustice wields the Clean Air Act to protect everybody's right to breathe. Our ongoing efforts to reduce harmful air pollutants such as mercury, soot, ozone and lead have yielded clean air standards that save tens of thousands of lives annually and reduce the health care costs associated with breathing dirty air by billions of dollars. Our current efforts include desperately needed reductions in ozone and the toxic pollution burden emitted by oil refineries and other heavy industry. Our litigation also helped establish the first-ever carbon pollution standards for power plants.
CLEAN WATER ACT
Earthjustice uses the Clean Water Act to ensure the nation's waters are clean and safe for drinking, fishing, swimming, wildlife habitat and other uses. We helped establish the precedent that water is a public trust, not private property, and have achieved critical victories for waterways throughout the U.S. Current cases include ongoing efforts to save Florida's waterways from choking due to toxic slime, replenish Hawaii stream flows, and keep fracking chemicals out of our water supplies.
NATIONAL FOREST MANAGEMENT ACT (NFMA)
Earthjustice harnesses NFMA to keep the nation's wild forests from becoming lumber and pulp. We've scored huge victories that safeguard wildlife habitat, waterways and recreation in our national forests—including our 13-year defense of the Roadless Rule, which protects more than 50 million acres of beautiful national forest from development. We're now working to preserve the Tongass—the gem of the national forest system—and ensure sound management of forestlands in the Sierra Nevada and beyond.
NATIONAL ENVIRONMENTAL POLICY ACT (NEPA)
Earthjustice uses NEPA, the law that requires environmental impact statements for projects permitted by the federal government, in a huge range of our work. It is a thread that runs through our efforts to protect public lands and waterways, stop genetically modified food, keep oil companies from ravaging the Arctic, and defend endangered species, among many other things.
THE COURTS
The federal court system has three tiers—district court, court of appeals and the Supreme Court. Most of our national cases start in district court and are resolved in the court of appeals. In rare instances, our cases end up in the Supreme Court.
State court systems are more complicated and variable, though most follow a structure very similar to the federal system. We are engaged in a number of cases in state court systems around the country. See highlights from this year's legal docket.
ADVOCACY CAMPAIGNS
To truly win for the environment, Earthjustice must be effective both in the courtroom and in the court of public opinion. Our communications team in San Francisco, CA, and Washington, D.C. builds public awareness and support for action on climate change, fracking, Arctic oil drilling and other threats to our air, water, health and vibrant ecosystems.
POLICY & LEGISLATION
Holding polluters accountable requires strong environmental laws that stay strong. Every year, anti-environmental lawmakers seek to gut environmental protections and roll back our victories. Our policy and legislation team in Washington, D.C. works with members of Congress to keep environmental laws strong and ensure that our courtroom gains aren't overturned.
INTERNATIONAL
Environmental protection is truly a global issue. Our international team, based in San Francisco, CA, focuses on human rights, climate change and international trade.
YOU
The generous support of tens of thousands of individuals like you allows us to take on the most important cases and stick with them for as long as it takes.
Earthjustice Divests from Fossil Fuels
Earthjustice recognizes climate change as one of the greatest threats to the global environment and human well-being. We also recognize divestment from fossil fuels as one of the strategies to speed the needed transition to a low-carbon clean energy economy. Earthjustice has made a commitment to divest from fossil fuels and to self-review our progress toward divestment on an annual basis.
Fast Facts
Average Case Load: 300
# of Attorneys: 93
# of Clients: 1,000+
Victories per Year: 50+
Offices: 12
Supporters: 1 Million and Counting!