Turning the Tide on Ocean Stressors: A Down to Earth Interview With Managing Attorney Steve Roady
For more than a decade, Steve Roady has been litigating cases that help protect our oceans from pollution, overfishing and habitat loss. Earthjustice is also ramping up efforts to mitigate climate change impacts to the ocean, such as sea level rise and ocean acidification.
Steve Roady is managing attorney of the oceans program. He spoke with Associate Editor Jessica Knoblauch in September of 2011.
Interview Highlights
Jessica Knoblauch: Steve Roady, welcome to Down to Earth . How did you first become interested in oceans issues?
Steve Roady: Growing up on the Gulf coast in Florida was my first exposure to the oceans and some of the issues involved. I spent a lot of time on the beaches as a child and was always fascinated by the shrimp boats that would float by just offshore. I really first became aware of some of the key problems in the environment when I was in middle school. In eighth grade we were all required to read Rachel Carson's classic book, Silent Spring . It had a huge effect on me. The idea that birds were dying because of DDT was just amazing to me—and very troubling.
Earthjustice's History on Oceans Work
Jessica: When did Earthjustice first look into oceans issues?
Steve: It's fair to say that Earthjustice was one of the leading groups to begin looking at oceans' problems, back in the late-1990s. We were basically working with three or four of your standard federal environmental laws. We went about enforcing the Magnuson-Stevens Act , the main federal fisheries act, which directs the federal government to prevent overfishing and to deal with minimizing bycatch—the practice of catching unwanted species and discarding them—and to deal with habitat protection and rebuilding overfished fish populations.
The second major statute we used was the National Environmental Policy Act (NEPA), which mandates that the federal government carefully study the environmental effects of its actions before it takes them. In many instances the federal agency that's charged with managing fisheries, the National Marine Fisheries Service, had really done a very sloppy job of examining the environmental impacts of setting quotas and allowing fishing.
We also invoked the Endangered Species Act because a lot of sea turtles listed as protected under the Endangered Species Act are killed as so-called bycatch in trawl fisheries around the country. So we invoked all of these statutes in an effort to try to curb the, in our view, pretty unrestrained fishing practices going on in federal fisheries in the U.S.
A baby green sea turtle hatchling heads for the open sea. Once commonly found in oceans all over the world, many sea turtle species are now highly endangered because of human activity.
DAVID DOUBILET / DAVIDDOUBILET.COM
Challenges of Protecting the Ocean
Jessica: What are the challenges with protecting ocean resources?
Steve: Part of the challenge of dealing with the oceans is that we don't live in the oceans. We are land-based animals after all. Maybe even more importantly we can't see into the oceans, so we really can't see the status of the resource. If you're regulating wolves, for example, you can at least have some idea how many wolves you're dealing with. But if you're regulating fish, the best you can do is take a few trawl samples and do some modeling, but at best you're making an educated guess about the resource, so it's a challenge.
We are land-based animals after all. Part of the challenge of dealing with the oceans is that we don't live in the oceans. And maybe even more importantly we can't see into the oceans, so we really can't see what the status of the resource is.
When we started the Ocean Law Project, the public perception of the oceans was a little bit like we were back in 1818 when Lord Byron wrote that famous poem that talked about how man's ability to ruin stops with the shore, that the oceans are vast and inexhaustible. I think that perception has changed a little over the past decade or so as more stories have come out about overfishing, pollution and problems in the oceans. Still, I think a lot of people just have no idea how badly depleted a lot of these ocean species are.
Jessica: Another problem may be that as soon as one species of fish is wiped out, the fishery industry just goes farther and deeper into the ocean to find a different fish to replace the endangered fish.
Steve: The classic example of that is the Patagonian toothfish, otherwise known as the Chilean sea bass. The fishermen discovered that fish sometime in the 1990s and began just hammering it. All of a sudden everybody was eating Chilean sea bass. As a result, they've wiped out large portions of that fish in the southern ocean. Part of the dilemma that the fishing industry faces is that we're running out of tuna-like fish and fish like the Patagonia toothfish, the so-called white meat fish.
Climate Change & Oceans
Jessica: How has climate change affected Earthjustice's oceans work?
Steve: Climate change has affected our work in several ways. First of all, one of the many odious aspects of climate change is a phenomenon called ocean acidification, which means that as we load increasing amounts of carbon dioxide into the atmosphere, we end up making the oceans gradually more acidic. That, in turn, retards the ability of a lot of shell-forming species to grow and develop, including species that are fed upon by fish and also coral reef-forming structures.
So you are both losing reefs and also gradually losing little critters like pteropods. The fish that rely upon the reefs and these small shell-based creatures for food are obviously threatened. It is a serious concern that the fishery managers have not yet, in any systematic way, factored in climate change-induced problems into their regulation of the fisheries.
The basic problem with ocean acidification is that, at this point, it's inevitable to some degree. We've loaded enough carbon dioxide into the air already that even if everybody stopped driving to work, etc., there is still enough CO 2 in the atmosphere to cause the oceans to acidify more. The only question is, how much more? It's pretty sobering stuff.
Reef front at Number 6 Sand Cay, Great Barrier Reef, Australia. Ocean acidification is destroying coral reefs.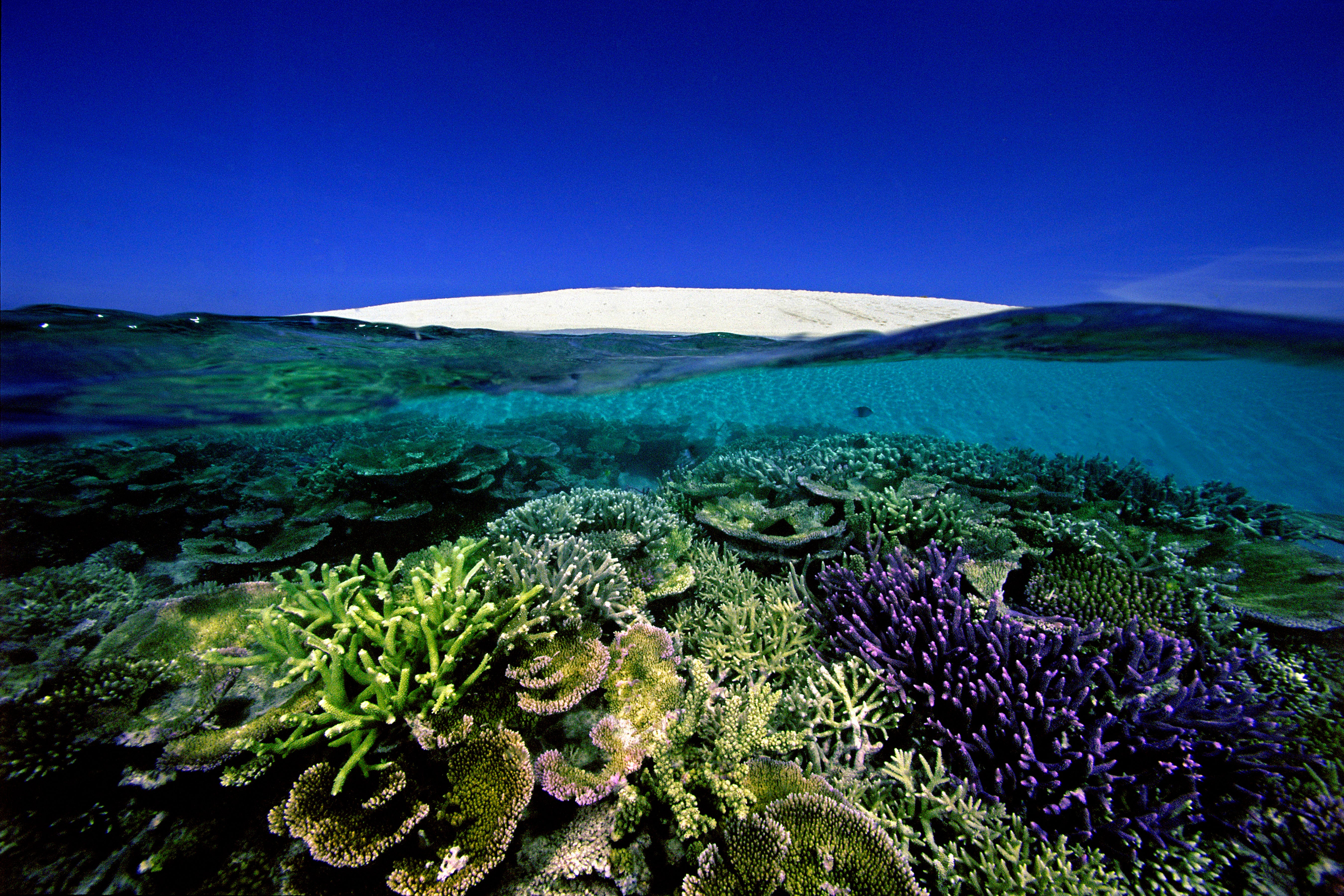 DAVID DOUBILET / DAVIDDOUBILET.COM
Working Smart: Strategic Litigation
Jessica: With so many different threats facing our oceans, how does Earthjustice decide which issues to focus on first?
Steve: We're living in a target-rich environment in terms of going after the government for failing to take action, so we bring selective lawsuits that attempt to force the government to do a better job.
In terms of pollution, we are working to reduce land-based sources of pollution through cases being brought by our Seattle and Washington, D.C. offices. We're trying to reduce the amount of pollution flowing into estuaries that affects fish habitat. Many scientists tell us that, in order to make habitat structures, reefs and outcroppings more resilient to climate change, we need to reduce pollution and overfishing of the fish that rely upon the reefs. In our Seattle office, they're working very hard to deal with land-based sources of pollution that flow into Puget Sound. This effort will protect, among other things, the orca resident population of Puget Sound.
We're also looking hard at a new initiative that protects forage fish like sardines on the west coast. In fact there's a national effort underway, spearheaded largely by the Pew Environment Group, to protect forage fish populations. The notion is that forage fish play a really key role in the ocean food web by serving as the food for a lot of higher-level species. If they get overfished, you may have a cascading effect where you lose some of these higher level species.
Sustainable Fisheries
Jessica: How do fishermen feel about cutting back on the number of fish that they catch?
Steve: There are several very conscientious commercial fishing groups in New England and on the Pacific Coast that fundamentally understand, because they're out on the water every day, that some of these fish populations are in trouble. They also understand that it's in their own economic self-interest to make sure these fish populations stay robust.
We've been working with these fishermen for a number of years to help advance constructive solutions to sustainable fishing. We think sustainable fishing is really the only way to go. It works for both the fishermen and for the fish.
Genetically Engineered Fish
Jessica: What about the idea of genetically modifying fish to make them grow bigger more quickly?
Steve: We are actually looking very closely at one application pending in front of the federal Food and Drug Administration (FDA) by a company that is attempting to get a permit to grow genetically engineered (GE) salmon and to sell the product here in the U.S. We have been quite instrumental in working with a number of groups who are concerned about this application. Their specific concern is that the FDA has not adequately analyzed the environmental impacts of introducing this particular genetically engineered animal into the U.S.
One potential impact is that you might end up with a so-called sterilization problem if the GE fish—not all of which are sterile—were accidently released into the wild. We have seen recent scientific reports suggesting that if such a fish escaped, it might contaminate the wild populations of fish and could even lead to wiping out parts of the wild fish population over a number of generations. The science on this is still evolving, so one of the points we're making in our comments to the FDA is that they need to really carefully evaluate these potential issues before they move forward.
Earthjustice's Unique Role in Oceans Work
Jessica: How is Earthjustice's work unique from other organizations that work on oceans issues?
Steve: It comes down to what we do best, which is to take major precedent-setting cases to court and to make sure the federal government is complying with the basic thrust of the laws that protect oceans. Since we started the Ocean Law Project back in 1998, we've had a number of wins in the courts that set some significant precedents with respect to how the federal government manages ocean resources. Typically we bring a case on behalf of other groups, so if we win the precedent trickles down to everybody's benefit.
For example, there's fairly well known case that I'm told now appears in a lot of environmental law textbooks around the country. It was a case on summer flounder that we won in 2000 in the D.C. Circuit. It established a precedent that when the government sets a quota for an overfished population to try to rebuild the population, that quota must have at least a 50 percent chance of succeeding in ending overfishing and rebuilding the population. The government had been trying to set a quota of less than one-in-five chance and we got the court to say no, you have to do much better than that. Since then, that precedent has been used by a number of groups to put pressure on the government to increase the probability that its quota will rebuild fish populations and end overfishing. So that's the kind of thing we do is set a precedent that gains momentum over the years.
Stewardship of the Ocean, Our Coasts, and the Great Lakes
Jessica: In July 2010, President Obama signed an executive order establishing a national policy for the stewardship of the oceans. Are you familiar with that policy and, if so, how has it affected Earthjustice's work?
Steve: We are quite familiar with that policy because we actually provided members of the Obama administration with some advice and support when they were putting that policy together. We think it's a wonderful policy because it promotes the idea that the federal government is a steward—basically a public trust trustee of ocean resources. We think that's a very sound and important principle to establish. It's a little bit early to say how much influence that policy is going to have, but it has great promise.
Jessica: Steve, thank you so much for your time.
Steve Roady leads the oceans litigation efforts at Earthjustice. If you'd like to learn more about Earthjustice's oceans work, check out earthjustice.org/oceans .
For more interviews with environmental experts, please be sure to check out other Down to Earth episodes at earthjustice.org/DownToEarth .
Interview highlights have been edited for brevity and clarity.
Listen to more Down to Earth episodes and subscribe to the podcast through iTunes and Soundcloud.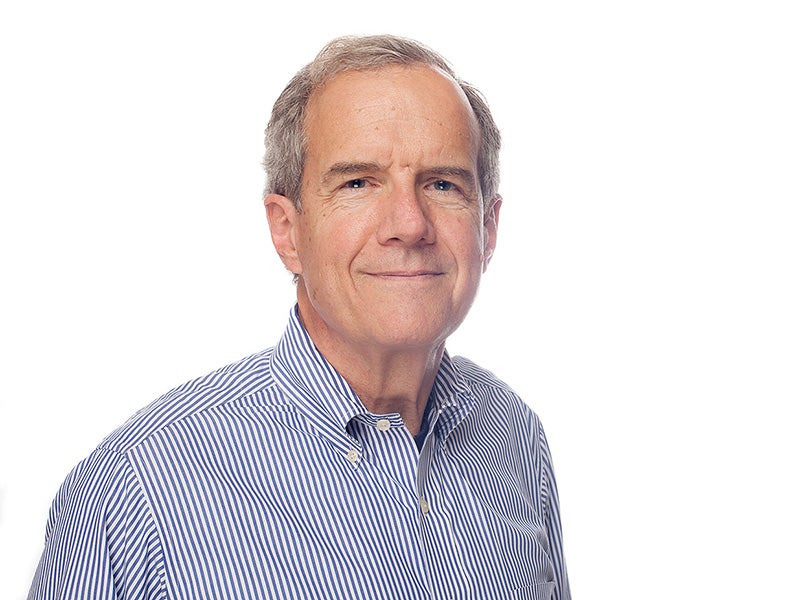 "When we started the Ocean Law Project, the public perception of the oceans was a little bit like we were back in 1818 when Lord Byron wrote that famous poem that talked about how man's ability to ruin stops with the shore, that the oceans are vast and inexhaustible.
I think that perception has changed a little over the past decade or so as more stories have come out about overfishing, pollution and problems in the oceans."