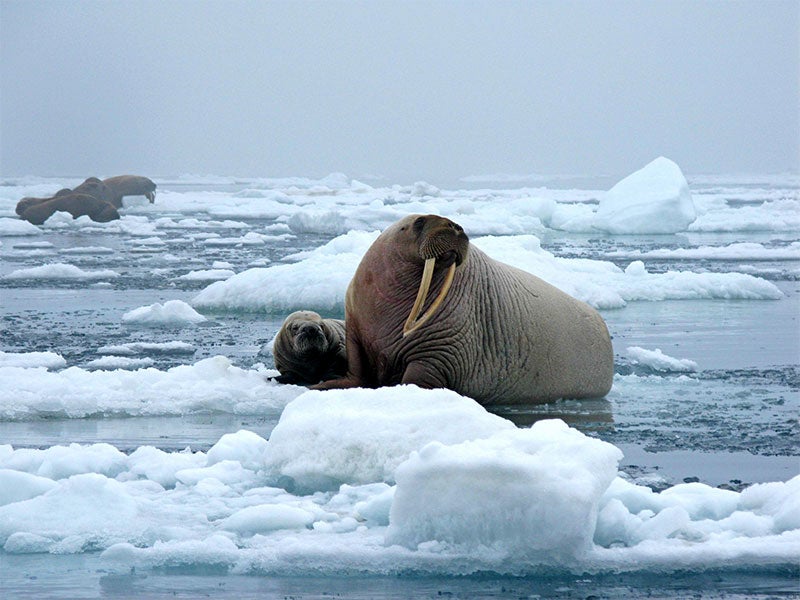 Sarah Sonsthagen / U.S. Geological Survey
Case Overview
Alaska's Chukchi Sea, part of America's Arctic, provides vital habitat for polar bears, endangered bowhead whales, walrus, beluga whales, seals, fish and marine birds. Alaska native communities along the Chukchi Sea practice a subsistence way of life and have depended on the resources of this sea for their cultural and nutritional well-being for thousands of years.
In recent years, the wildlife and people of this poorly-understood but precious and vibrant region have experienced dramatic impacts from climate change, melting sea ice, declining wildlife populations and eroding shorelines. In February 2008, in the face of these dramatic changes, huge gaps in basic scientific information about the region, an admission that there is no way to clean up oil in the icy waters that prevail in the Chukchi Sea during most of the year, and warnings from government scientists, the Bush Interior Department offered 30 million acres of this sensitive Arctic ecosystem for oil and gas leasing, an important first step in committing an area to oil and gas development.
The environmental impact statement prepared by the Mineral Management Service (part of the Department of the Interior, since renamed the Bureau of Ocean Energy Management, Regulation and Enforcement) in connection with the lease sale failed, among other things, to properly evaluate basic scientific information about the Chukchi Sea and the effects of oil and gas activities there and to obtain that information if possible.
Shortly before the lease sale was held, Earthjustice filed suit on behalf of a broad group of Alaska native organizations and conservation groups challenging the adequacy of the agency's environmental impact statement. In August 2010, the Alaska Federal District Court sided with the plaintiffs, ruling, among other things, that the agency had failed to determine the importance of the missing scientific information about the region before letting the lease go forward. The ruling sent the environmental impact statement back to the agency for further analysis. The agency is now in the process of preparing a supplemental environmental impact statement and re-evaluating the lease sale.
Clients
Native Village of Point Hope
Stay Connected For Updates
Join our community of 1 million supporters and receive urgent action alerts.