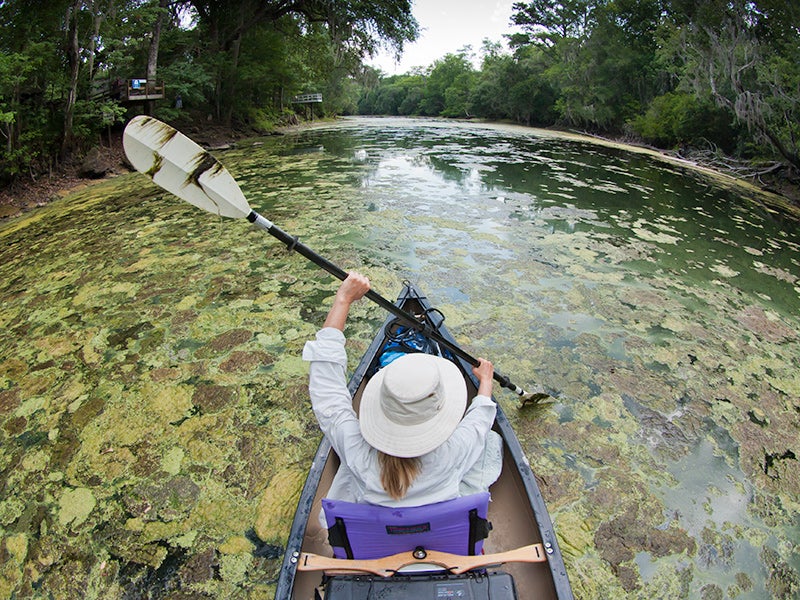 John Moran / Earthjustice
Case Overview
The Clean Water Act puts pollution limits on lakes and streams to protect their uses for drinking water, shellfish, recreation, and fish and wildlife habitat. Lakes and streams are required to meet pollution concentration limits to protect those uses.
However, the current standard used by most states only states "concentrations that cause an imbalance in natural flora or fauna" allows states and the polluters to claim that unnatural bacterial growths, wild uncontrolled algae mats or vegetative growths, or the loss of fish is due to other causes. In fact, they are caused by pollution from nitrogen and phosphorus which fertilize the water so that a panoply of undesirable growths take place. The sources of those pollutants are animal waste, effluent from sewage treatment plants, and fertilizer from farms and to a lesser extent from urban areas. Not having a measurable limit makes enforcement of the phosphorus and nitrogen limits almost impossible. The result has been a growing number of toxic algal outbreaks in lakes and dead zones in estuaries and in the Gulf of Mexico. Drinking water sources are threatened, as are important ecosystems.
Earthjustice sought to force the U.S. Environmental Protection Agency to create effective water quality standards. In 2009, a federal judge approved a settlement that requires the EPA to set legal limits on nutrient poisoning in Florida's waters.