Demand a robust environmental impact statement for DAPL
Supporters Spoke up in this Action
Delivery to U.S. Army Corps of Engineers
What was at Stake
Despite several victories, the fight to shut down the Dakota Access Pipeline (DAPL) continues. After many years in court, the Standing Rock Sioux Tribe and Earthjustice were able to get a court to order the Army Corps of Engineers to conduct a full Environmental Impact Statement (EIS). This is what we've wanted — for the Corps to adequately consider the environmental impacts of DAPL — but there's no guarantee the Corps will partner with the Tribe in a manner necessary to adequately consider DAPL's impact. This is where you come in. The Corps is starting what's known as a "scoping phase" — a period where they will take the public's comment about what impacts should be included in the EIS. We need you to urge the Corps to work with the Tribe to ensure the EIS is comprehensive and respects the Tribe's sovereignty.
This scoping phase could make or break the EIS. First, it will tell us whether or not the Corps is willing to engage the Tribe as equal partners and respect their long established treaty rights — something that should have been done from the outset. Second, a successful scoping phase could lead the Corps to study the climate impacts of oil flowing through DAPL, the safety hazards posed by the pipeline, or alternative routes for the pipeline that don't threaten the Tribe. However, none of this can happen if we don't show overwhelming support for a robust EIS in the public comment period.
Why is the EIS important? Because as of now DAPL has no permit to operate, and the decision about whether to grant them one will be based on the EIS. An EIS that fully considers the risks of this project and honors the rights of the Tribe will help build our case for the permit to be denied.
This is why we must push and fight. DAPL was built on stolen land considered sacred by the Tribe — it never should have been built in the first place. Please join us in telling the Corps to chart a new course by conducting a comprehensive EIS that respects the Tribe's sovereignty.
Current Action Alerts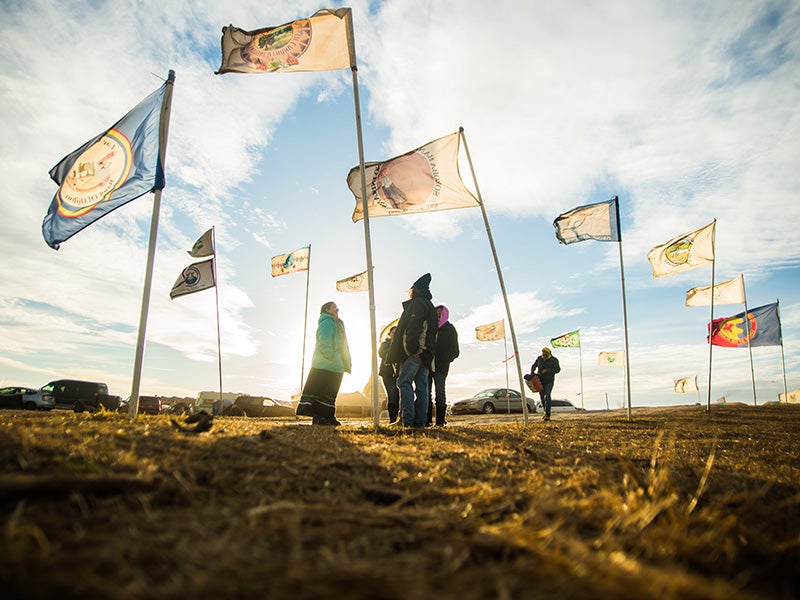 Lucas Zhao / CC BY-NC 2.0
Your Actions Matter
Your messages make a difference, even if we have leaders who don't want to listen. Here's why.
Read More