Big Wins Against Oil Industry's Push into Petrochemicals
A string of victories show how communities can fight back against the dirty petrochemical industry.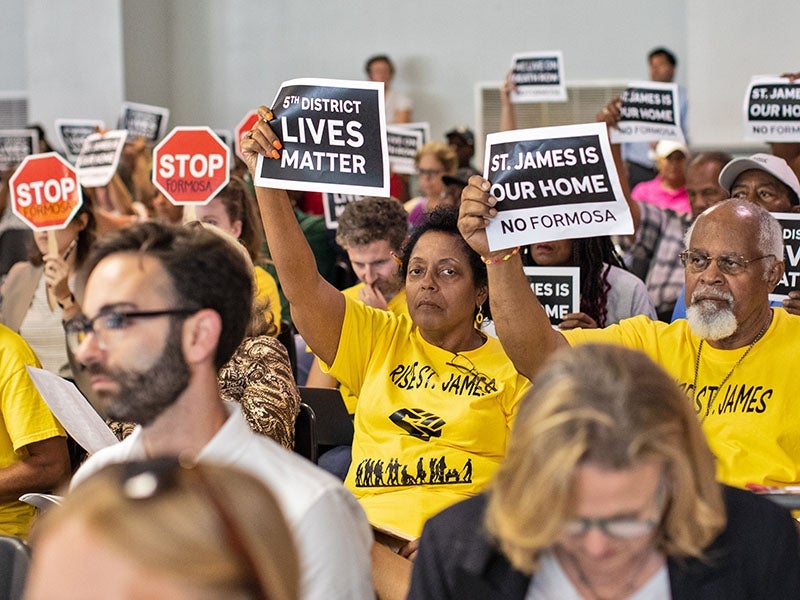 Fossil fuel companies have paused or abandoned plans to build huge petrochemical facilities after Earthjustice worked with local residents in two regions targeted by the industry. 
These facilities would have emitted massive amounts of greenhouse gases and toxic air contaminants in communities already overburdened by industrial pollution. The toxic chemicals they produce, called petrochemicals, are derived from oil and gas and are used to make a variety of substances including plastics and pesticides. The proposed facilities would have been part of a sweeping buildout of petrochemical infrastructure the fossil fuel industry is planning in the Gulf Coast and Appalachia. 
Earthjustice is fighting the petrochemical boom with all the legal tools we have. Many of our victories come from challenging key environmental permits that are needed to break ground on these toxic facilities. These wins can have a ripple effect, slowing down the broader petrochemical buildout that threatens communities and the planet.  
We have scaled up our fight with the support of Bloomberg Philanthropies, which launched an $85 million campaign in 2022 to stop the expansion of this toxic industry. 
St. James Fights Back
St. James Parish, which is home to about 20,000 people in Louisiana, illustrates how communities can push back against the petrochemical buildout. It sits at the center of an 85-mile stretch along the Mississippi River known as Cancer Alley due to its high concentration of industrial plants – many of them in historically Black neighborhoods. 
St. James' residents are already at much higher-than-average cancer risk due to the toxic air they breathe. They don't need another polluting facility nearby – let alone two. So they organized to oppose two petrochemical projects: one proposed by South Louisiana Methanol, the other by Formosa Plastics. 
"We will never stop fighting against polluters who think our health is less important than their dirty profits," says Sharon Lavigne, founder of RISE St. James, a local community organization. 
Stopping a Methanol Monster Project
South Louisiana Methanol (SLM) planned to build the largest methanol production facility in North America. It would have emitted more than 2 million tons of greenhouse gases per year and pumped toxic air pollutants into the neighborhoods adjacent to the project. 
Years earlier, state agencies had allowed SLM to build a smaller petrochemical facility on this site. SLM tried to claim the permits it already had for this smaller facility gave it the right to radically expand. Earthjustice helped RISE St. James, Louisiana Bucket Brigade, Healthy Gulf, and Sierra Club challenge SLM's flawed logic. 
After this coalition raised environmental justice and land use concerns, the Louisiana Department of Environmental Quality asked SLM to confirm that it still planned to go forward with its development plans. The company did not respond by the deadline the state agency set, so in September 2022, the agency withdrew its review of the proposal. 
Putting a Lid on a Plastics Plant
Days after the SLM victory, a Louisiana district court threw out air permits for the Formosa Plastics petrochemical complex, which would have doubled to tripled the levels of cancer-causing pollutants currently harming residents from existing industrial plants in Cancer Alley. 
The project would also have emitted upwards of 13.6 million tons per year of greenhouse gasses, the equivalent of 3.5 coal-fired power plants. 
The Louisiana Department of Environmental Quality had approved Formosa's air permit application in 2020 with few if any changes to add protections for public health, even after receiving 15,500 public comments opposed to the project. 
Earthjustice represented RISE St. James, Louisiana Bucket Brigade, Healthy Gulf, No Waste Louisiana, Center for Biological Diversity, Earthworks, and the Sierra Club in an appeal challenging LDEQ's decision to approve the air permits. With the permits vacated by the court, this petrochemical behemoth is stopped in its tracks. The case is now moving through an appeal process.  
Hope for

St.

J

ohn
We're also winning fights against petrochemical plants that have been operating – and polluting the communities around them – for years. Northeast of St. James, the community of St. John the Baptist Parish in Louisiana is finally seeing a reckoning for a plant that emits huge amounts of a cancer-causing chemical. 
The Environmental Protection Agency is working on rules that will require the Denka plant in St. John to significantly reduce its emissions. Denka produces chloroprene, a toxic chemical used to make synthetic rubber for products like wetsuits. Chloroprene emissions can damage people's nervous and immune systems and increase cancer risk. During an EPA inspection of the Denka facility in 2022, federal agents had to leave the premises because of the high chloroprene concentrations in the air. 
In 2021, the Louisiana community group Concerned Citizens of St. John, with counsel from Earthjustice and the Lawyers' Committee for Civil Rights Under Law, called on the EPA to create an emergency action plan to strengthen the federal rules that regulate chloroprene. In response, not only has the EPA sued Denka's owners to immediately reduce its emissions, the agency has proposed rulemakings that update emissions standards for 200 chemical plants with cancer-causing pollution. The rulings also eliminate illegal loopholes that allowed chemical plants to spew unlimited amounts of toxic emissions during periods of startup, shutdown, and malfunction. 
"It's about time. While I'm excited EPA is finally taking action to reduce these cancer-causing emissions, these proposed rules have not come fast enough," said Concerned Citizens of St. John President Mary Hampton. "We have been praying and asking the government to protect us for more than six years. People in our community are suffering and have suffered for too long." 
Stopping Petrochemicals in the Ohio River Valley
Beyond the Gulf, the oil and gas industry is trying to build a new generation of petrochemical facilities along the Ohio River.  
After failing to make a profit from the fracking rush of the early 2010s, fossil fuel companies are betting on petrochemicals to salvage their billion-dollar investments. A major proposal was for Mountaineer Storage Hub, which would have stored explosive fracked gas in underground caverns to feed a new ethane cracker plant. 
The Ohio Department of Natural Resources rushed through permits to build three solution mining wells that were key to the Mountaineer project, bypassing public input and not even preparing a draft permit. A coalition of clean water advocates represented by Earthjustice sued the department for issuing the permits in violation of their own regulations. 
As the case made its way through court, the federal mining permits lapsed, scaring off investors and putting the project indefinitely on hold. On August 30, 2023, the state permits expired putting another nail in the coffin of Mountaineer Storage Hub. If the company tries to revive its bid for permits again, Earthjustice will meet them in court.   
Building on Success
These fights are part of a much wider community-led effort to stop proposed petrochemical projects across Louisiana, Texas, and the Ohio River Valley. Financial support from Bloomberg Philanthropies will help Earthjustice continue to provide these communities with legal assistance free of charge. 
Originally published on September 21, 2022.
Earthjustice's Fossil Fuels Program is taking on the fossil fuel industry's efforts to pursue new paths to profit that not only accelerate the climate crisis, but also continue to cause harm to marginalized communities.