Two Big Wins Against Petrochemical Pollution — and a $85M Boost for the Communities Fighting It
Recent victories show how communities can fight back against the dirty petrochemical industry.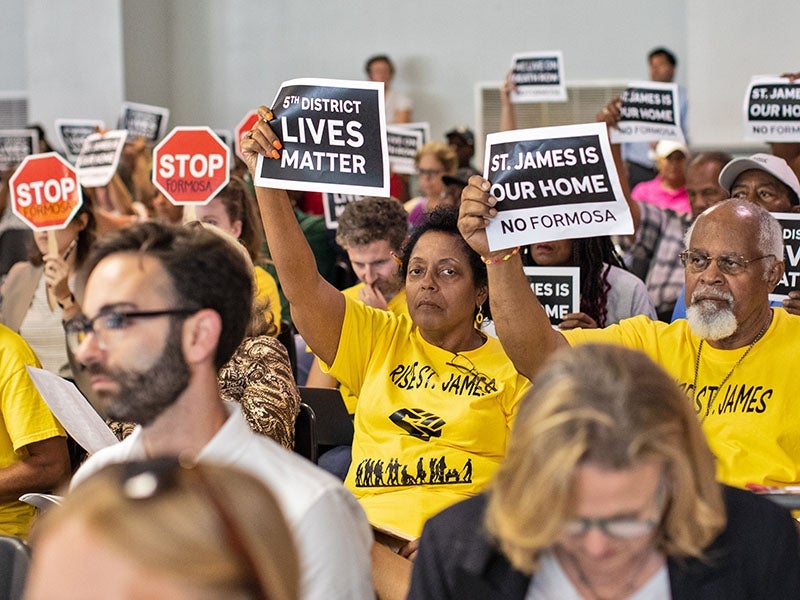 Two huge petrochemical facilities proposed to be built in Louisiana won't move forward after Earthjustice worked with local residents to challenge the projects.
The facilities would have emitted massive amounts of greenhouse gases and toxic air contaminants in a historic Black community already overburdened by industrial pollution. They would have been part of a sweeping buildout of petrochemical infrastructure the fossil fuel industry is planning in the Gulf Coast and Appalachia.
Earthjustice is fighting the petrochemical boom with all the legal tools we have – and our work just got a boost from Bloomberg Philanthropies, which is launching an $85 million campaign to stop the expansion of this toxic industry.
What Are Petrochemicals?
Petrochemicals are toxic chemicals derived from oil and gas that are used to make a variety of substances including plastics and pesticides. As the U.S. shifts to clean energy, fossil fuel companies are turning to petrochemicals to protect their profits.
Many of the petrochemical facilities the industry hopes to build are planned in low-income communities and communities of color already burdened by a long history of environmental racism. If this build-out goes forward, it will lock in more climate pollution, plastic waste, and toxic chemicals that poison our communities.
St. James Fights Back
St. James Parish, which is home to about 20,000 people, illustrates how communities can push back against the petrochemical buildout. It sits at the center of an 85-mile stretch along the Mississippi River known as Cancer Alley due to its high concentration of industrial plants – many of them in historically Black neighborhoods.
St. James' residents are already at much higher than average cancer risk due to the toxic air they breathe. They don't need another polluting facility nearby – let alone two. So they organized to oppose two petrochemical projects: one proposed by South Louisiana Methanol, the other by Formosa Plastics.
"We will never stop fighting against polluters who think our health is less important than their dirty profits," says Sharon Lavigne, founder of RISE St. James, a local community organization.
First One Win…
South Louisiana Methanol planned to build the largest methanol production facility in North America. It would have emitted more than 2 million tons of greenhouse gases per year and pumped toxic air pollutants into the neighborhoods adjacent to the project.
Years earlier, state agencies had allowed SLM to build a smaller petrochemical facility on this site. SLM tried to claim the permits it already had for this smaller facility gave it the right to radically expand. Earthjustice helped RISE St. James, Louisiana Bucket Brigade, Healthy Gulf, and Sierra Club challenge SLM's flawed logic.
After this coalition raised environmental justice and land use concerns, the Louisiana Department of Environmental Quality asked SLM to confirm that it still planned to go forward with its development plans. The company did not respond by the deadline the state agency set, so in September 2022, the agency withdrew its review of the proposal.
…Then Another
Days after the SLM victory, a Louisiana district court threw out air permits for the Formosa Plastics petrochemical complex, which would have doubled to tripled the levels of cancer-causing pollutants currently harming residents from existing industrial plants.
The project would also have emitted upwards of 13.6 million tons per year of greenhouse gasses, the equivalent of 3.5 coal-fired power plants.
The Louisiana Department of Environmental Quality had approved Formosa's air permit application in 2020 with few if any changes to add protections for public health, even after receiving 15,500 public comments opposed to the project.
Earthjustice represented RISE St. James, Louisiana Bucket Brigade, Healthy Gulf, No Waste Louisiana, Center for Biological Diversity, Earthworks, and the Sierra Club in an appeal challenging LDEQ's decision to approve the air permits. On September 14, the court sent Formosa back to the drawing board.
Building on Success
These two fights are part of a much wider community-led effort to stop proposed petrochemical projects across Louisiana, Texas, and the Ohio River Valley. Financial support from Bloomberg Philanthropies will help Earthjustice continue to provide these communities with legal assistance free of charge.
"After years of deception and delay, it is more important than ever for communities to step in where others have historically stepped back," says Lavigne. "Bloomberg Philanthropies' Beyond Petrochemicals campaign will help win local fights in places like St. James Parish."
"The petrochemical industry has been poisoning people in the Gulf South and Appalachia for generations," says Abigail Dillen, president of Earthjustice. "In this enormous fight for the future, Earthjustice is honored to be working with an incredible group of leaders, including Bloomberg Philanthropies. This is the kind of transformative investment that we need to win."
Earthjustice's Fossil Fuels Program is taking on the fossil fuel industry's efforts to pursue new paths to profit that not only accelerate the climate crisis, but also continue to cause harm to marginalized communities.