The only question is when clean energy will fully power the country, no longer 'if.' And the loud and clear answer we're pushing forward is: Now.
President Trump and the fossil fuel cronies he's put at the helm of U.S. government are determined to wage an all-out assault on clean energy and climate solutions. They want to dismantle the U.S. Environmental Protection Agency, gut commonsense pollution protections, and fast-track fossil fuel projects like the Dakota Access Pipeline and Keystone XL. And they're waging this assault at a time when the science couldn't be clearer that we need to do the exact opposite: accelerate an all-out transition to 100 percent clean energy.
The challenge before us is awesome, but the path to a clean energy transformation is rapidly emerging, and we can all play a role in clearing that path in time to limit temperature rise and guarantee our future. Earthjustice and our partners and allies around the country are applying the full force of the law and harnessing people power to advance clean energy solutions even as we resist efforts to roll back progress by an unprecedentedly hostile administration and Congress.
Let's take stock of the progress we can achieve:
#1:
States can and will lead the way—and we're pushing them at every step.
Much of our nation's energy policy is crafted at the state level by public utility commissions. Utility commissioners decide whether customers like you will be forced to pay for power from a dirty coal plant, or benefit from money-saving energy efficiency programs, or generate your own electricity affordably with rooftop solar.
Earthjustice attorneys, in partnership with state and regional partners, are crisscrossing the country making the case for clean energy in these often overlooked but immensely important regulatory forums. In this venue, good lawyers—and customers like you—can make an outsized impact.
Courtesy of 'Years of Living Dangerously'
#2:
The market momentum of clean energy is on our side—and likely unstoppable.
For power companies, it's getting harder and harder to justify continued investments in fossil fuels when clean energy solutions are available, affordable and scalable now. Utility-scale wind and solar power are now cheaper per kilowatt-hour than gas, coal, or oil.
As the costs of clean energy plummet, wind and solar are taking off at a record pace, with the jobs to match. The solar industry created 1 in 50 new U.S. jobs in 2016. Wind turbine service technician is now the fastest-growing occupation in the country. Nationwide, clean energy now employs more people than fossil fuels. And, globally, the world saw a record level of renewable energy installed in 2016. President Trump and his fossil fuel allies may try to slow this momentum, but they can't stop it.
At the same time, we're working to make sure affordable renewable energy is widely accessible. For instance, in Maryland and elsewhere Earthjustice is working with local partners on innovative community solar projects that make rooftop solar accessible to people who rent, live in apartments, or otherwise don't have a suitable rooftop of their own.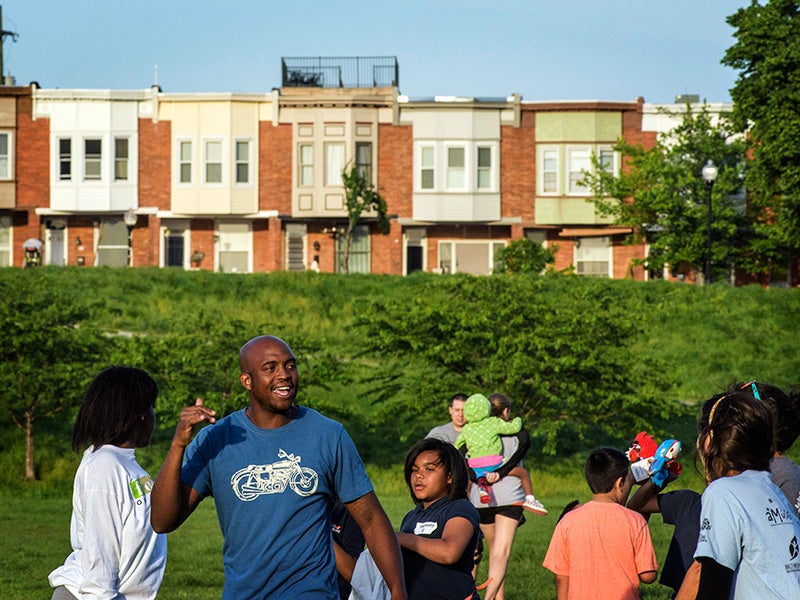 Matt Roth for Earthjustice
#3:
People want change—
and our movement is gaining power.
Earlier this year, Marylanders had the chance to weigh in on plans for the state's first offshore wind farm.
Hundreds spoke up in support:
"As a lung cancer survivor who has asthma and COPD,

I want more days with breathable air."

– Lucinda M., Baltimore, MD

"Maryland is missing a bet if we don't start taking advantage of all this wonderful wind nature has gifted us."

– Elisabeth R., Thurmont, MD

"We are moving forward without coal."

– Kathleen B., Laurel, MD

"We Marylanders need to ensure that jobs are generated by research, development, creation of green energy."

– Cynthia H., Baltimore, MD

"We need to do this."

– Laura B., Parkville, MD

"Wind energy is a no-brainer."

– Marissa A., Germantown, MD

"Renewable energy is good for the environment and the economy!"

– Jeffrey B., Columbia, MD

"I would be so proud to live in a state that is pioneering construction of the biggest offshore wind farm."

– Catherine P., Baltimore, MD

"Offshore wind, correctly sited, is an option

we need to consider and support where appropriate."

– Peter B., Rockville, MD

"The power of wind is being wasted at a time

when we need to be cleaning our air."

– Pat B., Laurel, MD

"Got wind? Got power."

– Victoria B., Takoma Park, MD

"Let Maryland be a leader in clean energy,

not a 1950's polluter."

– Jeannette B., Charlotte Hall, MD

"I attended the public hearing in Berlin and enjoyed the knowledge from people who testified."

– Nancie C., Ocean Pines, MD

"We need clean, renewable energy,

as well as jobs."

– Ilana K., Baltimore, MD

"Windmills on horizon are beautiful. Surely no one would rather look at coal-mined degraded landscapes."

– Lucy D., Lanham, MD

"We only have this one little blue planet and

very little time left to save it and ourselves."

– Pat M., St Leonard, MD

"I want to be part of the future."

– Robin P., Westminster, MD

"Renewable energies like wind energy is the energy of the future—except it is already here."

– Don P., Arnold, MD

"Maryland is ready for wind, let's do this!"

– Barbara P., Silver Spring, MD

"Wind is free. It doesn't pollute.

It doesn't contribute carbon emissions."

– Marilyn P., Bowie, MD

"Let Maryland set an example

that every East Coast state can follow."

– Susan P., Chevy Chase, MD

"Renewable energy is the way of the future,

moving away from dinosaur fossil fuels."

– Martin S., Finksburg, MD
Public concern about climate change is at the highest point in three decades, and big majorities of Americans want to see action. Our challenge is to channel this broad support into bold action. But we're not starting from scratch. In communities across the country, people have been building power to challenge fossil fuel companies and plant the roots of a brighter future.
Earthjustice has been proud to fight alongside communities from Dryden, New York, to Oakland, California, to Standing Rock, North Dakota, to ban fracking, halt coal exports, and fight pipelines. The resistance to fossil projects are growing everywhere—in creative, persistent, and powerful ways.
Chris Jordan-Bloch / Earthjustice
Lucas Zhao / CC BY-NC 2.0
Our clean energy lawyers are on the frontlines.
In a growing number of states, Earthjustice is championing and defending clean energy progress.
Advancing Clean Energy
Fighting Dirty Energy
Both
Across the country, Earthjustice attorneys are:
Accelerating solutions: In states like New York, California, Hawaiʻi, and Maryland, we're scaling up forward-thinking solutions that enable clean energy to thrive and expand access to it, from modernizing our electric grid to piloting community solar projects to expanding energy storage.
Shifting from fossil to clean: From Louisiana to Ohio to Kentucky, we're exposing the true costs of dirty coal- and gas-fired power plants, driving many to retire, halting expensive customer-funded retrofits, and clearing the way for solar and wind power to take hold.
Beating back attacks: From Nevada to Arizona to Florida, we're facing off with utility companies and well-funded fossil fuel interests to protect progressive policies from their attacks, fighting for customers' rights to put solar on their roofs, for fair electric rates, and for a level playing field for clean energy.