Earthjustice Insider
Managing Attorney Tania Galloni
"If you don't have a lawyer to take your case to court, the law's not worth the paper it's written on."
"Florida is a land of contradictions," says Tania Galloni, the new Managing Attorney of Earthjustice's Florida Regional Office. "People are drawn to the state's natural beauty—it's all around, and an appreciation of the beaches and the ocean and the ecology is just a part of life here. I often say that you can't grow up in Florida without being an environmentalist. But then the state will enact policies that put that at risk every day. It's a really odd tension."
Photo by Dan Scarborough
Galloni came to Florida at the age of 8 and grew up surrounded by nature on Siesta Key, a barrier island off Sarasota. "I was really lucky," she says, recalling years spent soaking up—and learning about—the beauty around her. After graduating from high school, she even thought about a career in marine chemistry. Then an inspiring class caused her to change her focus to sociology, studying issues around health, poverty, and equal and civil rights.
Her two passions came together in an environmental geology class, where she learned about the disproportionate impacts natural disasters have on certain communities. "We looked at environmental issues through a social justice lens," she says, "the intersection of environment and people."
After law school, she continued to focus on social justice and public interest law, advocating for farmworkers exposed to pesticides, working for juvenile justice and education reform, and advancing immigrant rights. She was particularly struck by the plight of immigrants who languished in indefinite, unlawful detention because they had no right to a lawyer. "We have all these laws and rights and protections," she says, "but if you don't have a lawyer to take your case to court, the law's not worth the paper it's written on." One of the things that attracted her to Earthjustice was the organization's focus on litigation—on "being there to enforce the law."
Dania / CC BY-NC-ND 2.0
Building Connections
Galloni lives in Miami and helped open a new Earthjustice office there in early 2017. Having offices in Miami and Tallahassee makes it easier to collaborate with the organization's many clients and partners around the state, she says. Recent hires have brought the number of lawyers in the two offices to a total of five, but Galloni says she could easily use two more in the Miami office.
"There's plenty of work to keep us busy just in this state, and as a regional office, we're also doing work in Alabama, Georgia, and other states. This region is seriously underserved, and we'd like to be able to do more."
Born in Venezuela and fluent in Spanish, Galloni is interested in building Earthjustice's connections with Latino communities, which have a very strong presence in Florida.
Recent polling has shown that Latinos are deeply concerned about a wide range of environmental issues, including climate change. And Galloni thinks there are opportunities to build relationships outside of the environmental movement's traditional set of allies. "For example, in the state legislature, a lot of crosscutting issues involving the environment are of interest to the large Republican delegation from South Florida that is Cuban," she says.
Marilynn Taylor / CC BY-NC-ND 2.0
Water: Quality and Quantity
Many of the Florida office's cases involve water quality and quantity, Galloni says, which in the future will affect not only the state's drinking water supplies but also fisheries and the food supply.
In Miami in particular, issues around sea-level rise and climate change are front and center. "It's not that it's just a Miami issue, of course—many other areas of the state are affected. But people talk about climate change here because it's tangible—you have sunny day flooding, there are stories of an octopus turning up in a parking garage. It's really hard to pretend that nothing's happening."
One big water case the office is working on now involves the Apalachicola-Chattahoochee-Flint river system in the Florida Panhandle, which feeds Apalachicola Bay, one of the most biodiverse ecosystems in the world. "It's an exceptional place that's being starved of the freshwater flow that it needs to thrive," Galloni says. Earthjustice recently filed a lawsuit against the U.S. Army Corps of Engineers, which ultimately controls the water flows in the river system.
Advancing Clean Energy: For the State and The Nation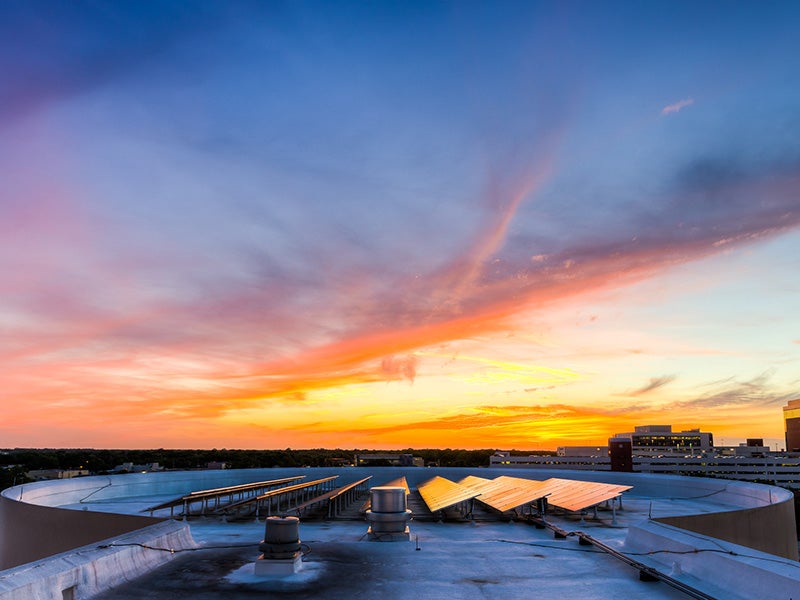 Jeff Krause / CC BY-NC-ND 2.0
Another big issue for Floridians is clean energy. "If the Sunshine State can't get solar power right, we should really be worried," Galloni laughs.
Earthjustice recently secured a major clean energy victory in a case involving Gulf Power, a power company in the northern part of the state that was proposing an unprecedented restructuring of residential rates that would not only increase customers' bills, but discourage energy conservation and investment in renewables, setting a terrible precedent for the rest of the state and nation.
"We represented the Southern Alliance for Clean Energy and the League of Women Voters of Florida in the case," she says, "a great combination that resulted in a record number of comments in opposition to the proposal." At the end of March, a settlement agreement was reached in which Gulf completely withdrew its proposal.
"One of the things I love about that case," Galloni says, "is that it shows people can really make a difference when they engage. Generally speaking, people underestimate the impact they can have. It's like drops in the water; we really do have ripple effects. It's important for us to recognize our own power."
And with the many threats to the environment in the current political climate, "this is not the time to give up," she says. "The fight is always worth it."
By Eileen Ecklund
Originally published in the Earthjustice Insider, Summer 2017