In early 2014, a month after a coal chemical spill contaminated the drinking water of 300,000 West Virginians, residents across the state were still awaiting clean water. A deeper look at this crisis reveals failures in our chemical safety regulations and the coal industry's dirty water legacy in West Virginia. But it also reveals a triumph of the human spirit: how West Virginians take care of their own in times of need. (23 photos)
Photo Courtesy of Vivian Stockman / Ohio Valley Environmental Coalition
JAN 9The Day the Water Went Out in West Virginia: The Charleston Gazette reports that a 48,000-gallon tank of "Crude MCHM," a chemical compound used to wash coal, had been leaking into the Elk River in Charleston, West Virginia, just 1.5 miles upstream of the drinking water intake for 300,000 people. The company responsible for the chemical storage facility's leak, Freedom Industries, issued a "do-not-use order" to approximately 300,000 people across nine counties. The amount leaked is unknown.
"Any water supplied by West Virginia American Water in Kanawha, Putnam, Boone, Jackson and Lincoln counties was to be used only for flushing toilets and putting out fires, officials said just before 6 p.m.," reported the Gazette.
West Virginia Governor Earl Ray Tomblin holds a press conference to declare a State of Emergency: "Nobody really knows how dangerous it could be. However, it is in the system," Tomblin said.
MAPCounties Affected: The "do-not-use order," issued across nine counties in West Virginia—Kanawha, Putnam, Jackson, Clay, Lincoln, Logan, Roane, Boone and in the area of Culloden in Cabell County—and affected approximately 300,000 people.
JAN 10West Virginians Jump To Respond: Fire stations and police departments across the nine counties begin operating as clean water refilling and distribution centers, giving out government-sponsored clean water supplies to citizens in need.
Still, many are unable to make it to the government water distribution stations, so West Virginians immediately begin organizing to deliver bottled water to residents in need.
JAN 10Social Media and the Relief Effort: WV Clean Water Hub is set up on Facebook to connect clean water to people in need and share the latest news and information with citizens. There, citizens are posting their water requests and offers to help, and community members with cars are shuttling water supplies to those in need.
Photo Courtesy of WV Clean Water Hub
JAN 15West Virginia Reeling, Spill Tolls Still Unknown: Six days after the spill, federal and state authorities are still trying to get a handle on the amount of MCHM that spilled into the Elk River or the chemical's potency and health risks to the population. Very little is known about the chemical.
The Charleston Gazette reports that "a federal team from the Centers for Disease Control and the Agency for Toxic Substances and Disease Registry came up with the 1-part-per-million figure as a safe level, in the absence of any drinking water standards or health-based standards for the chemical. But there is little health data available for the material, and government officials have declined to provide much detail about how they calculated the 1-part-per-million number."
Photos Courtesy of Vivian Stockman / Ohio Valley Environmental Coalition
JAN 15West Virginia Closed for Business: 300,000 West Virginians are still warned to avoid their water. Nine counties remain in a "state of emergency," and Gov. Tomblin is still unable to provide a timeline for when the water will be drinkable or useable once again.
The company responsible, Freedom Industries, revises its estimates of the initial spill from 7,500 to 10,000 gallons.
West Virginia Wesleyan College English professor Eric Waggoner echoes the anger many of his fellow West Virginians feel in a blog post for Huffington Post: "We can never predict what moments are going to affect us this way … But something about this confluence, the way I had to bring potable water to my family from two hours north, the strange look of the landscape wreathed in rain and mist, the stench of a chemical that was housed directly upstream from the water company—something about all of that made me absolutely buoyant in my rage."
Photo Courtesy of WV Clean Water Hub
JAN 16Citizens Lead Relief Efforts: More than 20 West Virginia-based organizations working on relief efforts in the chemical spill aftermath convene at the first Community Water Roundtable in Charleston. Here, these groups coordinate efforts to organize clean water deliveries, conduct water testing, and unite concerned citizens for political action to demand government accountability and protection.
More than 120 citizens in Kanawha County organized themselves to form CAPE: Citizens Actively Protecting the Environment, a group formed to disseminate information about the water and help activate and mobilize citizens to take action to protect their waters. "As seen by the recent chemical spill, accidents can quickly cripple our residents and devastate our local economy," said the group on its Facebook page. "It is our goal to work with the community as well as local & state government officials to implement and enforce oversight to ensure that Charleston stays safe and clean."
While West Virginians are seeking answers as to how this happened and when the water will be safe again, many are also not surprised. They have connected the dots between decades of coal industry pollution and deregulation in their state. In a seething op-ed in the Charleston Gazette, West Virginian Angie Rosser implicates the state's leaders for fostering a culture of neglect for environmental oversight and accountability, and challenges her fellow West Virginians to hold the corporations and elected officials accountable. "Freedom Industries should be held accountable, but that won't fix the problem. That's because the Elk River spill wasn't an isolated accident. It was the inevitable consequence of weak regulatory enforcement over many years, made possible by our collective failure to uphold the values we profess … We live every day with the potential for toxic leaks into our waterways, knowing the consequences can be devastating. We shouldn't have to live this way … We've allowed them to foster a culture of neglect instead of one of oversight and accountability."
Image courtesy of Business Insider
West Virginia: At the Confluence of Two Major Government Failures. To anyone who has borne witness to the state's industrial pollution problems—and that's a growing list of people in West Virginia—this spill, while a blight on their lives, is probably not a surprise.
That's because West Virginia sits at the confluence of two major government failures:
The failure of the state and federal government to protect the people of West Virginia and their waterways from coal industry pollution.
The failure of the federal government to protect all Americans and all drinking water sources from toxic chemicals.
Image courtesy of the New Republic
Cause #1Dirty Water Policies, Coal Industry Loopholes: Earthjustice has represented West Virginians and local commmunity groups in numerous legal cases over more than a decade to push for enforcement of the Clean Water Act, strengthen state and federal clean water safeguards, and stop extreme water pollution from mountaintop removal mining.
We represent citizens with stories to tell about contaminated well water, sickened family members, polluted streams, and terminal illness. On the other side of this work is often the state of West Virginia, which has fought clean water safeguards at every step of the way. In fact, the state is currently suing to stop EPA from enforcing protections from coal mining pollution. Earthjustice, on behalf of numerous Appalachian community groups, is defending that policy in the courts now.
Mountaintop removal coal mining alone has buried an estimated 2,400 miles of Appalachian streams, and it has polluted many more. Numerous scientific studies have found serious health impacts in communities near mountaintop removal. In fact, babies born to mothers living near mountaintop removal sites are twice as likely to have birth defects as babies born to mothers who regularly smoke while pregnant. Earthjustice is working with the Appalachian Community Health Emergency Campaign to advance legislation to protect vulnerable families and communities.
The state of West Virginia's waters due to coal industry pollution has driven more people to the very public water system that was victim to the coal chemical spill, reported the New Republic. "The Elk River branch of the state's largest water utility, West Virginia American Water, has gained up to 100,000 customers since the mid-2000s, according to the estimate of environmental consultant Rob Goodwin. That's because mountaintop removal and the disposal of coal mining waste (buried underground in a muddy form called slurry) have contaminated local water sources throughout the state's southern and central regions, driving more and more West Virginians to board up their wells and lay pipe to the Elk River … The state's dependence on the Elk reveals the dark side to its reliance on the energy industry."
Image courtesy of Architect of the Capitol
Cause #2Outdated and Dangerously Weak Chemical Safety Laws: Earthjustice has also been working in the courts and on Capitol Hill for toxic chemical reform. Our existing chemicals law, the Toxic Substances Control Act, is gravely deficient and outdated. Currently, our country has no requirement for health and safety tests before chemicals are brought to market; there's not even a minimum data requirement. And often, the information that does exist is deemed confidential. This explains how so little is known about the chemicals that leaked into the Elk River—Crude MCHM and PPH—and their effects on public health.
Crude MCHM is one of about 80,000 chemicals that has been approved for sale in commerce. Of those 80,000 chemicals, the EPA has only required health risk testing of a few hundred chemicals. The disastrous consequences of our outdated toxic chemical laws are being felt by West Virginians now.
You can help stop the secrecy around chemicals by taking action.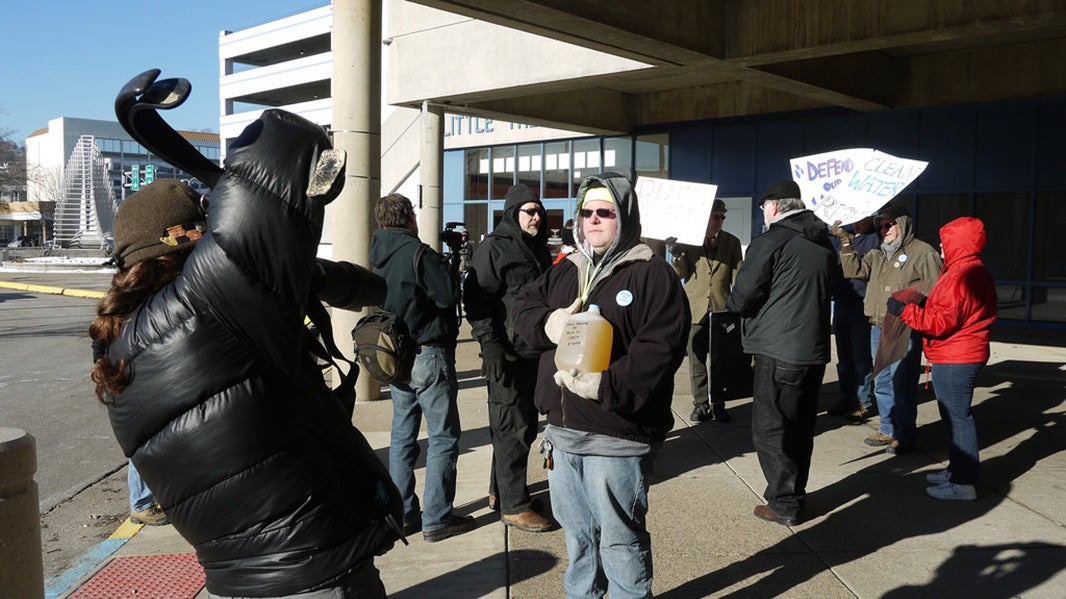 Photo Courtesy of Vivian Stockman / Ohio Valley Environmental Coalition
JAN 16Government Mishandling Fuels Citizen Outrage: The Charleston Gazette reports that Dustin White, an organizer with the Ohio Valley Environmental Coalition, a West Virginia group that has been working for decades to protect the state's waters and communities, is kicked out of the Capitol for bringing in a gallon of his ill father's tap water from Boone County.
"As of two days ago, it started turning this brownish-red color," he told the Gazette. "And this mucus-like stuff has been coming out of the tap. I just want people to see it. This is what we're supposed to take care of my dad with."
Photo Courtesy of Katey Lauer
JAN 17What Accountability? Freedom Files for Bankruptcy: As citizens band together to demand for answers and provide relief to neighbors in need, including above in a Charleston community church, Freedom Industries files for Chapter 11 bankruptcy—which permits the company to continue operations, as well as put any filed lawsuits on hold. As of February 4, 2014, 25 lawsuits have been filed.
At the time of the filing, the company owed the Internal Revenue Service over $2.4 million in unpaid taxes, including money it withheld from employee paychecks.
Photo Courtesy of David T. Stephenson
JAN 17Water Erroneously Declared Safe To Drink: The public drinking water utility lifts the "do-not-use" advisory on the water for 300,000 West Virginians, only to quickly receive volumes of public complaints that the water still carried the same chemical odor.
Said one concerned family member on WV Clean Water Hub: "Does any one know if the water will ever be safe again? I have children and grandchildren living in the Charleston area."
Photo Courtesy of David T. Stephenson
JAN 20Water, Water Everywhere But Still Nothing To Drink: At a press conference in the West Virginia Capitol, Gov. Tomblin states, "If you do not feel comfortable drinking or cooking with this water, then use bottled water. It's your decision." Meanwhile, authorities issue an advisory for pregnant women across the region to drink only bottled water until absolutely no "Crude MCHM" is detected in water supplies. Public outcry ensues.
Gov. Tomblin emphasizes the Centers for Disease Control deemed the water safe to drink as long as it contained less than 1 part-per-million. However, public health experts say there is a lack of data on the chemical.
In response to the continued lack of information and mass confusion, community leaders and citizens launch the Our Water WV website, a comprehensive citizen clearinghouse for information.
Photo Courtesy of WV Vivian
JAN 21Back To Square One, Second Chemical Discovered: Twelve days after the spill, Freedom Industries divulges that a second chemical leaked into the river, revealing a whole new host of problems, dangers, and questions for the public. The chemical is known to irritate the eyes and skin and be harmful if swallowed. No data is available on its long-term health effects. Officials at this point do not know how much of the chemical, PPH, leaked into the river.
The information coming out in the aftermath of the spill continues to expose the extensive failures of the state and federal governments to protect West Virginians from coal industry pollution. Retired miner Joe Stanley tells Business Insider in a cogent report, "I watched the coal industry poison our water for years. Now they're telling us not to drink the water? We've been dumping this stuff into unlined ponds and into old mines for years," he says. "I haven't drank the water here in years, and I suggest you do the same. Don't drink the water. Just don't do it."
Photo Courtesy of David T. Stephenson
JAN 21Vigils To Honor the Waters: Twelve days into the water emergency and still no end in sight, West Virginians hold a candlelight vigil to honor their waters in front of their Capitol. The vigil included an interfaith prayer for the waters and a Native American ceremony to cleanse the sacred waters.
Jeannie Kirkhope, one of the organizers of the vigil wrote, "This is only the beginning! It's past time we put our differences aside and demand clean water and a clean environment for our children! Let's unite and force our leadership to put public health and safety first!"
Photos Courtesy of WV Clean Water Hub
JAN 21Displays of Solidarity From Around the Country: Vigils are held all over the country to honor the waters and show solidarity with West Virginians. Photos flood into a public Flickr pool.
Clockwise from top left: Overpass Light Brigade (Milwaukee, WI); North Carolina in Solidary with West Virginia; Grunt Work Studio Global, founded just blocks from the spill site; solidarity from the Clean Air Coalition of Western New York; solidarity from Morgantown, WV; solidary from Fayetteville, WV.
Photo Courtesy of David T. Stephenson
JAN 21Demanding Protections from Political Leaders: Hundreds of concerned citizens flood the Charleston Capitol to demand accountability and better protection from their state leaders.
"This crisis is about much more than a renegade chemical company," said Bob Kincaid, board president of Coal River Mountain Watch, an organization based in Raleigh County in the state's southern coalfields that fights mountaintop removal mining. "It's about an entire state subjected day after day for more than a century to a laundry list of poisons by renegade companies. This particular poisoning happened to catch the world's attention, but for us, it's another day in the Appalachian Sacrifice Zone."
Photo Courtesy of Citizens Actively Protecting the Environment
JAN 23Who Trusts the Water? "Many West Virginians continue to get conflicting advice from public health professionals and public officials about how and whether to use their tap water," Senator Jay Rockefeller (D-WV) said in a statement to the Gazette. "For that reason, I understand why some people are telling me they remain skeptical of its safety and continue to use bottled water. My staff and I are doing everything in our power to get residents as much accurate information as possible, and as quickly as possible."
Photo Courtesy of Katey Lauer
JAN 29Citizens Plan Town Hall Meetings: Many of the government water distribution sites have shut down by this point, but residents are still reporting odors from their water and health effects. More than 120 concerned citizens hold a Town Hall meeting at a church in Charleston to find a way to meet communities' water needs.
Photo Courtesy of David T. Stephenson
JAN 30Disaster Continues: West Virginians gather in from the Charleston Civic Center and State Capitol to deliver a citizen petition demanding accountability from the state's agencies.
Meanwhile, some community members report a new gumminess in their water.
The New York Times reports formaldehyde has been detected in West Virginia's tap water. "There's a lot more we don't know," testified Scott Simonton, a member of the state's Environmental Quality Board, before a state panel, saying West Virginians were breathing formaldehyde gas when they showered.
The Charleston Gazette reports that leading scientists received "rapid-response" National Science Foundation grants to study the ongoing effects and contamination of the chemical spill. "This is one of the largest human-made environmental disasters in this century. In instances such as this, where the situation is still developing and public health is involved, timing is everything," said William Cooper, program director in the National Science Foundation's Chemicals, Bioengineering, Environmental and Transport Systems division.
Photo Courtesy of the Governor's Office
JAN 30Governor Pleads for More Federal Aid: In a letter to FEMA, Gov. Tomblin requests additional federal relief support. "There is little hope that these costs can be recouped by the party responsible for this event," Tomblin writes. "The company that was storing the contaminants has filed for bankruptcy and there are several pending suits against the company. It is very unlikely the state will ever receive any reimbursements for its costs from the responsible party."
According to Tomblin, to date, more than 17.5 million bottles of water have been distributed to residents in the nine affected counties, at an estimated cost of $889,575 to the state.
The Governor also wrote of the economic impacts: "One source has estimated that hotels and restaurants have lost $1,000,000 in revenue a day while other businesses have had to close part of their operation … A detailed analysis of this event is not possible at this time, but I am certain it will show a total economic loss for the citizens, businesses, and governments of this area that will exceed the direct emergency protective measures we are providing many times over."
Image Courtesy of Senate Committee on Environment and Public Works, Subcommittee on Water and Wildlife
FEB 4Senate Holds Hearing Probing Spill: Senators Joe Manchin (D-WV), Jay Rockefeller (D-WV), and Barbara Boxer (D-CA) introduce the Chemical Safety and Drinking Water Protection Act to improve chemical storage facility inspections and emergency response plans.
The Senate Committee on Environment and Public Works Subcommittee on Water and Wildlife holds a hearing to probe the cause and response of the spill and discuss accountability in its aftermath. "We must be vigilant to ensure that these cleanup costs are met by the company—corporate shell games should not be able to avoid responsibility," said Sen. Tom Udall (D-NM).
The Charleston Gazette reports that Gov. Tomblin met with chemical and coal industry executives and business leaders to discuss his legislative response to the spill, but excluded the West Virginia environmental community and environmental officials from the state.  
First published February 4, 2014
Stay Connected
Earthjustice holds those who break our nation's laws accountable for their actions.
Join us to receive important action alerts and learn why the earth needs a good lawyer: