Earthjustice Insider
Staff Attorney Isaac Moriwake
"All the advances we've made in just a short time have given us a glimpse of the possible."
For Isaac Moriwake, the path to practicing environmental law was part of a personal journey of rediscovering his home in Hawaiʻi.
Matt Mallams for Earthjustice
Like many people born and raised in the islands, Moriwake grew up with a deep connection to the land and the ocean. As a young man, he left the islands to go to school on the mainland, then worked in Japan for a while. But the longer he was away, the more he realized he needed to go back: Hawaiʻi was home. Faced with his pick of law schools, he chose the University of Hawaiʻi.
"I was looking for my role and wanting to be part of the solution rather than part of the problem," he says. "It turned out to be the best decision I ever made. I met people like Kapua Sproat [formerly a staff attorney and now counsel with Earthjustice], and I learned so much about Hawaiʻi's history and law.
"For me it was a time of rediscovering what makes Hawaiʻi so special, and Hawaiʻi law—particularly water law—is very much a part of that.
"In Hawaiʻi, environmental and cultural values are written into our laws. The cool thing about Hawaiʻi water law is that the concept of water as a public trust—that it belongs to the people—is actually a traditional Hawaiian principle that has been reasserted in the law. During the colonial period, plantations tried to turn water into private property, but modern court decisions have gone back to Hawaiian custom and tradition in saying that water was always a collective good and a legacy for all.
"The water is the lifeblood of the land for Native Hawaiian culture; it's not just a resource, it's life."
Restoring Stream Flow
Now Moriwake brings Earthjustice's legal expertise to bear to uphold and affirm that principle, representing grassroots community and conservation groups in fights to restore water diverted from native streams by former plantation companies. Leaving more water in the rivers and streams restores native ecosystems, revitalizes local communities and Native Hawaiian culture, and recharges public drinking water aquifers.
Video footage from the stream flow restoration is used courtesy of the Office of Hawaiian Affairs
After years of citizen action and court battles led by Earthjustice, streams are once again coming back to life on Oʻahu and Maui—but the larger fight to uphold public and native Hawaiian water rights across the islands continues.
"These are long-term battles against entrenched corporate and government powers, including some of the largest landowners in the state," Moriwake says.
"For our efforts to succeed over the long haul, they have to be based on a true partnership with the community from start to finish. Earthjustice's free legal assistance provides an access to justice that our clients would otherwise not be able to afford, but we can't win without solid grassroots community support and leadership."
ʻ

aina: Home, family, deity, ancestor

The connection between environment and culture runs like a thread through all of Earthjustice's work in the mid-Pacific, Moriwake says.

In traditional Native Hawaiian culture, the ʻaina (land) is home, family, deity, and ancestor, and Earthjustice's work continually strives to honor that tradition.

Established in 1989, the Mid-Pacific Office has a long track record in this "endangered species capital of the world" of protecting native birds, plants, and forests, as well as ocean resources like nearshore reef ecosystems and marine mammals. Because Hawaiʻi is also the global "ground zero" for producing genetically engineered crops, the Mid-Pacific Office has led the way in challenging the impacts of GE crops on our food supply, health, and environment.
Photo by Earthjustice

Matt Mallams for Earthjustice

Mike Coots for Earthjustice
A Clean Energy Leader
In addition to his work to restore stream flows, Moriwake focuses on helping to make Hawaiʻi a national leader in clean energy resources like rooftop solar power. Five years ago, over 90 percent of the islands' electricity came from imported fossil fuels, but that number has dropped to around 80 percent thanks largely to a boom in rooftop solar.
Over the years, Moriwake has helped fuel that boom, using legal advocacy to knock down barriers to solar and other clean energy resources across the state and to push through proactive solutions that have boosted the market. In 2015, Hawaiʻi decided to go all-in on renewable energy, adopting the most ambitious goal of any state—100 percent renewable power by 2045.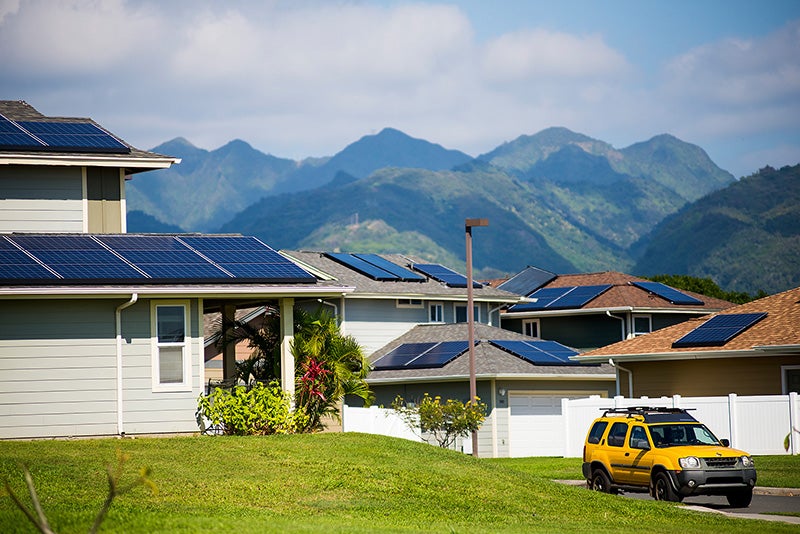 Matt Mallams for Earthjustice
"We have a lot of inspiration and momentum for clean energy right now," he says. "People are seeing that they can engage directly and be part of this clean energy transformation. All the advances we've made in just a short time have given us a glimpse of the possible."
Fortunately, this year the Hawaiʻi Public Utilities Commission rejected the takeover of Hawaiian Electric utilities by NextEra Energy, a Florida-based utility that would have tried to turn back the clock on all those gains. The general public, the governor, and a broad coalition of organizations, including Earthjustice, all opposed the takeover.
"Attitudes are shifting," Moriwake says. "Hawaiʻi is one of the most isolated spots on Earth, yet we've been importing almost all of our energy and food. Now people are seeing that we've got all the energy we need here, in the sun and the wind and the waves.
"Some estimates indicate that Native Hawaiian society sustained roughly a million people on these islands without any contact with the outside. Now we're coming full circle—what the Native Hawaiians always understood about sustainable living in an island community, we're trying to make good on now in the 21st century."
By Eileen Ecklund
Originally published in the Earthjustice Insider, Fall 2016
Earthjustice is the premier nonprofit environmental law organization. We wield the power of law and the strength of partnership to protect people's health, to preserve magnificent places and wildlife, to advance clean energy, and to combat climate change. We are here because the earth needs a good lawyer.