How Kavanaugh's Confirmation Would Be a Big Win for Polluters
U.S. Supreme Court nominee Brett Kavanaugh is willing to throw people out of court for lack of legal standing, in ways that could be devastating for environmental cases.
Phil Roeder / CC BY 2.0
July 13, 2018 | Updated Sept. 27
President Trump has nominated D.C. Circuit Court Judge Brett Kavanaugh to the U.S. Supreme Court. If Judge Kavanaugh is confirmed, the addition of this staunchly conservative jurist will solidify a far-right majority on the Court.
Earthjustice's Patrice Simms, a top environmental law expert, explains what this means for the future of environmental protections. (In a separate analysis, Simms provides an in-depth view of Judge Kavanaugh's rulings on environmental cases.)
1. Who benefits from Judge Kavanaugh's nomination?
There's no doubt about it: This nomination reflects an extension of Trump's commitment to put corporations, the wealthy and the powerful above the rest of us.
This appointment would make the Court even more likely to gut laws like the Clean Air Act and the Clean Water Act, and to dilute the authority of federal agencies to implement and enforce those laws. Meanwhile, the health and safety of children, families, communities and working Americans will suffer. That's the danger.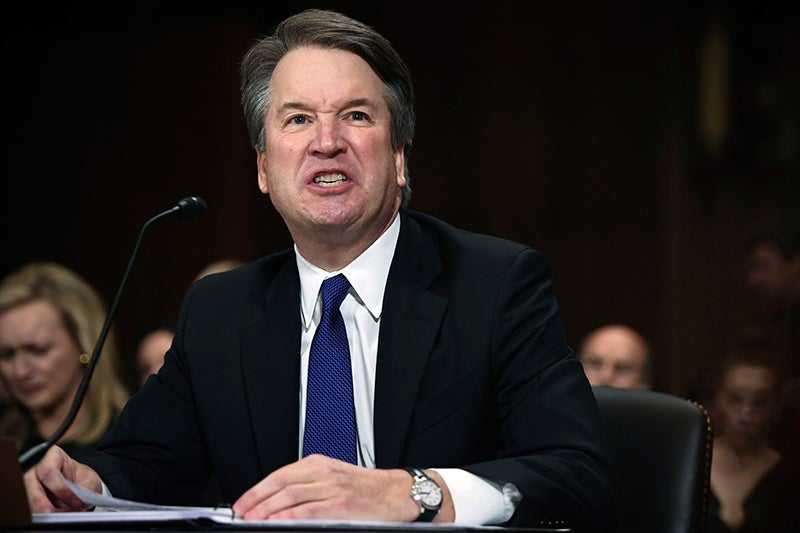 Saul Loeb / Pool Image via AP
2. In what ways does the Supreme Court play a broader role in protecting the environment?
One of the biggest potential issues with Judge Kavanaugh's addition to the Court is the impact it could have on the ability of regular people to go to court to hold the government and powerful corporations accountable.
Federal law contemplates a right for members of the public to hold agencies accountable when they fail to meet their legal obligations. But that right doesn't mean much if you can't use it. Since Trump first took office, his allies in Congress, with the support of big polluters, have been rolling out a series of attacks on the people's right to access the courts. With Judge Kavanaugh on the high court, the Supreme Court would become a reliable and powerful ally in their efforts to bar the public from the courtroom doors.
An example of how this plays out on the ground is with an issue like "standing" — the legal rules that determine whether someone is sufficiently injured or affected by an action (or inaction) to bring a challenge in court.
Past cases demonstrate that Judge Kavanaugh has been willing to throw people out of court for lack of standing, in ways that could be devastating for environmental cases.
This happened, for example, in a case brought to compel the government to set safety standards for cars and trucks under a statute designed to reduce severe traffic accidents. In this case, Judge Kavanaugh said that despite representing frequent highway drivers (precisely the people the statute was intended to protect), Public Citizen did not have standing to challenge the federal agency's inadequate rule.
This kind of approach could similarly prevent the public from challenging agency actions under environmental laws, even where an agency action would increase risk of cancer, neurological impairment, heart attack, stroke or other disease.
Once a court determines that a petitioner doesn't have standing, it never even looks at whether the agency action is legal or illegal; it simply closes the door on the case without any further consideration. That would be a terrible direction for the Court to go.
Close Section
Read More
3. When has the issue of legal standing been particularly critical?
One the most important environmental cases of the century was Massachusetts v. EPA (2007).
In that case, the Court first addressed the question of whether the U.S. Environmental Protection Agency had the authority and/or obligation to regulate greenhouse gases, the pollutants that cause climate change.
The very first question the Court had to answer was whether any of the petitioners — in this case, the state of Massachusetts and others — had standing to raise a challenge about the EPA's failure to regulate greenhouse gases from automobiles.
Ultimately, the Court found that Massachusetts was itself harmed and also had a duty to protect its citizens, and therefore had standing to challenge EPA's regulatory inaction. But that standing decision was razor thin, with now-retired Justice Kennedy casting the deciding vote.
Had there not been standing in that case, the Court would never even have addressed the question of whether the agency was breaking the law by failing to address greenhouse gases. That question simply wouldn't matter in the eyes of the Court.
With a solidly far-right majority, the Court would be much more likely to deny standing in ways that keep people from holding the government and big polluters accountable, and everyone would suffer the consequences.
Close Section
Read More
4. What does Judge Kavanaugh's nomination mean specifically for environmental cases coming before the Supreme Court?
There's no way to know which specific cases the Court will take on. That said, I am confident that there are certain issues that will come up to the Court over time. These are likely to include issues like the control of climate pollutants, the scope of EPA's regulatory authority under bedrock statutes like the Clean Air Act and Clean Water Act, and issues related to the protection of wild places and endangered species.
Under the Clean Water Act, for example, there have been a series of cases that have made it to the Supreme Court already — including Riverside Bayview Homes, SWANCC, and most recently Rapanos. In one of these (Rapanos), Justice Kennedy issued a critical concurring opinion. Because the scope of Clean Water Act authority remains contentious, there is always a chance that the Supreme Court takes up these issues again. With Judge Kavanaugh on the bench, the results could be disastrous.
Close Section
Read More
5. How has Judge Kavanaugh ruled on environmental cases
in the past?
Judge Kavanaugh has a record of standing with the corporate interests who want to pollute our air and water. An Earthjustice analysis of Judge Kavanaugh's record of environmental rulings (see chart) shows that the overwhelming majority of his opinions on environmental issues have been deeply anti-environment.
Examining Judge Kavanaugh's full record, Earthjustice found that sixteen of his eighteen rulings (89%) in which he took a position on the U.S. Environmental Protection Agency's rules curbing air and water pollution were anti-environmental in nature, including the following cases:
Americans for Clean Energy v. Environmental Protection Agency, 864 F.3d 691 2017 — Majority Opinion — Sided with industry in vacating an EPA rule on renewable fuels
Center for Biological Diversity v. EPA, 722 F.3d 401, 2013 WL 3481511 (2013) — Dissent masquerading as concurrence — Argues EPA "simply lacks statutory authority" to regulate greenhouse gases, and if his choice, would strike down rule
Coal for Responsible Regulation Inc. v. EPA, 684 F.3d 102 (D.C. Cir. 2012) — Dissent — Clean Air Act term "any air pollutant" does not mean what it says — excludes greenhouse gases and EPA rule would "impose significantly higher costs on businesses" and should be struck down
Communities for a Better Environment v. EPA, 748 F.3d 333 (D.C. Cir. 2014) — Majority Opinion — Okay for EPA to not review and strengthen primary air quality standards for carbon monoxide.
EME Homer City Generation, L.P. v. EPA, 696 F.3d 7 (D.C. Cir. 2012) — Majority Opinion — Struck down EPA rule because EPA cannot impose reasonable and achievable pollution reduction obligations on upwind states whose pollution discharges contribute to dangerous air quality in downwind states.
EME Homer City Generation, L.P v. EPA, 795 F.3d 118 (2015) — Majority Opinion — On remand, again rejected this life-saving rule in state-by-state "as-applied" challenges
Energy Future Coalition v. E.P.A., 793 F.3d 141 (D.C. Cir. 2015) — Majority Opinion — Upheld regulation requiring biofuels to be "commercially available" before being tested as replacements, which had the effect of impeding market access to petroleum-based gasoline alternatives
Grocery Mfrs. Ass'n v. EPA, 704 F.3d 1005 (D.C. Cir 2013) — Dissent from denial of rehearing en banc — Would have granted industry standing because "EPA will lose if we reach the merits. The E15 waiver plainly violates the statutory text."
Howmet Corp. v. Envtl. Protection Agency, 614 F.3d 544 (D.C.Cir. 2010) — Dissent — Argued EPA's interpretation of statute stretched its authority too far and "courts must not permit the agency, under the guise of interpreting a regulation, to create de facto a new regulation."
Mexichem Fluor, Inc. v. EPA, 866 F.3d 451 (D.C. Cir. 2017) — Majority Opinion — Struck down EPA rule requiring less harmful replacement chemicals to ozone-depleting chemicals
Mexichem Specialty Resins, Inc. v. E.P.A., 787 F.3d 544 (D.C. Cir. 2015) — Dissent — Argues industry has likelihood of success on the merits and EPA rule imposing wastewater pollution limits should be stayed
Mingo Logan Coal Co. v. EPA, 829 F.3d 710 (D.C. Cir. 2016) — Dissent — Would have struck down EPA action, arguing that EPA should have considered cost to coal companies when vetoing a permit that would have allowed those companies to dump mining wastes into waterways
NRDC v EPA, 749 F.3d 1055 (D.C. Cir. 2014) — Majority — Was okay for EPA to weaken air quality standards and delay implementation of protections
Sierra Club v. EPA, 536 F.3d 673 (D.C. Cir. 2008) — Dissent — Argued state and local authorities could not impose more stringent air-quality monitoring requirements
Texas v. EPA, 726 F.3d 180 (D.C. Cir. 2013) — Dissent — Would have struck down EPA permitting requirements for large construction projects of major sources of greenhouse gases, such as factories.
White Stallion Energy v. EPA, 748 F.3d 1222 (D.C. Cir. 2014) — Dissent — Would strike down EPA rule reducing toxic air pollution from coal- and oil-fired utility plants, writing in cost-consideration not in the statute, while ignoring real world health benefits of rule
Close Section
Read More
6. How could this nomination affect the authority of federal agencies?
The Supreme Court plays a role in defining the general authority of federal agencies to regulate.
It also addresses related questions, such as how much certainty an agency needs to have about potential harms in order to issue regulations, and when and to what extent an agency must balance the cost of regulation against the public benefits as a prerequisite to adopting new rules. For most environmental statutes, including the Clean Air Act, the courts have generally applied the "precautionary principle" — the idea that the agency does not have to have absolute certainty about the danger of a pollutant in order to regulate it.
If the agency has reason to believe harm is likely, it can act on that reasonable anticipation of adverse impacts. Over time, if those sorts of principles begin to slide so that an agency has to have greater certainty in order to regulate something, it could paralyze an agency's ability to do its job.
With regard to the consideration of costs, the courts have already begun to back away from early decisions under statutes like the Clean Air Act, which suggested that public health protection was paramount and that cost need only be considered where the statute specifically expressed that intent.
And Judge Kavanaugh has himself helped move the law further toward requiring cost balancing at every stage of environmental decision-making. This approach tends to make it much harder for an agency to protect public health and safety. At the same time Judge Kavanaugh has said that agencies have to consider costs to industry, he has said that they can't consider the entire suite of the benefits that the regulations produce.
This was the case, for example, with regard to the Mercury and Air Toxics Standards, issued by the EPA to regulate hazardous air pollutants from power plants. (Earthjustice has fought for years to secure and uphold this standard.) Reducing mercury pollution at power plants also results in reductions of other pollutants that cause illnesses like asthma, heart attacks and strokes.
The EPA wanted to include these additional benefits in its cost-benefit analysis of the rule, but Judge Kavanaugh argued that they should be prohibited from doing so — an outrageous proposition that would limit the agency's ability to justify critically important human health and environmental protections, all to avoid affecting corporate profit margins.
Close Section
Read More
7. Are there non-environmental issues we are concerned about with Judge Kavanaugh?
Absolutely. There are at least two opinions that Judge Kavanaugh has authored that fundamentally challenge the constitutional legitimacy of independent agencies. Basically, he has argued that any federal agencies whose leadership is not directly subject to removal by the president without cause are unconstitutional entities.
This is a big deal because agencies under the direct control of the president are inherently more political, and therefore less stable.
By way of background, there are agencies that Congress recognized were involved in critical decision-making with important implications,
If the president can dismiss the head of an agency on a whim without cause, it means the activities of the agency are going to be more influenced by politics, and its decisions more subject to the instability that comes with changing political whims.
Judge Kavanaugh has expressed his views in this regard about two different agencies — the Consumer Financial Protection Bureau and the Public Company Accounting Oversight Board.
In the first of these cases, Judge Kavanaugh authored the majority opinion holding that the Consumer Financial Protection Bureau was unconstitutional because it was not sufficiently under the control of the president — specifically, that the single head of the CFPB was subject to removal only "for cause."
He explained his view that "independent agencies pose a significant threat to individual liberty and to the constitutional system of separation of power and checks and balances." While this was an independent agency with a single head (rather than a board or commission), Judge Kananaugh's reasoning puts him in significant tension with the very purpose of independent agencies of all kinds — to dampen the influence of politics in certain critical decision-making processes.
In the second case, Judge Kavanaugh argued that the Public Company Accounting Oversight Board violated separation of powers principles because its members were insulated from "at will" presidential removal. Later, the Supreme Court's conservative justices essentially agreed with Judge Kavanaugh.
Close Section
Read More
8. How would a new justice on the Supreme Court affect Earthjustice's approach to litigation?
The composition of the court obviously influences how we litigate cases. But we have filed more than 100 cases over the last 18 months against the Trump administration, and so far, the courts are ruling mostly in our favor.
As long as the administration keeps breaking the law, we'll keep filing cases, and changes at the Supreme Court won't stop that. We rely on the courts because they are the last defense against lawlessness.
If Judge Kavanaugh is confirmed to the Supreme Court, the path to justice will be longer and more difficult, but that does not mean we will not take it. When our clients are harmed, we will do everything in our power to use the law to find them justice.