5 Energy Victories That Have the Power to Transform Our Grid
This year, Earthjustice has won a number of major victories that will pave the way for a cleaner, greener energy grid.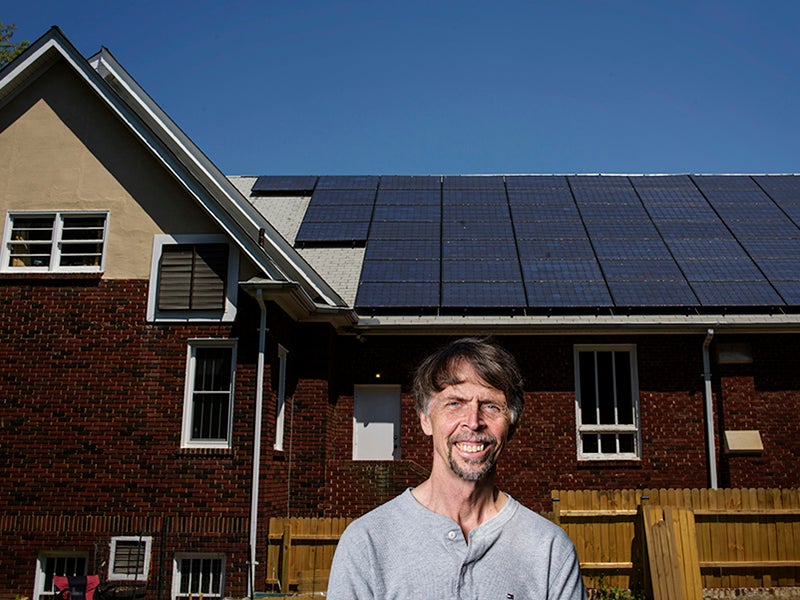 Clean energy isn't a wave of the future—it's here, and it's now. Earthjustice has been working to secure renewable energy victories that will usher in a number of critical clean energy advancements this year and beyond, helping to make clean energy even more accessible and affordable.
Here are five recent successes that will make our energy grid greener and our futures brighter:
1. Hawai'i Blocks a Corporation's Dirty, Outdated Energy Outlook
Recently, the Hawai'i Public Utilities Commission blocked NextEra Energy from merging with Hawaiian Electric utilities. The Orwellian-named NextEra energy has a long legacy of derailing rooftop solar and stopping energy efficiency advancements. The merger would have been a significant obstacle for the state's plan to achieve 100% clean energy usage by 2045.
Earthjustice attorneys Isaac Moriwake and Kylie Wha Kyung Wager intervened in the case representing the Sierra Club to stop the merger. Public opposition to the corporate takeover was strong, with polls indicating that the majority of the state's residents did not support it.
2. Community Solar Heats Up in Maryland
Want solar panels but don't have the space? Maryland will soon launch a pilot solar project that lets community members who don't have the means or the room to install solar panels on their own homes to buy or lease part of a shared array of solar panels. A subscriber's share of the electricity generated by these communal panels will be credited to his or her electricity bill.
Maryland regulators, with input from Susan Stevens Miller, an attorney in Earthjustice's Clean Energy program, and other partner groups, adopted final rules for the state's community solar project in June. The progressive regulations set aside 30 percent of the community solar capacity for low- and moderate-income households, making renewable energy more accessible and affordable for all.
Back in 2015, Earthjustice legislative representative Jessica Ennis helped lead a coalition of community and solar industry groups to pass bipartisan legislation making the community solar pilot project in Maryland possible. Read the full story here.
3. Feds Finally Crack Down on Methane Pollution
Carbon dioxide has a lesser-known cousin that's 25 times more effective at trapping the sun's radiation: methane. Yet prior to July, the EPA had failed to set limits on this potent greenhouse gas.
Earthjustice filed a lawsuit against the EPA, which is required to regulate air pollution from all major industry sources. Prompted by the litigation,  the agency finalized the first nationwide safeguards limiting dangerous methane pollution from new and modified sources in the oil and gas industry, the largest industry source of methane emissions.
These standards are expected to cut 510,000 tons of methane in 2025, which is equal to 11 million metric tons of carbon dioxide. The EPA also estimates that in 2025, the climate benefits of the new standards will be worth $690 million. 
4. New York REVs up the Clean Energy Race
New York has an ambitious plan to a build clean, resilient and affordable energy system for all its residents, and in June, Earthjustice successfully defended it.
The plan, known as Reforming the Energy Vision (REV), sets three state-wide goals for 2030: to reduce greenhouse gas emissions by 30 percent, to decrease energy consumption from buildings by 23 percent and to generate half of the state's electricity from renewable energy sources. The plan will also help make the state's energy grid more reliable and resilient in the face of extreme weather events, such as Hurricane Sandy.
Earthjustice advocated on behalf of New York's Pace Energy and Climate Center to uphold REV. The center intervened in two cases before New York utility regulators to safeguard the innovative initiative.
5. Supreme Court Ruling Protects Solar Energy Future
In January, the Supreme Court issued a decision that will remove barriers to "demand response" programs, which pay consumers back for reducing their power use at certain times of the day and year to help balance supply and demand on the power grid. Keeping the power supply balanced is one of the biggest challenges facing widespread adoption of clean energy.
Demand response saves Americans hundreds of billions of dollars each year, eases the burden on the power grid, reduces climate changing pollution and helps bring more clean energy online.   
The Supreme Court's decision will ultimately require grid operators to pay a fair price for demand response in our wholesale energy markets, placing demand response on a level playing field with energy served up by power plants. Earthjustice attorney Jill Tauber partnered with the Natural Resources Defense Council and weighed in on the case, urging the judge to reverse the previous appeals verdict. 
Diana was an undergraduate at Duke University, majoring in environmental science, with minors in English and economics, and was an intern with Earthjustice's editorial team in San Francisco.
Earthjustice's Clean Energy Program uses the power of the law and the strength of partnership to accelerate the transition to 100% clean energy.