Opening Alaska to More Oil and Gas Drilling is a Terrible Idea. Here's Why.
Five reasons why the Biden administration's sale of nearly a million acres to fossil fuel companies in Cook Inlet is bad for everyone.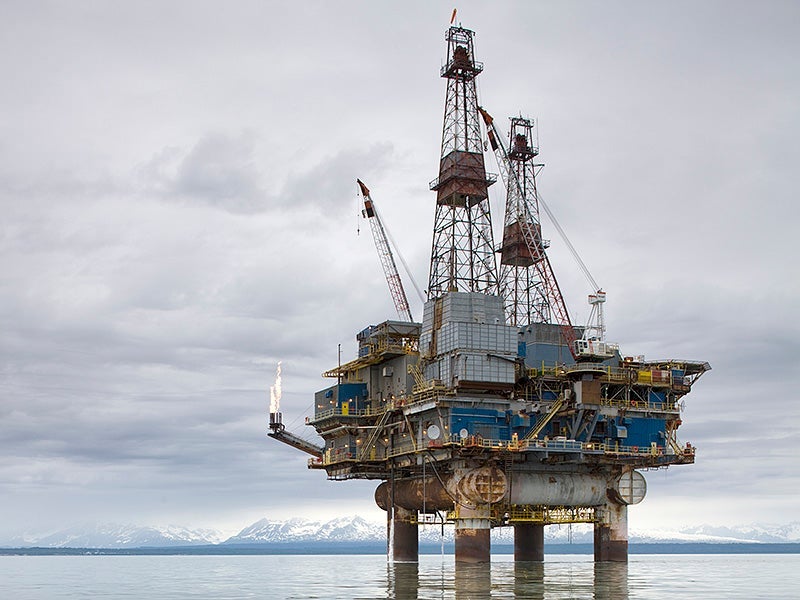 The Biden administration held a reckless oil and gas lease sale in Alaska's Cook Inlet at the end of December, despite more than 22,000 public comments urging it otherwise. 
Earthjustice has sued the Bureau of Ocean Energy Management (BOEM) for its failure to do right by the ecosystem and the people who depend on it.  
This sale has been riddled with fits and starts. The administration cancelled it in 2022, but it was negotiated into the Inflation Reduction Act that Congress passed last summer as a compromise to the oil and gas industry. Yet for all the last-minute negotiating, the sale attracted almost no interest from fossil fuel companies. 
"Lease sale 258 was a flop," said Erik Grafe, the deputy managing attorney for Earthjustice's Alaska office. "Only one oil company showed up and bid on one single lease. This is good news for the climate and Cook Inlet. The result should stiffen Interior's spine to stop leasing our public lands for fossil fuel and instead align their management with the urgent need to combat climate change." 
In holding this sale, the Biden administration relied on a deeply flawed environmental analysis that violates the National Environmental Policy Act, and is threatening one of Alaska's most iconic and sensitive regions. 
Beluga Whales
Cook Inlet's belugas are genetically unique from other beluga whales, making them essential to the Cook Inlet ecosystem. They are also culturally and economically significant to the region and its people. The endangered belugas are suffering the consequences of Cook Inlet's active oil and gas infrastructure in its state-owned waters.  One study shows that carcinogenic compounds found in the water from oil and gas production in Cook Inlet are likely tied to gastrointestinal cancer in the area's beluga whales. Today, less than three hundred Cook Inlet belugas remain. 
Oil and gas leasing would further assault Cook Inlet's belugas with seismic blasting, contaminated water, shipping traffic, heavy construction, and the risk of catastrophic oil spills. 
Oil Spills
The government's environmental analysis predicts a 1 in 5 chance of a large oil spill occurring from a Cook Inlet lease – yet egregiously downplays those impacts.  Even small spills will travel through the water column and pollute connected waterways. 
The oil and gas industry has repeatedly failed to prevent or contain disastrous oil spills on Alaska's coast. The infamous Exxon Valdez oil spill in 1989 poisoned Alaska's beaches and wildlife, and significantly harmed Alaska's Indigenous communities. In the words of Chief John Kvasnikoff of Nanwalek, Alaska, "We could not collect our foods; we were suddenly poor in ways we'd never known." 
Even more worrying, the main potential buyer for the Cook Inlet lease sale has a track record of repeated oil spills and safety violations – including in Cook Inlet itself. 
Climate Crisis
Alaska is the fastest-warming state in the country, according to the most recent National Climate Assessment. The last thing Alaskans need is more carbon-emitting infrastructure.   
As the North Pacific Ocean heats up and Arctic sea ice retreats, marine animals are migrating farther north in search of food and cooler waters. This affects myriad aspects of life in Alaska and has dramatically changed the region's ecosystem.  
The Biden administration has made lowering U.S. carbon emissions a national priority. Selling new oil and gas leases in one of the world's most climate-sensitive regions goes directly against our national security and the administration's climate goals. 
Alaska Fisheries
Alaska's world-renowned fisheries produce more fish than all other U.S. states combined. Many of Alaska's Indigenous communities have relied on subsistence fishing for millennia.  
Yet climate impacts are disrupting Alaska's marine life: In 2020, a heat wave killed off much of Cook Inlet's Pacific cod population, leading local fishery managers to close Cook Inlet's federal cod fishery for the first time. Increasing oil drilling in Alaska will only have deadly consequences for its essential marine ecosystems. 
Tourism
Southcentral Alaska has a vital and sustainable tourism industry. Bordering the north of Cook Inlet are Lake Clark and Katmai National Parks, areas famous for bear viewing – which brings in $34 million annually. The government's analysis acknowledges that these parks would be at high risk of an oil spill from the Cook Inlet lease sale, but, again, stops short of analyzing the impacts this would cause.   
Alison Cagle is a writer at Earthjustice. She is based in San Francisco. Alison tells the stories of the earth: the systems that govern it, the ripple effects of those systems, and the people who are fighting to change them — to protect our planet and all its inhabitants.
Opened in 1978, our Alaska regional office works to safeguard public lands, waters, and wildlife from destructive oil and gas drilling, mining, and logging, and to protect the region's marine and coastal ecosystems.