A Banner Summer for Clean Energy in Colorado
2015 was a landmark summer for renewable energy rules and initiatives in Colorado.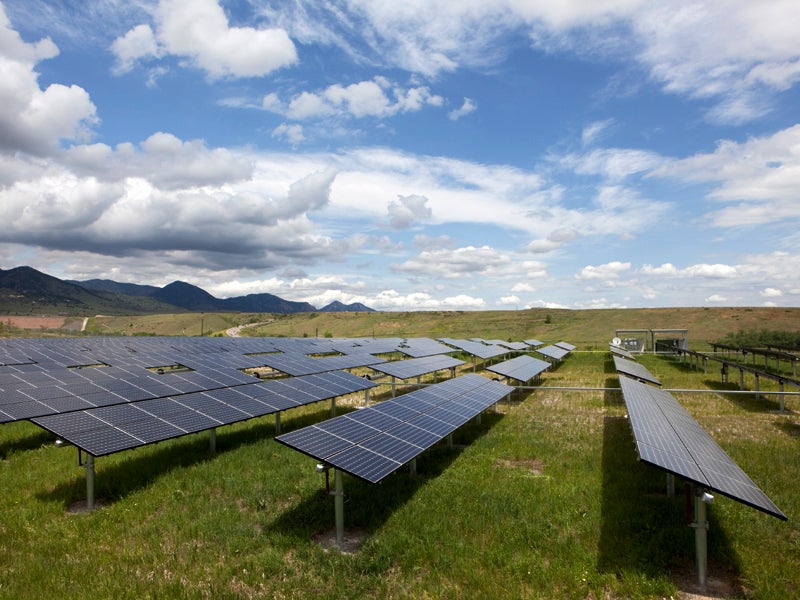 Labor Day has passed, the new school year has begun and there's a hint of fall in the Colorado air. Before the summer heat gives way to snow, now is a good time to take stock of several recent victories and milestones for Colorado clean energy.
Solar and wind are poised to play an increasingly large role in the state's energy future. The result will be cleaner air, lower electricity bills, less carbon pollution and more jobs for Coloradans. The recent spate of good news for clean energy in Colorado stands in stark contrast to the state's fossil fuel industry, where oil, gas and coal companies are in the throes of layoffs, budget cuts and bankruptcies.  
Here are this summer's highlights for Colorado clean energy:
1.  The Tenth Circuit Upholds the Colorado Renewable Energy Standard
Colorado has one of the most ambitious renewable energy standards in the nation, requiring Xcel Energy and other large investor-owned utilities to supply 30 percent of retail electricity sales with renewables by 2020. In 2011, a right-wing advocacy group from Washington, D.C. filed a lawsuit challenging the Colorado law and vowed to put wind energy "on trial."  
Earthjustice and several partner organizations intervened to defend Colorado's renewable energy standard, and on July 13, the Tenth Circuit Court of Appeals upheld the law and ruled it constitutional. This victory ensures that the cornerstone of Colorado's clean energy economy remains in place. 
2.   Rooftop Solar Advocates Defend Net Metering
One of the key policies supporting rooftop solar's rapid growth across the nation is net metering, which gives customers the right to export the excess electricity generated by their rooftop solar panels to the grid and to be compensated for that electricity at full retail rates. As rooftop solar prices continue to drop, the technology promises to bring fundamental changes to the utility industry.
Many utilities view rooftop solar as a threat rather than an opportunity, and they have launched campaigns to attack rooftop solar and net metering. Fortunately, these tactics have not been successful in Colorado. The Colorado Public Utilities Commission (PUC) recently wrapped up a proceeding to study net metering, in which Earthjustice participated on behalf of Vote Solar. On August 26, the state PUC announced it would not be in the public interest to eliminate or modify net metering. As the agency noted, Colorado is on the right path to a clean energy future and the PUC will not welcome utility efforts to politicize rooftop solar.
3.  New Comanche Solar Project Promises to Be the Largest Solar Farm East of the Rockies
On August 20, construction began on the Comanche Solar project, a 156-megawatt solar facility near Pueblo that will sell electricity to Xcel Energy. This new solar project is notable for two reasons. First, the price Xcel will pay for solar energy from the Comanche project is cheaper than the price to purchase electricity from a natural gas-powered unit. Xcel has now purchased both wind and solar power in Colorado because it is cheaper than gas.
Second, when the Comanche Solar project is completed next year, Colorado will be home to the nation's largest solar facility east of the Rocky Mountains. This new solar facility—along with the large number of rooftop solar systems and community solar gardens—demonstrates Colorado's high-quality solar resources and makes the economic case for increasing solar capacity in the state.
4.  Cutting-Edge Community Solar Gardens Project Launches in Low-Income Communities
On July 7, the White House announced plans to increase access to solar energy for low-income communities. Just over a month later, Colorado became the first state in the nation to invest in a community solar gardens project dedicated exclusively to low-income customers. Colorado awarded over $1.2 million in grants to build five to 12 community solar gardens for low-income households.
Community solar gardens make distributed solar generation available to homeowners and renters who can't install rooftop solar panels. The project will also ensure that over 300 low-income Colorado households have access to clean, affordable solar power.
5.  The EPA Finalizes the Clean Power Plan
On August 3, the EPA finalized the Clean Power Plan, which will require Colorado's electricity sector to reduce its carbon pollution 28 percent by 2030. One of the primary ways for Colorado to comply with the Clean Power Plan is to replace electricity generated by fossil fuels with renewable energy. Colorado is well-positioned to comply with the EPA's new rule. Both Governor Hickenlooper and the state air agency have recognized that the Clean Power Plan is good for Colorado.
Unfortunately, the Colorado Attorney General sided with the fossil fuel industry and will join a lawsuit challenging the Clean Power Plan. Earthjustice is defending the Clean Power Plan in court. When the plan goes into effect, it will provide yet another tool for Colorado to move toward a 21st-century clean energy future.
Michael Hiatt is deputy managing attorney in Earthjustice's Rocky Mountain Office.
Earthjustice's Clean Energy Program uses the power of the law and the strength of partnership to accelerate the transition to 100% clean energy.
Established in 1993, Earthjustice's Northern Rockies Office, located in Bozeman, Mont., protects the region's irreplaceable natural resources by safeguarding sensitive wildlife species and their habitats and challenging harmful coal and industrial gas developments.