Judge Sides With New Orleans Residents in Fight Against Dirty Gas Plant
More than a year after Earthjustice filed suit, the people of New Orleans East are finally seeing justice.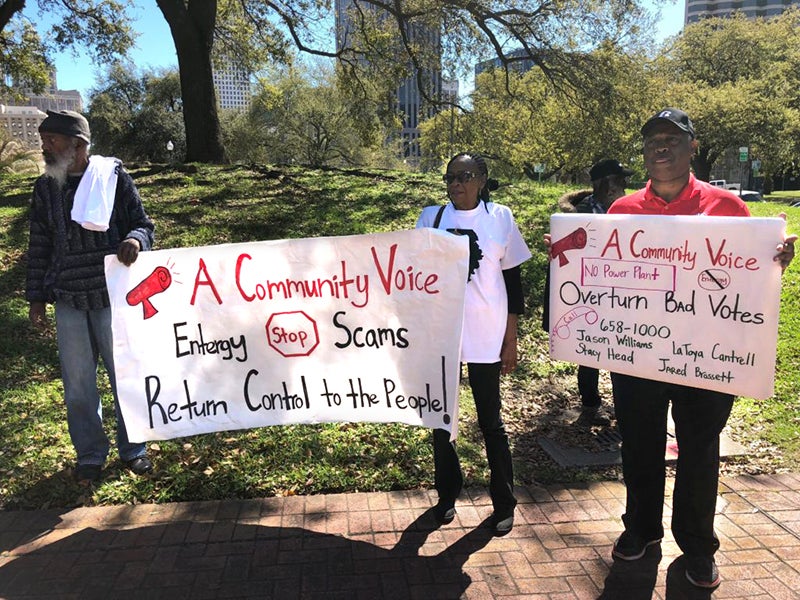 The New Orleans City Council must reconsider a controversial gas-fired power plant proposal, a district court judge ruled on June 14.
Judge Piper Griffin determined that the council violated Louisiana's Open Meetings Law when more than 100 residents were locked out of meetings about the proposal. Represented by Earthjustice, local communities have been fighting the plant since the utility company Entergy proposed it in 2016.
At two city council meetings, Entergy paid professional actors $60 to fill up seats — or $200 to give a scripted speech in support of the proposed plant, which is projected to produce billions of pounds of toxic air pollution and increase flood risk in an area devastated by Hurricane Katrina in 2005.
At the same time, the people of New Orleans East — an area made up of predominantly Vietnamese, African-American and Latino communities — were "literally locked out" of the meetings, says Reverend Gregory Manning, pastor of Gloria Dei Lutheran Church in New Orleans.
"Today's decision is a long overdue victory for the local New Orleans community," says Earthjustice staff attorney Susan Stevens Miller, who litigated the case. "Entergy grossly violated the law by hiring paid actors to fake support for its proposed gas plant — a project that local residents were unable to protest because they were literally locked out of the City Council's meetings. We're pleased Judge Griffin agreed with us on this issue and that the community's voice was heard by the Judge and will now be heard by the City Council." 
More than a year ago, a local investigative journalist with The Lens New Orleans revealed that paid actors showed up at two city council meetings to speak in support of the plant. Entergy claimed that its public affairs firm Hawthorn Group had hired the actors without Entergy's knowledge. The city council investigated and found that Entergy "knew or should have known that such conduct occurred."
"If Hawthorne can get more people I will pay," Charles Rice, who was then the CEO of Entergy New Orleans, wrote in one text message. "This is war and we need all the foot shoulders [soldiers] we can muster," he wrote in another.
Despite a long list of damning details revealed in their investigation, the city council voted to give Entergy nothing more than a slap on the wrist. The punishment for the utility company, which is a member of a corporate family of utilities that just reported quarterly earnings of more than $500 million? A $5 million fine.
"A $5 million fine is not a remedy for what went wrong with the public process," said Miller. "This report makes it clear that Entergy violated the law, and the law now requires the council to hold a new hearing and re-vote on the decision to approve Entergy's gas plant."
In April 2018, Earthjustice filed a lawsuit on behalf of several local community organizations that claims that the council and its utilities committee violated Louisiana's constitution and Open Meetings Law.
"A locked door is the antithesis of an open meeting, but that's what people faced when they arrived at the Council's Utilities Committee meeting," says Dr. Beverly Wright, executive director of the Deep South Center for Environmental Justice. "Councilmembers, who are elected by residents, should want to hear from them on decisions that affect our city."
Entergy proposed that the gas-fired power plant would be built on a FEMA-designated floodplain within two miles of homes, churches, and schools, in an area made up predominantly of Vietnamese, African American and Latino communities.
Together with public interest advocates, local residents of New Orleans East revealed how Entergy relied on flimsy assumptions about rising customer demand to justify the plant, while failing to seriously consider energy efficiency programs or solar power as cost-effective alternatives. The opposition rapidly gained ground by shooting holes in Entergy's proposal and highlighting the dire impacts on local residents.
As the council's report revealed, Entergy was worried.
"We have to get a strategy around this," Rice wrote in an August 2017 email. "I am going to work with Chanel [LaGarde] to get an outside consultant, the Hawthorne [sic] group to begin some type of campaign/strategy against the alliance." The "alliance" that Rice was looking to counter is the Alliance for Affordable Energy, a nonprofit organization in New Orleans that advocates on behalf of utility customers for fair, affordable, environmentally responsible energy, and is one of Earthjustice's clients.
Entergy then approved Hawthorn's proposed strategy to pay $6,500 for supporters to sign up and speak at an October 2017 public hearing. Internal Entergy communications included in the investigators' report show how this strategy was repeated at a February meeting — and how Entergy pushed to have their paid supporters arrive at that meeting before New Orleans East residents got there.
In the coming months, the city council will hold a new hearing to ensure that the community has a chance to weigh in on the plant proposal. The council will then vote on the proposal again.
Originally published in November 2018. Updated June 17, 2019, with the outcome of Judge Griffin's ruling.
Emilie has spent the past two decades as a journalist, speechwriter and communications strategist in Washington, D.C. At Earthjustice, she shares the stories of the people and issues at the heart of our clean energy litigation and policy work.
Earthjustice's Clean Energy Program uses the power of the law and the strength of partnership to accelerate the transition to 100% clean energy.