Judge Rules Trump Administration Violated Law By Opening Public Lands to Coal Leasing
Earthjustice attorney Jenny Harbine just stopped the Trump's administration's efforts to open up dirty coal leasing on public lands.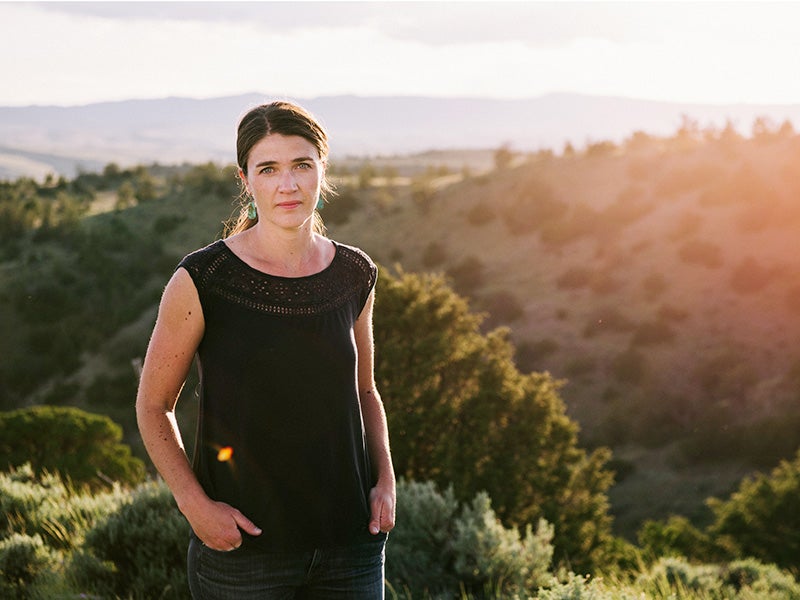 [Breaking News: A judge ruled on Friday that the Trump administration violated the law when it opened up America's public lands to coal leasing in 2017. Says Earthjustice attorney Jenny Harbine, who argued the case, "This is a victory for communities whose land, water, and way of life is threatened by new coal mining. It's time we put their health and safety ahead of coal industry interests."
Below is the story of Harbine's efforts to fight the Trump administration's attempt to open up public lands to coal leasing, which included filing a lawsuit hours after the administration issued its illegal order.]
For Earthjustice attorney Jenny Harbine, three tense days in the battle against coal kicked off on a Monday morning, while she was in the middle of packing a suitcase. She was preparing to fly from Montana to New Orleans to attend a clean energy conference. Her two sons were eating breakfast in the kitchen as her husband prepared their lunches. Suddenly, Harbine overheard their 7-year-old, Ole, pipe up: "Dad, they're talking about coal on the radio." 
The report announced that President Trump would soon issue a sweeping executive order dismantling Obama's signature climate policies—including a moratorium on federal coal leasing that prevents private companies from extracting nearly two billion tons of coal on public lands.
"That's something Mom is working on," her husband told Ole. As Harbine came into the kitchen, her son looked up quizzically. "Mom?" he asked. "Is that why you're walking so fast?"
"I'm sure I was walking fast," she laughs, recounting the story. "It might have been some anxiety over the news that the day I'd been preparing for was finally coming."
Leading up to this moment in late March, Harbine had been working nonstop with clients and colleagues for months. She and Earthjustice attorney Ted Zukoski knew they'd have to strike fast the moment Trump moved to reverse the coal-leasing moratorium, an oft-reiterated campaign promise. They took as inspiration the American Civil Liberties Union's swift action to stop Trump's travel ban in January, a move that immediately shifted focus from Trump's Twitter account to the courts.
She…knew they'd have to strike fast the moment Trump moved to reverse the coal-leasing moratorium.
The coal-leasing moratorium was announced in January 2016, when Sally Jewell, Obama's Interior Secretary, temporarily froze most new leasing on federal lands. The move recognized that the coal program would only worsen climate change, accounting for 11 percent of total U.S. greenhouse gas emissions. Burning coal also emits mercury, a potent neurotoxin.
Moreover, the coal program offered scant benefit to taxpayers, auctioning off mining rights on public lands for a pittance. Owned by all Americans, these are open lands where plants and wildlife can thrive—but once they are leased to private industry for mining, the terrain is often permanently damaged.
To prepare a case, Harbine and Zukoski began compiling scientific data that supported the moratorium. They also partnered with people who had long battled the destructive coal industry to preserve their way of life. They reached out to folks in the Powder River Basin area of southeastern Montana, where decades of strip mining have transformed wild expanses into barren wastelands. Through Earthjustice's work over many years to halt a massive coal mine there, Harbine became acquainted with cattle rancher Art Hayes, who feared his water supply would be impacted by mining. She also met Northern Cheyenne tribal member Otto Braided Hair, a co-founder of the organization ecoCheyenne. And she witnessed the formidable work of the Northern Cheyenne Tribe, which asserted its sovereignty to insist that review of the proposed mine would accurately reflect its tremendous impact on the Northern Cheyenne reservation and people.
Ranchers and tribal members living on and near the Northern Cheyenne reservation, near the massive Spring Creek and Decker mines, bear the brunt of pollution from coal mines that would operate longer and grow larger under Trump's new policy. Strip mine blasting creates poisonous orange clouds of nitrogen oxides and kicks up particulate matter that heightens the risk of respiratory disease, cancer and heart problems. Mining runoff, meanwhile, can transform a viable cattle operation into a wasteland for ranchers like Hayes.
When Trump announced his executive order on Tuesday, March 28, flanked by coal-industry executives, Harbine was at the conference in New Orleans. Attendees were momentarily distracted, checking their phones for news updates.  The president directed Interior Secretary Ryan Zinke to take sweeping actions to reverse signature climate policies, but litigation couldn't be filed until after attorneys could review the text of Zinke's order, expected the following day. Harbine and her colleagues knew the race was on, but questions about the fate of the coal-leasing moratorium continued to swirl.
Unable to sleep early Wednesday morning, Harbine rose before dawn and walked to a nearby café to grab coffee and beignets to bring back to her hotel. She didn't realize then that it would have to sustain her for 12 hours as she and her team worked online and across time zones to launch a rapid response.
"I refuse to let my children believe there are some areas that are okay to sacrifice. Or that there are people we can leave to fend for themselves, against corporate greed."
A few hours later, Secretary Zinke's order was released, and it did indeed reverse the coal-leasing moratorium. But it lacked any science- or fact-based rationale for the decision, in stark contrast with the hefty scientific research Earthjustice had helped compile to support Secretary Jewell's decision to impose a moratorium. It also came without any mention of impacts to the Northern Cheyenne Tribe, which had demanded government-to-government consultation on the action that would impact lives on the reservation.
Harbine and her team quickly moved to put the final touches on the lawsuit, which argued that the government failed to base its decision on a rational evaluation of facts and science. As she revised draft documents, coordinated with clients, and uploaded files, the unreliable hotel Wi-Fi didn't help.
Earthjustice filed the legal challenge mere hours after Zinke issued the order. The Northern Cheyenne Tribe, ecoCheyenne and the Montana Environmental Information Center, along with other national and regional conservation groups, including the Sierra Club, signed on to the lawsuit.
Soon after the complaint was filed, calls from the media came flooding in. Journalists seized on the resistance against Trump's attack on public lands. Weeks later, four states filed a similar lawsuit.
Back in her office, Harbine is now preparing to bring before the court key information—overlooked by Trump—about the science of climate change and the undisputed health impacts of mining and burning coal.
"These public lands are not only beautiful; they sustain livelihoods, communities and cultures," she says. "I refuse to let my children believe there are some areas that are okay to sacrifice. Or that there are people we can leave to fend for themselves, against corporate greed."
Based in Portland, OR, Rebecca is Earthjustice's Public Affairs and Communications Officer for lands, wildlife, and oceans.
Established in 1993, Earthjustice's Northern Rockies Office, located in Bozeman, Mont., protects the region's irreplaceable natural resources by safeguarding sensitive wildlife species and their habitats and challenging harmful coal and industrial gas developments.