Arctic National Wildlife Refuge: The Sacred Place Where Life Begins
Learn more about the Arctic National Wildlife Refuge straight from the women of the Gwich'in tribe in Alaska through Miho Aida's film "The Sacred Place Where Life Begins: Gwich'in Women Speak."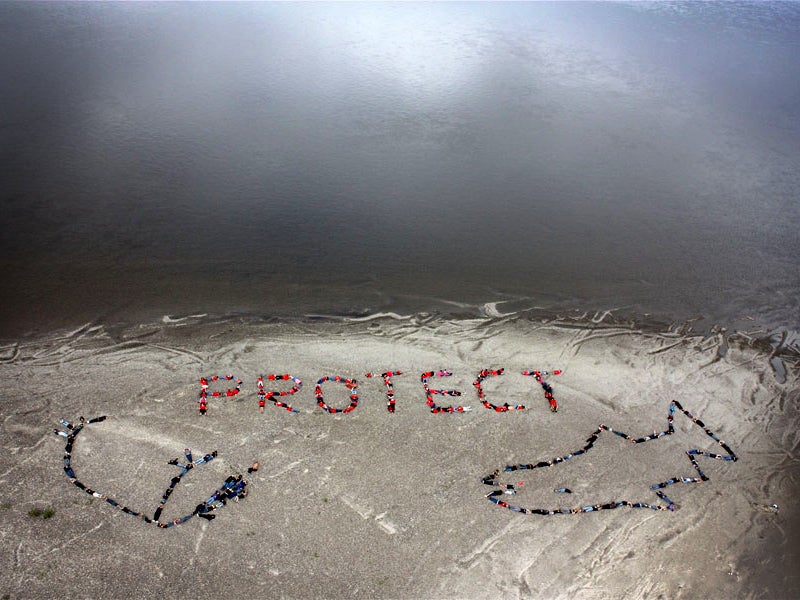 One thousand miles, 28 stops, one woman on a bicycle with a portable theater. This Saturday, Miho Aida finishes her cycling tour of the Northeastern United States, where she has been spreading the story of the Gwich'in people through her award-winning film "The Sacred Place Where Life Begins:  Gwich'in Women Speak."
In the documentary, Aida interviews women, girls, mothers, grandmothers and community leaders of the Gwich'in tribe, located in the Northeastern corner of Alaska right on the edge of the Arctic National Wildlife Refuge. The Arctic refuge is a national treasure and one of the last remaining truly wild places. This untouched landscape is home to more than 250 animal species, such as polar bears and wolverines, as well as more than 180 species of birds that migrate there each year from all 50 states. 
The Gwich'in people not only appreciate the beauty of the refuge, but also rely on it and have been fighting for its protection for decades. Every year, the Porcupine caribou herd, the primary source of food for the Native community, travels to the coastal plain of the refuge to birth their young. The coastal plain—or "Sacred Place Where Life Begins"—is therefore deeply entrenched in the Gwich'in people's way of life, even though its sanctity means that they do not set foot on the coastal plain themselves. Development on this revered land would spell destruction for an entire community of people. As one of the women speaking in the film trailer below says, "If we didn't have caribou, we wouldn't be Gwich'in."
I was lucky enough to meet Aida last month when she showed her film in Washington D.C. It was there that I learned more about her and the events that led her to create this film. Aida, originally from Tokyo, has dedicated herself to teaching young people about the natural world as an environmental educator, now based in San Francisco. She explained that one of the motivations for this project came from her desire to support women, especially women of color, in the environmental field. Enter Sarah James, a board member of the Gwich'in Steering Committee and one of the women interviewed in the film.  James asked Aida to join the Gwich'in Nation gathering in 2010 to interview Gwich'in women for what would ultimately become this film. Even though she had no experience in filmmaking, Aida jumped at the opportunity to share the stories of these inspiring women and their work to protect the refuge.
While Aida's tour may be coming to a close, work to protect the Arctic refuge is not over. Earlier this year, the Obama administration proposed that more than 12 million acres of the Arctic National Wildlife Refuge be deemed "wilderness," and therefore off-limits to oil and gas development. This Comprehensive Conservation Plan, or CCP, was 25 years in coming, and public comments show that thousands of Americans support the President's proposal. However, only an act of Congress can truly protect the refuge. There is currently a bill in the House of Representatives that would designate the approximately 1.5 million acres of the coastal plain as wilderness, ensuring its protection for decades to come. You can take action on Aida's website to get this bill passed by signing a petition to Congress or even buying the DVD to host a film screening to educate your friends, family and community about the importance of protecting this magnificent place.
The Arctic National Wildlife Refuge is part of our natural heritage, so we all need to play a role in protecting it. Aida created her film with just a flip camera, a MacBook computer and a conviction that she could do something to make sure the Arctic refuge gets the protections it deserves. As she explains in her blog, "I can't do everything, but I can do something. One by one, I am reaching out to you. One by one, I am reaching out to the world and see what happens."
To learn more about Aida's efforts to document the stories of diverse women outdoor role models around the world, visit her website at www.mihoaida.com.  There will be a finale screening of The Sacred Place Where Life Begins on Sunday, July 19th at Reel Pizza Cinema in Bar Harbor, Maine, 2:00 PM.
Serving on the Policy & Legislation team until 2019, Jenifer covered the clean water and safe drinking water dockets.
Opened in 1978, our Alaska regional office works to safeguard public lands, waters, and wildlife from destructive oil and gas drilling, mining, and logging, and to protect the region's marine and coastal ecosystems.