At Power Plant Approval Meeting, Paid Actors Spoke While Residents Were Locked Out
We've asked the Louisiana attorney general to investigate a New Orleans City Council meeting where actors were paid to speak in favor of placing a gas plant in a neighborhood that didn't want it there.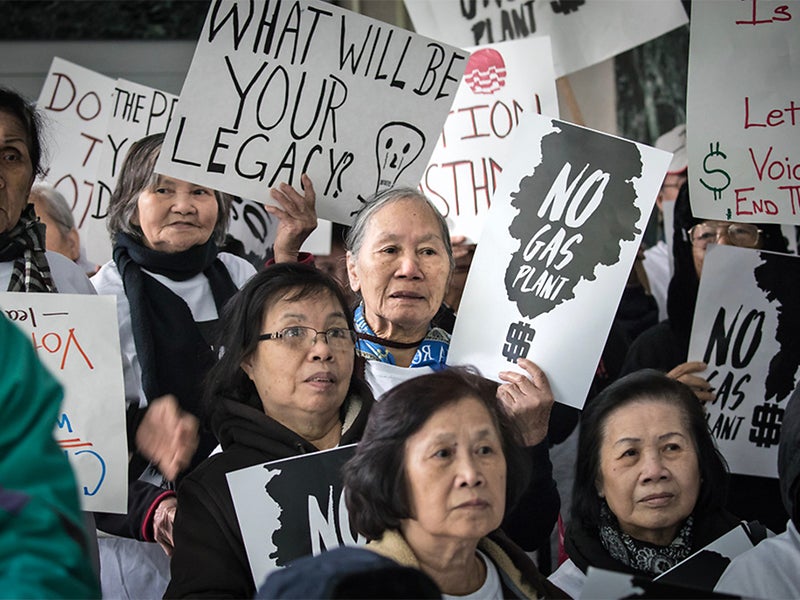 Observe and participate. Two very important words to the people of New Orleans East.
A news report this week revealed that their constitutional right to observe and participate in public meetings—specifically, meetings where the New Orleans City Council approved the building of a dirty gas-fired power plant in their neighborhood—had been put up for sale.
The price? 60 to 200 "dollarydoos."
A local investigative journalist with The Lens New Orleans reported that professional actors were paid $60 to fill up seats—or $200 to give a scripted speech—at two recent city council meetings on the controversial plant, while the people of New Orleans East were "literally locked out," said Reverend Gregory Manning, pastor of Gloria Dei Lutheran Church in New Orleans.
It was "easy money," one prospective hire was told in a Facebook Messenger exchange, only after he signed a nondisclosure agreement. He was directed to pick up a sign. Put on an orange T-shirt. Find a seat and stay in it. There would be free pizza and a round of drinks when it was over.
Beyond that, there were only "a few things to keep in mind: 1) Tell nobody you're being paid. 2) Tell nobody you're being paid. 3) Media will be present, do not talk to them. 4) Tell nobody you're being paid. 5) If someone approaches you, don't tell them you're being paid."
With the help of Earthjustice, New Orleans East residents sent a letter to Louisiana Attorney General Buddy Landry asking for an investigation into possible legal and ethical violations — and to ultimately get to the bottom of the question of who actually paid for the fake participants.
According to The Lens, "the two men who recruited and organized the actors, Garrett Wilkerson and Daniel Taylor, appear to be from out of town."
Entergy, the utility company that would profit from the ratepayer-funded plant, initially denied any involvement. After conducting an internal investigation, it reported that a public affairs firm the company contracted with had hired Crowds on Demand, a publicity firm that provides rent-a-crowd services, without Entergy's knowledge.
The city council, which started a new term on Monday with several new members, has vowed to investigate.
Did Entergy pay actors, 'compromise' power plant approval process? New Orleans City Council to investigate https://t.co/PZP2ZzUyZ2 pic.twitter.com/bMiCzRV1Mi

— New Orleans Advocate (@theadvocateno) May 9, 2018
"The harmful impact of this nefarious practice is unfortunate, unappreciated and repulsive to true democratic deliberative process," Council President Jason Williams told the Advocate.
On April 19, before news of the paid actors broke, Earthjustice filed a lawsuit on New Orleans East residents' behalf, claiming that the city council violated both the Louisiana Constitution and the Open Meetings Law when more than 100 residents were locked out of meetings on the plant, which has been approved to be built in an area made up of predominantly Vietnamese, African-American and Latino communities, on a FEMA floodplain within two miles of homes, churches and schools. The plant will bring with it billions of pounds of toxic air pollution, increased flood risk and higher monthly electric bills for the next 30 years.
On Feb. 21, Mark Nguyen, a leader with the Vietnamese American Young Leaders Association of New Orleans, brought 100 people from the Vietnamese community to voice their concerns about the health, environmental and cost implications of the $210 million plant. They were locked out and never got a chance to speak.
"How could it be a public hearing when the public was kept out?" Nguyen said. "Community voices were not heard—how could that be legitimate?"
Emilie has spent the past two decades as a journalist, speechwriter and communications strategist in Washington, D.C. At Earthjustice, she shares the stories of the people and issues at the heart of our clean energy litigation and policy work.
Earthjustice's Clean Energy Program uses the power of the law and the strength of partnership to accelerate the transition to 100% clean energy.