Attacks on Solar Power Aren't off to a Good Start
A diverse coalition of community, environmental and renewable energy industry organizations are fighting to keep solar power affordable and economically competitive against heavily subsidized fossil fuels.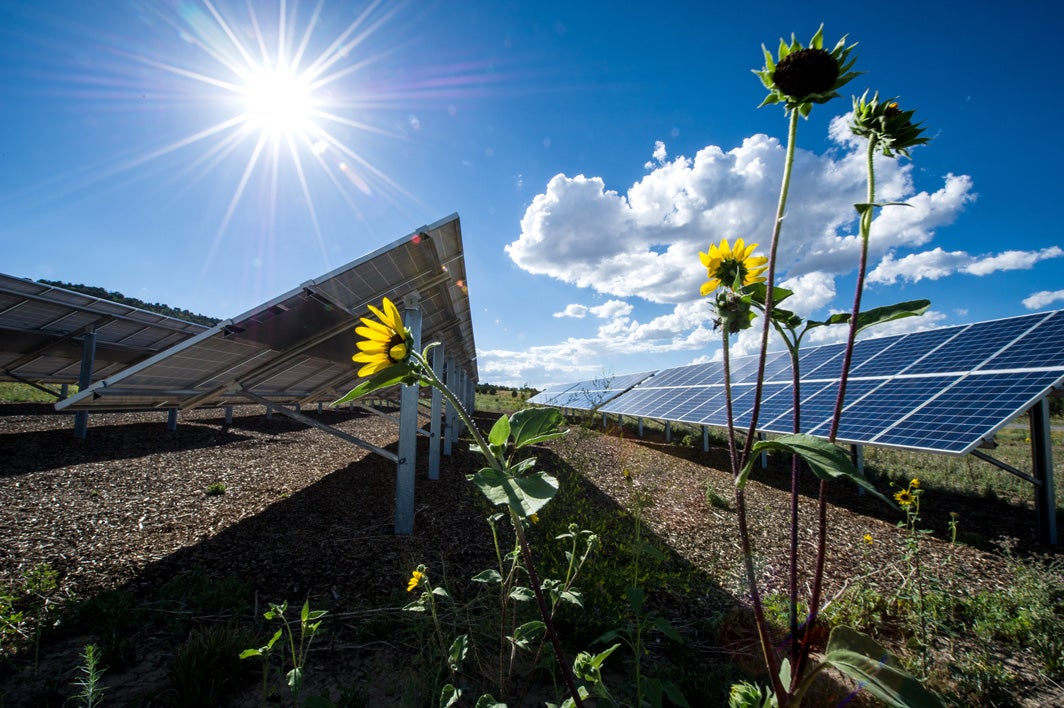 At a speech before the National Energy Summit in Las Vegas last week, President Obama cheered "an American energy revolution" and emphasized the recent profound shift in renewable energy economics.
"It's impossible to overstate what this means. For decades, we've been told that it doesn't make economic sense to switch to renewable energy. Today, that's no longer true. And you don't have to take my word for it. Many of our biggest businesses are backing up that fact," Obama said, mentioning large investments by Walmart and Google in solar energy.
But don't expect Big Coal and Big Oil to go gently into the long good night. The dirty power industry that has profited handsomely from America's addiction to fossil fuels is fighting back hard. The Koch Brothers and their partners at the American Legislative Exchange Council are pushing measures across the country that would upend the economic incentives for renewable energy, especially solar.
A diverse coalition of community, environmental and renewable energy industry organizations are fighting back to keep solar power affordable and economically competitive against heavily subsidized fossil fuels. In the days after Obama's speech, these groups scored three major victories for solar power in Nevada, Colorado and New Mexico.
The day after the president's speech, the Nevada Public Utilities Commission decided to leave its net metering program intact for the immediate future. The program has helped create a thriving market for rooftop solar in Nevada, but NV Energy was pushing the commission to scrap net metering in favor of a complicated new rate structure that would hike bills for solar customers. The commission rejected that proposal.   
The battle isn't over, though. The commission will decide on a permanent net metering structure by the end of the year, and NV Energy will continue its lobbying efforts.
A similar battle was decided—and won—that same day in Colorado. The state public utility commissioned ruled that no changes were necessary to Colorado's net metering system. Again, a public utility had tried to kill incentives to install solar systems. After extensive consideration of legal, technical and economic arguments, the commission decided against the utility's requested changes.
Colorado influences energy policy across the West, so this was a vital decision to support the continuing rise of rooftop solar.
The very next day, the Public Service Company of New Mexico abandoned proposals to slap hefty fixed charges on solar customers and alter the net metering system, killing the economics of rooftop solar. These proposals had been part of a rate case application rejected earlier this year, and they were expected to be part of the utility's re-filed case. But stiff opposition from a coalition that included Earthjustice and our client VoteSolar convinced the company it couldn't win this fight.
"We see where technology is taking us.  We see where consumers want to go," President Obama said in his speech. "And that, let's be honest, has some big fossil fuel interests pretty nervous—to the point where they're trying to fight renewable energy."
Recent events are proving that these well-funded fossil fuel interests are no match for the facts. When utilities are forced to account fairly for all the benefits that customer-generated solar energy provides, it becomes clear that erecting obstacles to rooftop solar is a bad deal for all ratepayers.   
As President Obama said, "This is about whether big polluters control the system, or whether consumers have freedom to choose cleaner, cheaper, more efficient energy; whether we protect old ways of doing business even when they're not efficient, or we dream up new business models that bring new technologies into our homes and businesses and new jobs into our communities. This is about the past versus the future. And America believes in the future."
The fight for a cleaner, brighter and more sustainable future will have to overcome stiff resistance from entrenched and powerful special interests, but solar energy and other renewable power sources can and should prevail over dirty fossil fuels.
Earthjustice represented VoteSolar in each of these proceedings.
Abigail Dillen serves Earthjustice as our President, leading the organization's staff, board and supporters to advance our mission of using the courts to protect our environment and people's health.
Earthjustice's Clean Energy Program uses the power of the law and the strength of partnership to accelerate the transition to 100% clean energy.
Established in 2008, Earthjustice's Northeast Office, located in New York City, is at the forefront of issues at the intersection of energy, environmental health, and social justice.