Ben & Jerry's Joins Fight for GMO Food Labeling
Ben & Jerry's joins other Vermont businesses and consumer groups in defending Vermont's new labeling requirements for genetically engineered foods against a federal court challenge brought by the food industry.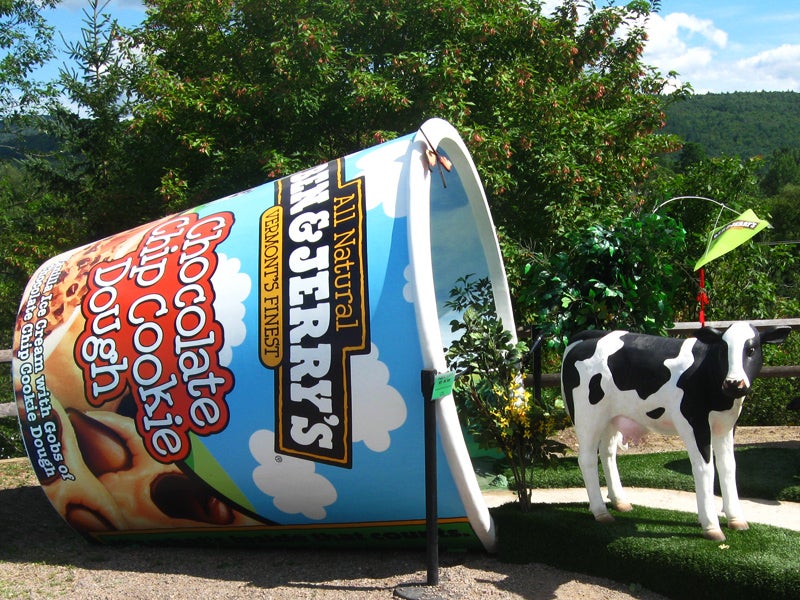 The Green Mountain State holds the coveted title in American history as the first admitted to the Union after the ratification of the Constitution. Locals also recognize Vermont for its record high cow-to-human ratio. There are fewer than three people to every cow, making it the perfect headquarters for Ben & Jerry's. Today, the famous ice cream company is standing up alongside a handful of other businesses to defend another of Vermont's firsts as one of the only states to require the labeling of genetically engineered (GE) foods in the country.
GE labeling advocates are excited about this case's potential to set a precedent for disclosure across the nation. Earthjustice is representing Ben & Jerry's, Vermont Businesses for Social Responsibility and Consumers Union in defending Vermont's GE labeling law.
"We're joining this fight because we believe strongly that consumers have a right to know what's in the food they eat," says Jerry Greenfield, co-founder of Ben and Jerry's. "We work hard to source the best possible ingredients, so it's hard for me to understand why any company wouldn't be proud to tell you about the ingredients they use."
In May 2014, Vermont Governor Peter Shumlin signed the labeling bill, requiring food manufacturers and distributors to label GE ingredients in their products beginning July 1, 2016. Vermont gave manufacturers an extra grace period until January 1, 2017 before the state will begin enforcing the act. The Grocery Manufacturers Association (GMA) immediately challenged this victory with a lawsuit to stop the state from going ahead with the law. In April 2015, U.S. District Court Judge Christina Reiss ruled against the GMA and other industry groups, freeing the state to proceed with its GMO labeling requirement.
But the story didn't end there. The GMA and other groups are now appealing Judge Reiss' ruling by trying to convince the appeals court that complying with the law will cause irreparable harm to their businesses. Earthjustice is fighting back—and with good reason.
According to numerous studies, GE foods pose risks to health, safety, agriculture and the environment. For example, engineers design crops like corn and soy to withstand exposure to toxic herbicides. Over time, weeds evolve to resist the toxins and grow back stronger, leading to the increased use of herbicides like glyphosate. Recently, the International Agency for Research on Cancer found that exposure to glyphosate is associated with higher rates of cancer in humans. You can learn more about the pesticides used on GMOs here.
The United States lags behind 64 other countries around the world that already require labeling of GE foods. Some of these countries are unsurprising (like all of the countries in the European Union), but here are a few others:  Ethiopia, Brazil, Saudi Arabia, Russia and China. Surely, the U.S. can pass food safety and disclosure laws that are becoming common throughout the rest of the world.  As Earthjustice attorney Marianne Engelman Lado puts it, this case will help draw attention to the growing number of concerns about an industry misleading customers by hiding information about genetically engineered foods. This time the message is clear—we're not buying it.
As a communications strategist, Miranda covers Earthjustice's Mid-Pacific and California regional offices. She has campaigned to defend public water resources in North America and is a graduate of the Master's in Global Studies program at the University of California, Santa Barbara where her research focused on climate change.