Born To Be Wild Once More
Home on the range, where the deer and antelope play? Forget about it. How about buffalo (yeah, I know they're really bison). After years of dreaming about getting one of the original Americans back out on the prairie where they belong, we're a big step closer to seeing it happen. After killing every last buffalo…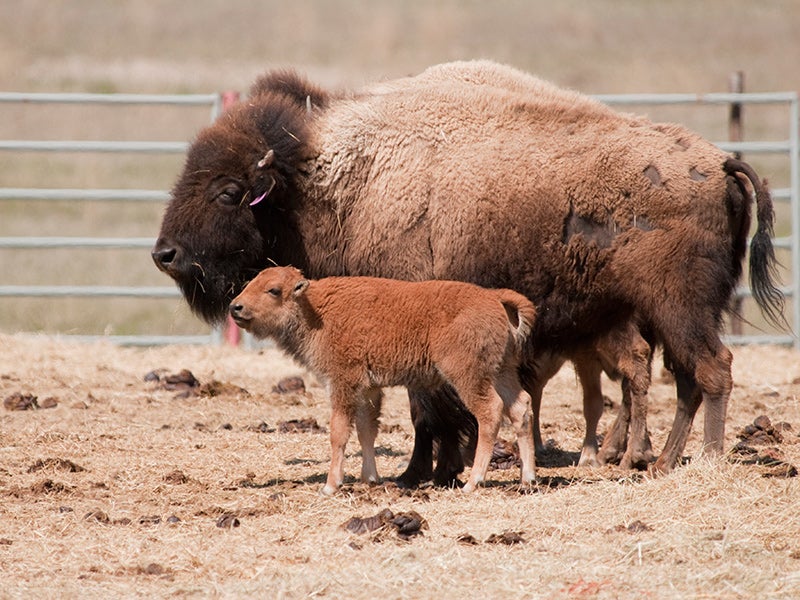 Home on the range, where the deer and antelope play? Forget about it. How about buffalo (yeah, I know they're really bison).
After years of dreaming about getting one of the original Americans back out on the prairie where they belong, we're a big step closer to seeing it happen.
After killing every last buffalo they could find, and starving the native folks who relied on them for food, 19th century market hunters missed a couple of handfuls of buffalo deep in the high country that would become America's first national park, Yellowstone. The offspring of this small herd are among the last genetically pure buffalo (most other buffalo scattered across the country carry some cow genes).
Native tribes in northern Montana for years have sought to reestablish herds using Yellowstone stock. Until this year, they were blocked by cattle interests. But then the state agreed to move approximately 60 buffalo to the Fort Peck Indian reservation in far northeastern Montana. The Fort Belknap reservation, located in north central Montana, has asked for some buffalo and will hopefully get them soon.
Earthjustice attorney Tim Preso has worked for years on behalf of wild buffalo. Most of this work has been to ease rules unnaturally restricting buffalo to the confines of Yellowstone National Park. Outside the park, buffalo have for years been set upon by federal and state agents in helicopters, snowmobiles and on horseback—all intent on driving them back into the park.
Many cattle ranchers and their ally, the Montana Farm Bureau Federation, worry that buffalo will infect their cattle with a cow disease brought by cattle from Europe. The disease has largely been eradicated from cattle herds in the 20th century. Oddly, elk, which are big carriers of the same disease, somehow seem to escape the wrath of the cattle industry for reasons no one seems to be able to articulate but might have something to do with their value to hunters.
Earthjustice attorney Tim Preso has worked to ease rules unnaturally restricting buffalo to the confines of Yellowstone.
When Montana recently moved the buffalo from the Yellowstone area to Fort Peck, interests allied with the cattle industry filed a lawsuit to block the transfer. Earthjustice intervened in the court case to defend the right of the state to transfer these buffalo back to their original stewards, the native people. The judge in the case has issued a preliminary injunction telling the state and tribe to not move any more buffalo until the case can be decided. Earthjustice has appealed that order to Montana's supreme court on behalf of its clients, the National Wildlife Federation and Defenders of Wildlife.
The case should be decided soon and hopefully the last barriers to putting buffalo back where they belong will fall. All Americans, including the very first ones, will be better off knowing these magnificent creatures, specially evolved to live on the wind swept, cold, blistering hot, and sometimes drought stricken prairie, will be back where they came from. Since the buffalo arrived at Fort Peck, at least five new members to the herd have been born. Not bad for an area that has been without this key native species for over one hundred years.
Two of the five calves who have been born at the Fort Peck Indian reservation. (Bill Campbell)
John was Earthjustice's Media Director and chief press wrangler from 2001 until 2013. He came to Earthjustice in 2001 to defend freshwaters and public land—and salmon.
Earthjustice's Rocky Mountain office protects the region's iconic public lands, wildlife species, and precious water resources; defends Tribes and disparately impacted communities fighting to live in a healthy environment; and works to accelerate the region's transition to 100% clean energy.