Breaking the Cycle: Moving from Chemicals to Cover Crops
Legal battles over pesticides are full of twists and turns, but we can make a better case for dropping them by ensuring farmers have better alternatives to harmful chemicals. (Spanish language version available.)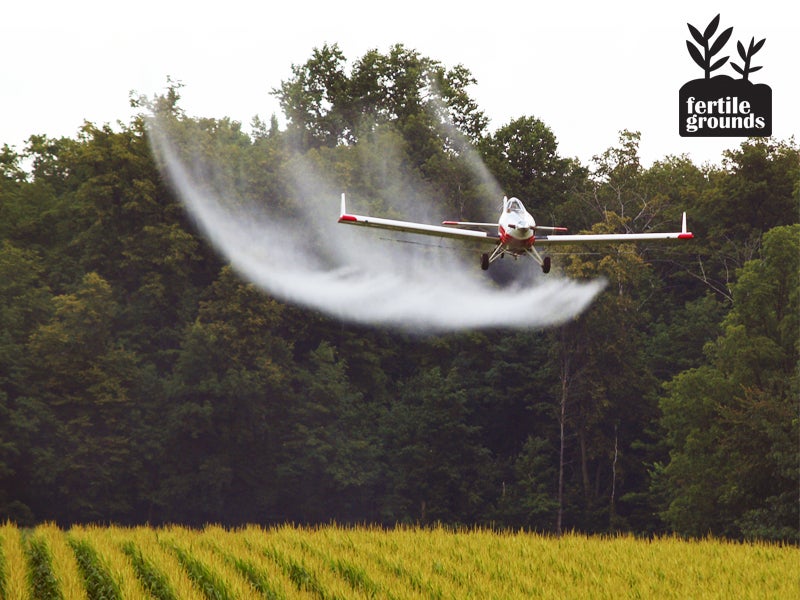 Este blog está disponible en español aquí.
When we enter into legal battles against the chemical industry, we know we are the underdogs. We fight for the underrepresented—farmworkers and children—against an entrenched industry with far greater wealth, power and influence. Despite the odds stacked against us, Earthjustice and other environmental advocates have gotten rid of some of the most dangerous chemicals on the market.
Yet these legal battles are long and tangled, and often, new and equally worrisome chemicals simply crop up as replacements. Some 1.1 billion pounds of pesticides and herbicides are sprayed on fruits and vegetables each year in the United States, and 20,000 pesticide poisonings are reported annually.  Many more go unreported. Because so many harmful chemicals are still employed in agriculture, we must also find other ways to reduce their use.
The chemical industry and our industrial farming system are so interdependent that even the EPA appears to think the system is too big to fail. Earthjustice and other advocates are fighting to get dozens of agricultural chemicals off the market because of the clear risks they pose to human health, wildlife and the quality of our water and soil. Here are a few examples of the twists and turns involved:  
Enlist Duo
The EPA initially approved this new herbicide, designed for use on genetically modified corn and soy. Earthjustice lawyers fought back, pointing out that the EPA had ignored risks to iconic endangered animals such as whooping cranes, which the agency knew would feed in sprayed fields.
The EPA attempted to take back its approval, which surprised and delighted health and environmental advocates. But the court essentially dismissed this move at the urging of the manufacturer, Dow, leaving the door open for the use of Enlist Duo on millions of acres of farmland.
Chlorpyrifos
After nearly 15 years of legal pressure – four lawsuits and two petitions–in late 2015 the EPA finally proposed to end the use of this neurotoxic pesticide on food crops. Chlorpyrifos (and other similar agricultural chemicals derived from WWI-era nerve gases) have been shown to irreversibly damage children's brains. More than 80,000 Americans wrote to the EPA supporting its proposal, but it isn't final yet. Dow is expected to counterpunch. 
Sulfoxaflor
When the EPA approved sulfoxaflor in 2013, beekeepers and honey-makers sued. Sulfoxaflor is one of an entire class of chemicals that's highly toxic to honeybees, which pollinate about a quarter of our food supply. Last year, the courts agreed that the EPA had made its approval decision using "flawed and limited data." Sulfoxaflor is now off the market, but several states have asked for emergency use exemptions, claiming they have no alternatives.
When states argue that their farmers have no alternatives to sulfoxaflor, what they're really saying is that the way they grow crops is dependent on chemicals. Growing nothing but a single species of plant over thousands of acres has its drawbacks; you need synthetic chemicals to enhance the performance of your soil.
But recently, more farmers—even on large commercial farms—are discovering the benefits of planting a special mix of crops, known as cover crops, in between harvests. These crops, such as hairy vetch, barley, sunflower and ryegrass, grow deep roots that break up compacted soil, support healthy microbes and protect against weeds and pests. They "cover" topsoil and prevent it from eroding. Cover-cropping has been proven to increase the amount of water and carbon that soil can store and reduce the need for chemical fertilizers and pesticides.
Although routine among small and organic farmers, the use of cover-cropping is still rare in large-scale conventional farming—in the 2010 agricultural census, only about 10 million out of 400 million acres of U.S. cropland were planted with cover crops—a few small surveys and anecdotal evidence suggest that the practice is growing. (The technique was recently covered in the business section of the New York Times.)
Part of the reason cover-cropping is still rare is that, unlike the use of GMO crops and chemical pesticides, there's no huge industry to back the practice and no deep pockets or political clout to ensure that cover crops become a standard tool farmers can use.
What cover cropping does have is a small number of research acres to quantify its benefits and the experience of many small farmers over millennia who've figured out that it works. This is a start but it's not enough. Only when agricultural policies support sustainable farming and pest management techniques can we finally begin to escape our reliance on harmful chemicals and move toward a healthier system of food production.  
Fertile Grounds is a blog series that examines the challenges and opportunities in ensuring access to healthy, sustainable and affordable food for all. We talk about the entire lifecycle of food—from seed selection and planting to consumption and disposal—because there is potential for improvement throughout. We're informed by the expertise of our many clients and allies and by Earthjustice's years of work to ban harmful pesticides, encourage sustainable farming methods, reduce pollution, support farmworker justice and promote a healthy relationship between farmers and communities.
Rompiendo Ciclos: De Los Químicos A Los Cultivos de Cobertura
Cuando nos metemos en luchas legales contra la industria química, sabemos que llevamos las de perder. Luchamos por los que no tienen representación—como los trabajadores del campo y los niños—contra una industria que tiene muchos más recursos, poder e influencia que nosotros. A pesar de que tenemos todo esto en contra, Earthjustice y otros defensores del medio ambiente hemos sacado a algunos de los químicos más peligrosos del mercado.
Sin embargo, estas batallas legales son largas y complicadas, y a menudo surgen químicos nuevos e igualmente preocupantes como reemplazos. Alrededor de 1.1 mil millones de libras de pesticidas y herbicidas se rocían cada año en cultivos de frutas y verduras en Estados Unidos, y hay reportes de 20,000 intoxicaciones por pesticidas anualmente, pero muchos más quedan sin reportarse. Debido a que hay tantos químicos tóxicos que siguen empleándose en la agricultura, también debemos encontrar otras maneras de reducir su uso.
La industria química y nuestra agroindustria están tan interdependientes que incluso la EPA parece ser de la opinión que el sistema es demasiado grande para dejarlo fracasar. Earthjustice y otros defensores están luchando para sacar a docenas de agroquímicos del mercado por los riesgos tan evidentes que presentan a la salud humana, la vida silvestre y la calidad de nuestra agua y nuestros suelos. He aquí algunos de los ejemplos de los retos legales:  
Enlist Duo
La EPA inicialmente había aprobado este nuevo herbicida que fue diseñado para usarse en maíz y soya genéticamente modificados. Los abogados de Earthjustice impugnaron la aprobación, enfatizando que la EPA ignoró los riesgos para animales en peligro de extinción como las grullas reales, que la agencia sabía se alimentarían en campos rociados con este químico.
La EPA intentó rescindir su aprobación, lo cual sorprendió y deleitó a los defensores de la salud y del medio ambiente. Pero el tribunal de hecho tiró esta moción a petición de un fabricante, Dow, dejando abierta la puerta para el uso de Enlist Duo en millones de acres de tierras agrícolas.
Clorpirifos
Tras casi 15 años de presión legal – cuatro demandas legales y dos peticiones—a finales del 2015 la EPA finalmente propuso dar por terminado el uso de este pesticida neurotóxico en cultivos de alimentos. Clorpirifos (y otros agroquímicos similares derivados de gases nerviosos que datan de la Segunda Guerra Mundial) ha demostrado que daña el cerebro de los niños de manera irreversible. Más de 80,000 Americanos le escribieron a la EPA en apoyo a esta propuesta, pero no es definitivo aún. Dow seguramente va a dar una última batalla. 
Sulfoxaflor
Cuando la EPA aprobó sulfoxaflor en el 2013, los apicultores y los productores de miel presentaron una demanda. Sulfoxaflor es un químico de toda una clase entera que es altamente tóxica para las abejas, las cuales polinizan casi un cuarto de nuestros cultivos alimentarios. El año pasado, las cortes estuvieron de acuerdo que la EPA había tomado su decisión aprobatoria usando "datos erróneos y limitados." Sulfoxaflor ahora ya está fuera del mercado, pero varios estados han solicitado excepciones para "uso de emergencia", alegando que no tienen otra alternativa.
Cuando los estados alegan que sus agricultores no tienen ninguna otra alternativa más que sulfoxaflor, lo que están diciendo realmente es que su modo de cultivar y cosechar depende de químicos. Sembrar la misma especie de planta por miles de acres tiene sus inconvenientes: se necesitan químicos sintéticos para mejorar el rendimiento del suelo.
Pero en tiempos recientes hay cada vez más agricultores—incluso en grandes plantaciones comerciales—que están descubriendo los beneficios de sembrar una mezcla especial de plantas, conocida como cultivos de cobertura, entre cosechas. Estas plantas, tales como la veza vellosa, la cebada, el girasol y el pasto de centeno, echan raíces profundas que desmoronan el suelo compactado, soportan microbios saludables y protegen contra hierbas y plagas. De hecho "cubren" la capa superior del suelo y evitan que se erosione. Este método de cubrir los cultivos ha demostrado que aumenta la cantidad de agua y carbón que el suelo puede almacenar y reduce la necesidad de fertilizantes y pesticidas químicos.
Aunque se ha vuelto algo rutinario para los pequeños agricultores o los agricultores orgánicos, el uso de la técnica de cultivo de cobertura es rara todavía en la agricultura convencional a gran escala—en el censo agrícola del 2010, solamente alrededor de 10 millones de los 400 millones de acres de tierra arable en Estados Unidos fueron plantados con cultivos de cobertura—pero pequeñas encuestas y evidencia anecdótica sugieren que la práctica se está extendiendo. (La técnica fue recientemente mencionada en la sección de negocios del New York Times.)
Una de las razones por las que la técnica de cultivo de cobertura es todavía algo raro es que, al contrario del uso de cultivos transgénicos y pesticidas químicos, no hay una gran industria que respalde la práctica y no hay fondos disponibles o gran influencia política para garantizar que los cultivos de cobertura se hagan una herramienta estándar que los agricultores puedan usar.
Lo que sí tienen los cultivos de cobertura es un pequeño número de acres donde se realiza investigación para poder cuantificar sus beneficios y la experiencia de muchos pequeños agricultores que por miles de años han puesto atención en cómo funciona el proceso de la siembra. Esto es un comienzo pero no es suficiente. Solamente cuando haya políticas agrícolas que respalden a la agricultura sustentable y técnicas de manejo de plagas es que podremos finalmente comenzar a escapar de nuestra dependencia en químicos dañinos para movernos hacia un sistema de producción de alimentos más saludable.
Fertile Grounds es una serie de blogs que examina los retos y oportunidades en el proceso de proveer comida sana, sustentable y a precios accesibles para todos. Hablamos del ciclo completo de la comida—desde la selección y plantación de las semillas hasta su consumo y eliminación—porque existe el potencial para hacer mejoras a todo lo largo del proceso. Nos enriquecemos de la experiencia de nuestros muchos clientes y aliados y de los años de experiencia de Earthjustice en trabajar para prohibir pesticidas nocivos, fomentar métodos agrícolas sustentables, reducir contaminación, lograr justicia para los trabajadores del campo, y promover una relación sana entre agricultores y comunidades.
Based in New York, Peter Lehner (@p_lehner) directs Earthjustice's Sustainable Food & Farming Program, developing litigation, administrative, and legislative strategies to promote a more just and environmentally sound agricultural system and to reduce health, environmental, and climate harms from production of our food.
Earthjustice's Sustainable Food and Farming program aims to make our nation's food system safer and more climate friendly.