Buenos Dias, D.C. – It's a Banner Day for Bees
Earthjustice's Andrea Delgado appeared on Buenos Días, D.C., to discuss a major recent victory for honeybees. (Spanish language version available.)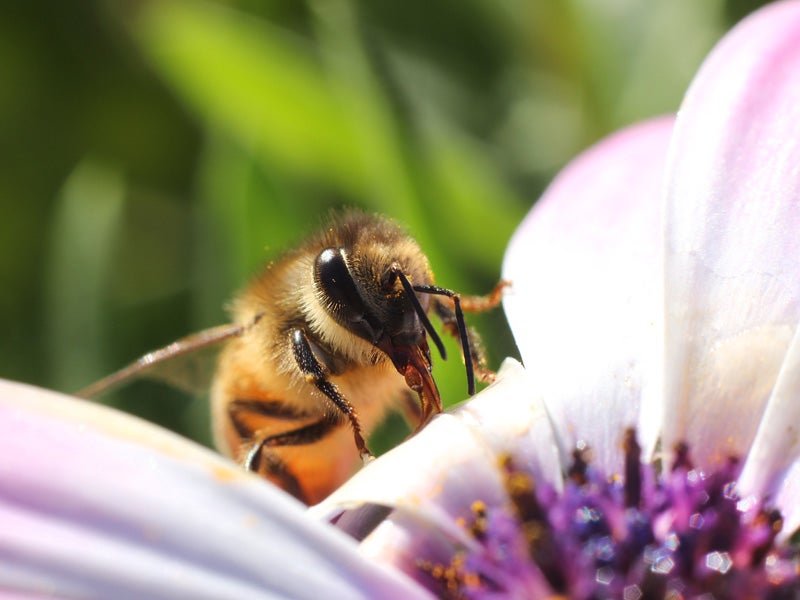 Este blog está disponible en español aquí.
Earthjustice Legislative Representative Andrea Delgado sat down with Buenos Días D.C. host Néstor Bravo on Univision in Washington, D.C. Tuesday to talk about a very important September 10 victory for the honeybees. A federal court overturned the Environmental Protection Agency's approval of a bee-killing pesticide, sulfoxaflor. Delgado told viewers about Earthjustice's role representing the nation's largest beekeeping industry groups in a fight to protect the bees, which pollinate one in every three bites of our food. Watch the segment here. 
For more information about Earthjustice's legal case and victory, check out our protecting the bees page.
Background: The 9th Circuit Court of Appeals concluded that the U.S. Environmental Protection Agency violated federal law when it approved sulfoxaflor, a pesticide that is highly toxic to honeybees and other insect pollinators, without reliable studies regarding the effect the insecticide would have on honeybee colonies. The court vacated the pesticide's approval, making certain that sulfoxaflor won't be used in the U.S. unless and until the EPA obtains the necessary information about impacts to honeybees and re-approves the insecticide in accordance with the law. 
Buenos Dias, D.C. – Un Buen Día Para las Abejas
Andrea Delgado, Representante Legislativo de Earthjustice se sentó con Néstor Bravo de Buenos Días D.C. el Martes para hablar sobre la importancia de las abejas para el sector agrícola y la reciente victoria en los tribunales de justicia a favor de la protección de las abejas. Un tribunal federal anuló la aprobación y la venta de sulfoxaflor, un plaguicida extremadamente tóxico para las abejas que la Agencia de Protección Ambiental había aprobado. Delgado dijo a los espectadores que Earthjustice represento a los grupos más grandes del país de la industria apícola en la lucha para proteger a las abejas, los polinizadores de uno de cada tres bocados de nuestros alimentos. Vea el segmento aquí.
Para más información sobre el caso y la victoria jurídica de Earthjustice, visita nuestra página sobre la protección de abejas.
Antecedentes: El Tribunal de La Corte de Apelaciones del Noveno Circuito concluyó que la Agencia de Protección Ambiental de los Estados Unidos (EPA) violó la ley federal cuando aprobó la registración de sulfoxaflor, un pesticida que es altamente tóxico para las abejas y otros insectos polinizadores, sin estudios confiables sobre el efecto que el insecticida tendría en las colonias de abejas. El tribunal anuló la aprobación del pesticida, asegurándose de que sulfoxaflor no se utilizará en los EE.UU. hasta que la EPA obtenga la información necesaria sobre los impactos a las abejas y re-aprueba el insecticida conforme a la ley.
From 2014–2016, Betsy was a bilingual press secretary on the Advocacy Communications team.
Established in 1989, Earthjustice's Policy & Legislation team works with champions in Congress to craft legislation that supports and extends our legal gains.