Buyer Beware: What We Don't Know Could Hurt Us
Because of lax labeling requirements, the public is left in the dark about hazardous pesticide ingredients.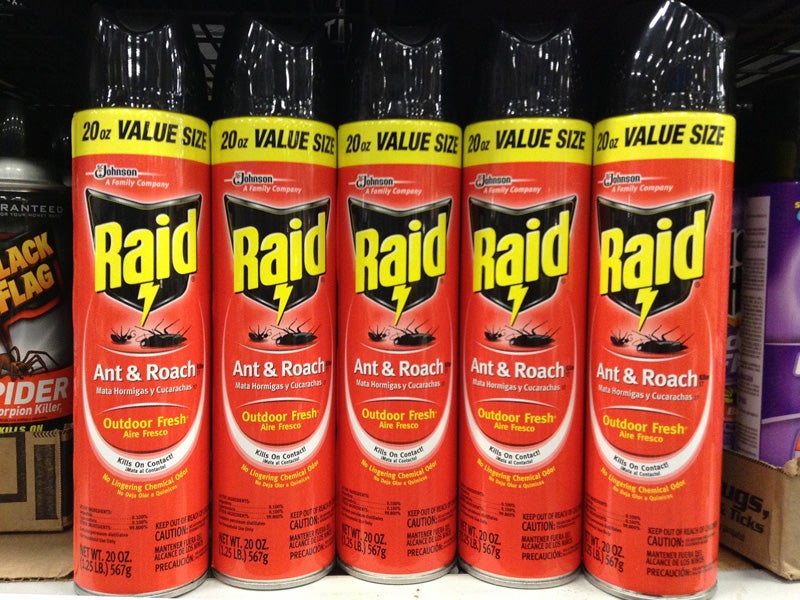 Whether it's our favorite foods, body care products, clothing, cleaning supplies or even weed or pest control products, we all rely on product labels to give us the information we need to make the choices we want. But what happens when some of the most toxic products on the market have labels that lead us to believe they're safer than they really are? And what happens when our choice as consumers is undermined because we don't have the basic facts needed to make an informed decision about what we buy or how we use our products? Unfortunately for all of us, that's exactly the situation we're in when it comes to pesticides.   
To the left is a Raid label. If you've ever lived in a hot, humid place in the summertime, you've likely used Raid or a similar product to kick those all-too-friendly roaches out of your kitchen, bathroom or even your living room. Looking at the label, you might assume that the product is almost entirely made up of "inert" petroleum jelly, water or some other benign component used to mix the "active" ingredients. You might be OK with using Raid or another similar product in your home since the toxic, bug-killing "active" ingredients only make up a total of 0.2 percent of the product, right?  
Sadly, in many circumstances you could be very wrong.  
While most of us assume "inert" ingredients are non-toxic and non-hazardous, the chemicals that are considered "inert" and labeled as such on pesticide products are often anything but. Some of the most commonly used pesticide ingredients that fall under the "inert" category on product labels include known toxins like naphthalene and ethyl-benzene, both of which can cause significant acute and long-term impacts, such as respiratory and neurological damage, in some circumstances. While these particular ingredients may not be present in Raid specifically, the crux of the problem is that we can't know whether they're in this or any other pesticide product because their formulas are closely guarded secrets. As the user of a pesticide, you don't know and can't know what its "inert" ingredients are.
We rely on government agencies to require disclosure of the information we need to make good consumer choices. The Food and Drug Administration decides which foods land on grocery store shelves and sets their labeling requirements. Similarly, the Environmental Protection Agency (EPA) decides which pesticide products can be registered for sale to consumers and determines what, if anything, must be disclosed on the label. Not surprisingly, the industries regulated by the Food and Drug Administration and the EPA have strong incentives to keep certain information from the public because it could impact sales. This means public interest groups often have to force these agencies to do their jobs to protect public health and the environment. 
For years the EPA has been dragging its feet regarding what it admits are serious concerns about pesticide labeling. Since at least the 1980s the EPA has recognized that consumers need more information to protect themselves from the hazards of using pesticides. Consumers include farmers who use pesticides on their crops, families who are concerned about pesticide drift in the air and doctors treating patients who may have been poisoned by exposure to pesticides.
That's why Earthjustice filed a lawsuit to compel the EPA to protect our collective right to know what ingredients are contained in our pesticide products and to decide when, where and how we use those products, if at all. We have a right to know more about pesticides and all of their hazardous ingredients—not just what we're shown on the bottle. If we have to litigate to exercise our collective right to know, then that's what we'll do to secure our families' safety. Until then, buyers beware! What we don't know could harm all of us.  
From 2015–2017, Yana worked at the California regional office in San Francisco. Her practice areas included toxics, oil & gas extraction and crude oil transport and environmental justice issues.
The California Regional Office fights for the rights of all to a healthy environment regardless of where in the state they live; we fight to protect the magnificent natural spaces and wildlife found in California; and we fight to transition California to a zero-emissions future where cars, trucks, buildings, and power plants run on clean energy, not fossil fuels.