Protecting Florida's Apalachicola River from Coal Ash Pollution
Piles of coal ash in unlined pits threaten one of the south's premier rivers. Under our legal settlement, Gulf Power Corp. pledges to take steps to protect the Apalachicola River from coal ash pollution.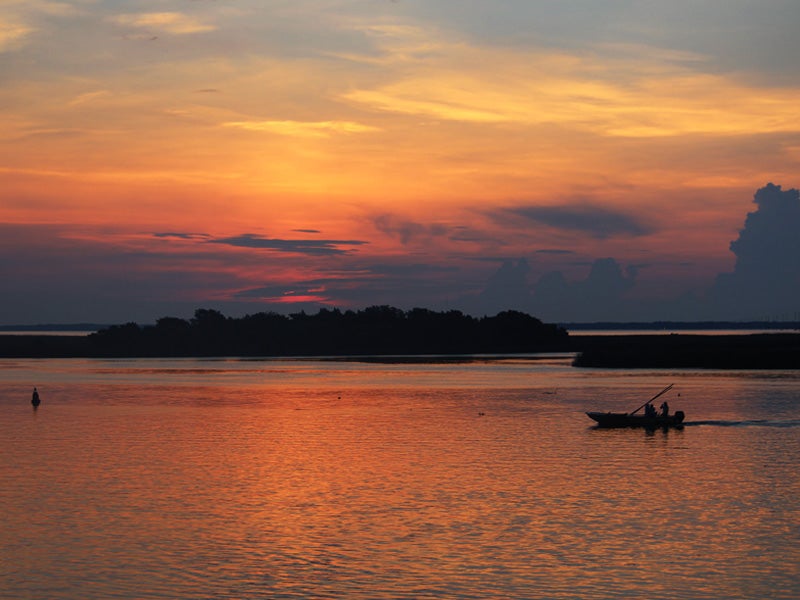 And now for something completely different: I bring you some actual, positive news from Florida!
For the past year, we've been in a legal battle to protect the Apalachicola River, a magnificent waterway in the state's northern reaches that the U.S. Interior Department called "one of the nation's richest hotspots of biodiversity."
We've now settled the case, and (if all goes as promised) our legal agreement will protect the river from 500,000 tons of toxic coal ash that's currently stockpiled along its banks. Gulf Power Corporation has stepped up to do the right thing, and we applaud the company's efforts.
Our Clean Water Act case started in 2014 when the Apalachicola Riverkeeper took water tests at Gulf Power's aging coal-fired electricity Scholz Generating Plant near the tiny town of Sneads (about 50 miles west of our Tallahassee office.) The tests indicated that toxic heavy metals were leaking out of unlined pits along the river.
Earthjustice attorneys Alisa Coe and Bradley Marshall filed our Clean Water Act suit in U.S. District Court in Tallahassee on behalf of the Southern Alliance for Clean Energy, Waterkeeper Alliance and Apalachicola Riverkeeper. The groups raised concerns that the earthen berms surrounding the coal ash could suddenly give way and cause a massive spill, devastating the river and its delicate estuary.
You may remember the coal ash disaster that hit North Carolina in February 2014, when a pipe below a huge Duke Energy coal ash pit failed, and 140,000 tons of toxic pollution spilled into the Dan River. It coated the river's bottom for 70 miles downstream.
We took legal action to prevent a similar disaster on the Apalachicola, and now Gulf Power has agreed to take important steps to contain its coal ash waste. Under our settlement agreement, the company will dry out and remove the coal ash from unlined ponds, transferring it to a new onsite landfill located further away from the river and out of its flood zone.
The company will install an impermeable cover over the landfill and a subterranean "cutoff wall" to prevent groundwater contamination. Gulf Power is required to monitor groundwater, and its closure plan must be approved by Florida's Department of Environmental Protection.
The 62-year-old plant that produced all this coal ash is now silent; Gulf Power closed it last spring when it faced expensive environmental upgrades.
We felt some urgency to get agreement from Gulf Power—a subsidiary of the $40-billion Southern Company—to deal with its coal ash ponds so cleanup isn't left to taxpayers. This case shows that our legal system works, and we appreciate Gulf Power's pledge to protect the river and the communities that depend on it.
Our settlement in Florida is part of a larger national effort to deal with the massive problem of toxic coal ash stockpiles throughout the U.S. When you think about pollution from coal-burning power plants, you probably picture smokestacks spewing out dirty air. What most people don't realize is that coal plants are a huge water polluter—leaking more toxic pollution into America's waters than any other U.S. industry.
Coal ash is a witch's brew of heavy metals, including arsenic, cadmium and chromium—all well-known carcinogens—as well as aluminum, barium, beryllium, copper, lead, nickel, zinc, selenium, and the neurotoxin mercury. These pollutants can threaten drinking water and build up in ecosystems, and most are dangerous even in very small amounts.
While the Clean Water Act does protect waterways from pollution, there are no federal safeguards specific to coal ash pollution at retired plants like this one. Household garbage, in fact, is better regulated than this toxic waste. The state of Florida also has not stepped up to the plate to regulate this pollution. Nationally, coal ash has already contaminated more than 200 lakes, streams, rivers and drinking water aquifers.
With this successful legal settlement, we hope we've made sure that our river—and our aquifer—won't join that list.
David Guest worked at Earthjustice from 1990 to 2016, as the managing attorney of the Florida regional office. His countless legal battles were, in one way or another, all about water. His motivation to protect Florida's water came from years of running boats in the state's rivers and lakes, which convinced him that waterways are many people's spiritual connection to nature.
The Florida regional office wields the power of the law to protect our waterways and biodiversity, promote a just and reliable transition to clean energy, and defend communities disproportionately burdened by pollution.