Clean Power Plan Affects Black Quality of Life
Blacks, Latinos and Native Americans disproportionately suffer the effects of air pollution caused by outdated methods of energy production like coal power plants.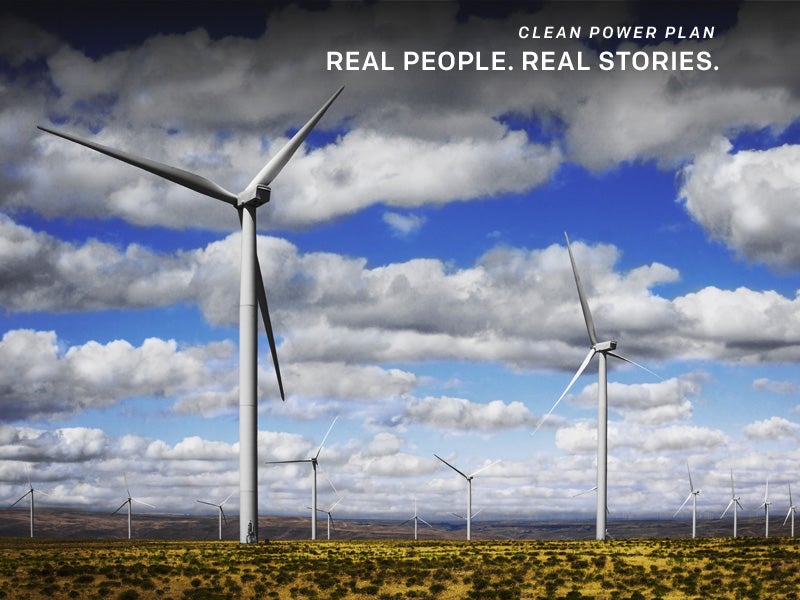 Update: On March 28th, 2017, President Trump issued a sweeping executive order that undermines federal actions to combat climate change, including the landmark Clean Power Plan. Earthjustice will continue to defend the Clean Power Plan in court against any Trump administration attempts to dismantle it.
When Cheeraz Gormon received an invitation to lobby in Washington on behalf of President Barack Obama's Clean Power Plan with environmental legal advocacy nonprofit, Earthjustice, she was bewildered.
"You couldn't have told me even last month that I would be on Capitol Hill actually talking about the Clean Power Plan. I was like, 'Wait, I don't deal with climate change or any of that,' I don't have any expertise in it," said Gormon, an international spoken-word artist, activist, documentarian, and award-winning advertising copywriter.
She felt if anyone could use an advertising makeover, it was environmentalists. Gormon always thought of them as people who chained themselves to redwood trees.
"But it was always an in-family conversation. Why there's no trees in our neighborhood, why we have to live near all these factories that [are closed], the different smells, what they're spraying in the air, saying they're spraying for mosquitoes. After I accepted the invitation, I went back and connected the dots," Gormon said.
In her hometown of St. Louis, where half the population is Black, the Meramec coal-powered electricity plant that sits on the Mississippi River pumped an average of 20,000 tons of sulfur dioxide into the air per year between 2007 and 2010, according to an NAACP report. This byproduct contributes to acid rain, as well as chronic heart and respiratory diseases such as COPD, asthma, and emphysema.
The power company has not installed a sulfur dioxide monitor at this plant, but has spent $600 million on purifying "scrubbers" at its St. Charles County facility, west of St. Louis near the airport, where the population is 88 percent White.
In Missouri, 83 percent of the electricity comes from burning coal, which higher than the national figure of 50 percent. These coal power plants are the nation's and the world's chief source of air pollution. The Clean Power Plan—a component of the latest update to the Clean Air Act, which began in the 1950s—requires states to reduce their coal power plants' emissions by 30 percent of 2005 levels, over the next five years.
Neighborhoods that border power plants and refineries are known as "fenceline communities," and are almost always low-income, of color, or both.
The NAACP report grades and ranks the nation's coal-fired power plants based on how harmful they are to communities of color. Among the top 12 most hazardous plants, Black people accounted for 76 percent of the surrounding populations. Another study by the University of Minnesota found that people of color are exposed to 38 percent higher levels of nitrogen dioxide—a gas that irritates and weakens airways and aggravates existing heart and respiratory issues—than Whites. For families living in fenceline communities, such as Port Arthur, Texas, Dearborn, Mich., and Pittsburgh, Pa., cancers, heart, and lung conditions strike across generations.
The finishing touches on the Environmental Protection Agency's Clean Power Plan are expected next month, but the plan has drawn fierce objections from the beginning. Concerns center on energy companies' profits and the financial burden of meeting tighter standards; states rights and the EPA's limited power in creating or enforcing rules covering the energy business; and the political struggle between state legislators and local economies lubricated with coal and oil money.
The plan mandates that coal-fire power plants must choose from four methods to reduce their carbon emissions. They can upgrade their facilities and/or practices with state-of-the-art public health-friendly equipment; convert to natural gas, nuclear, or renewable energy; or switch customers to energy efficiency programs and practices.
States will be required to provide the federal government with a proposal on how they will use these methods to comply with the Clean Power Plan. States that refuse or submit inadequate plans will have to comply with a cookie-cutter plan from the federal government.
Critics assert that the plan violates the Constitution by giving a federal agency power over a state function. They also argue that it hinders private profits without providing "due compensation."
Some feel the plan is unnecessary.
Over the past several years, some companies have been voluntarily reducing their impact on the air and surrounding neighborhoods. Some critics say that these efforts would have reached the Clean Power Plan's goal in time, without federal intervention. Further, even if the plan is successful, it will do little to impact climate change. The EPA concedes that the proposed reduction pales in comparison to the level of greenhouse gases produced across Asia.
But as state legislators, energy companies, pundits, and the White House squabble, Blacks, Latinos, and Native Americans disproportionately suffer the effects.
"We can't keep thinking that this environment stuff is separate from your asthma, or your ADD, or your COPD. All this stuff comes from the environment," said Satoria Briggs, an activist and member of the Hip Hop Caucus, who also went to Washington to lobby her elected officials on the Clean Power Plan.
"When I was first asked to do this, I was not super knowledgeable on everything. But I have 126 first cousins on my mom's side. I can say 60 percent of them have asthma. You don't have to actually know all the logistics. You should just know that if you can't breathe, that's an issue."
This blog was originally posted on Green County Democrat on May 27, 2015.
Columnist at the National Newspaper Publishers Association.
Established in 1989, Earthjustice's Policy & Legislation team works with champions in Congress to craft legislation that supports and extends our legal gains.