Clean Water Rule Rider Sells Democracy Downriver
Congress is using a harmful, sneaky provision in a large must-pass spending bill to try and make it easier for EPA to repeal the Clean Water Rule without public or legal oversight.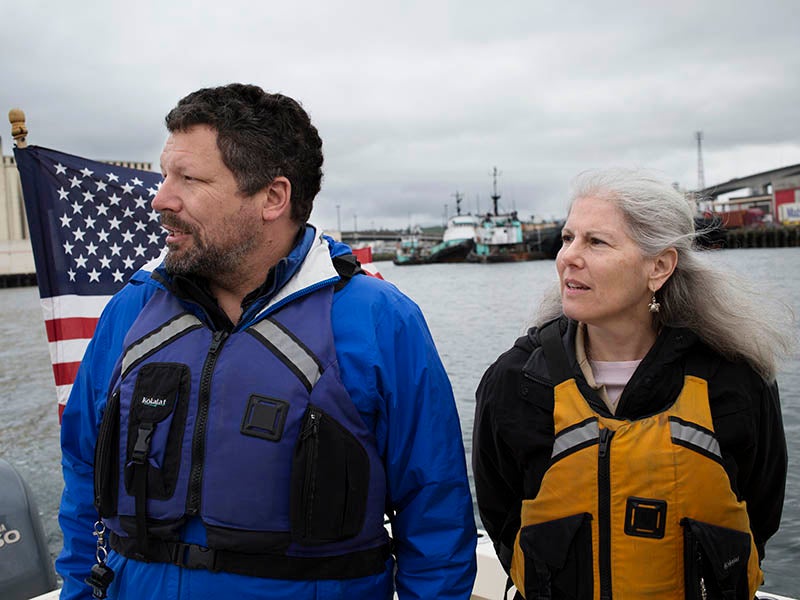 Every week, Chris Wilke, executive director of Puget Soundkeeper in Washington state, has teams of staff, volunteers, scientists and legal professionals on the water, monitoring the complex system of interconnected waterways that make up Puget Sound—a sheltered estuary off of the North Pacific Ocean, home to salmon, shellfish, orcas and other iconic Northwest species—for pollution caused by agricultural discharges, sewage, fossil fuel production and stormwater runoff.
In order to protect the Sound from this pollution, Wilke and his team rely on federal rules and processes that allow for citizens to weigh in and be taken seriously when it comes to protecting the waterways that they rely on for fishing, drinking water and recreation.  
However, powerful members of Congress are once again using a government funding bill to take aim at protections for our clean water. As we outlined in a previous blog post, there are more than 80 anti-environmental "riders" currently in the spending bill being negotiated in Congress that attack our national forests, endangered species like the gray wolf, and necessary safeguards that are vital to our health, like rules that protect families and communities from unhealthy levels of smog, along with other vital safeguards. Riders are pieces of legislation that often would not gain support on their own but get a free ride as amendments on a larger bill that has general support or one that "must pass" (like a bill that funds the government).
Some of these riders would be especially damaging to communities, by directly attacking environmental health protections and potentially making it easier for the Administration to ignore public input on rules that would negatively impact them. 
One example of this is a rider that aims to exempt the Administration's repeal of the Clean Water Rule from public and legal scrutiny.
The Clean Water Rule was finalized in 2015 as an attempt to better define which waterways receive protections under the Clean Water Act. While we would argue the rule could have gone farther in protecting our vital waterways, the current administration, at the request of polluting industry, has done an about face on water protections by attempting to delay, repeal, and ultimately replace the Clean Water Rule with the least protective option.
This rider shows how unpopular this scheme truly is. Instead of following science and reason, members of Congress in polluting industry pockets want to cut out the public's voice in the actions of government. By sneaking the measure into the budget bill, they hope to prevent court challenges to the Trump administration's plan to allow polluters to dump into our rivers and streams.
According to Wilke, "any attempt to prevent court challenges flies in the face of the central pillars of our democracy and sets a dangerous precedent on the role of government in our society."
This rider goes at the heart of what Wilke and his team do at Puget Soundkeeper, which is to lead the charge in meeting the goals of the Clean Water Act to protect swimmable, drinkable, fishable waters in the Puget Sound and across the country. According to Wilke, this rider "defies more than 40 years of democratic progress that the public relies on to improve our waterways and fight back against powerful polluting interests."
From working in his community with tireless advocates and volunteers to protect the Sound, Wilke knows that people understand the need to protect clean water on a fundamental level.
 "Water is essential to all life, and clean water is a basic human right. Protections for clean water should never be political," says Wilke. "Any attempt to scale back regulations out of public view like this is morally bankrupt, an admission of a losing argument, and an obvious attempt to deceive and deprive the public of their right to clean water."
One of Congress' most important jobs is to keep the government funded, not to use the budget process to ram through harmful provisions that attack public health and environmental protections and reduce transparency. There is still time to pass a clean funding bill, free of riders!
Serving on the Policy & Legislation team until 2019, Jenifer covered the clean water and safe drinking water dockets.
Established in 1989, Earthjustice's Policy & Legislation team works with champions in Congress to craft legislation that supports and extends our legal gains.