Climate Change Forces Quinault Tribe to Seek Higher Ground
The tribe has taken the lead against local projects like oil terminals that would further climate change and threaten its existence.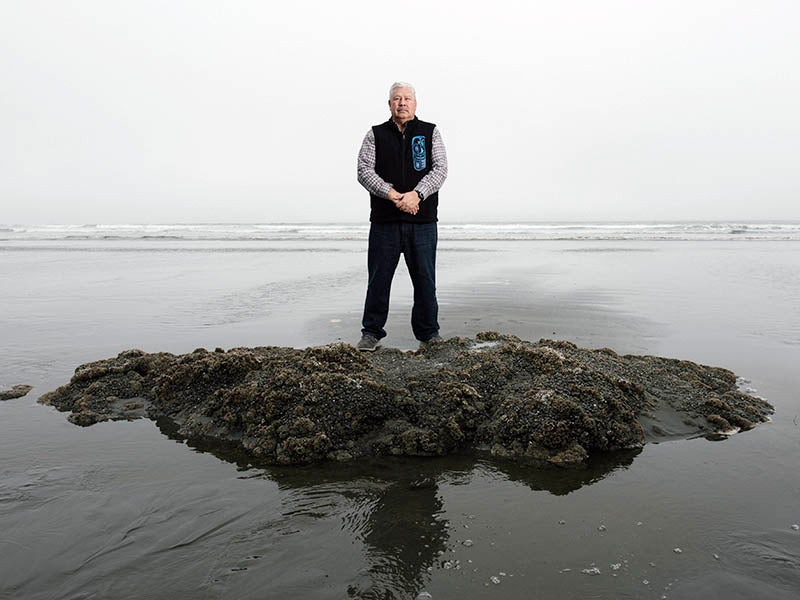 There's nothing more powerful than the ocean.
Tribal member Larry Ralston is reminded of that simple fact every time he visits the 23 miles of foggy, windswept coastline on the Quinault Indian Nation reservation. As a child, Ralston spent hours playing football along the wide expanse of rocky beach on the Olympic Peninsula in Washington state. Today no such games are possible.
That's because sea level rise, brought on by climate change, has swallowed a chunk of the coast. The Quinault, whose ancestors lived in this fishing village since time immemorial, are now faced with the prospect of uprooting their families and moving to higher ground.
"Down here at the beach, there's no doubt, no denying that climate change is happening," says Ralston, who adds that the lower village of Taholah now floods with seawater about three or four times a year. In March 2014, a storm surge breached the Army Corp's 2,000-foot seawall, flooding backyards and smokehouses.
The tribe is creating a relocation plan that would move nearly the entire village uphill, at a price tag of about $60 million. That means transplanting the local police station, where Ralston once served as chief, as well as other community buildings like the post office, courthouse and daycare. Approximately 700 residents will also need to be relocated, though some refuse, like the 100-year-old Quinault tribal member whose frayed dwelling overlooks the shore.
"A lot of these homes down here need work, but the question is, do we spend money on fixing them or on moving people?" says Ralston, who serves as the tribe's treasurer. He adds that some houses, like the one his mother was born in in 1928, will need to be torn down.
While the tribe deals with the complexities and costs of moving an entire town, it's also taking the lead against local projects that would exacerbate climate change and threaten its existence.  Represented by Earthjustice, the tribe scored a huge win in January after the Washington Supreme Court ruled—for the first time ever—that a state law protecting coastal resources applies to crude oil export projects. The precedent-setting decision effectively killed the final of three proposed oil terminal projects in nearby Grays Harbor, which would increase carbon emissions and devastate the tribe's economy in the event of an oil spill.  Almost half of the people who live in Taholah are directly dependent on salmon fishing for the livelihood.
"I have some friends who fished out of Valdez, Alaska, before the (1989 Exxon) oil spill, and 30 years later they still can't fish there," says Quinault tribal member Chrissy Winn, owner of the Winn Winn Seafood company, a family-run business. "If something like that happens in our area, will it ever recover?" she asks, adding that people in Valdez to this day can go to the beach, dig about a foot down, and find oil. 
Winn grew up fishing and playing in the Quinault River, which flows just to the north of the lower village and feeds into the Pacific. Her family members, going back several generations, were also fishermen.
Over the years, she's seen how sea level rise, as well as timber harvesting and other industrial activities, have changed the river, making it wider, wilder and more difficult for fish to navigate. At the same time, ocean acidification and warmer waters caused by climate change have decimated salmon stocks, including the prized blueback sockeye, a unique salmon species intimately linked to the Quinault people and their cultural identity. If an oil spill were to occur, it would be catastrophic for the tribe.
"Some people say, 'If there's an oil spill, just move,'" says Winn. "But we've been here for millennia. This is our home, our culture."
She adds, "I have a friend whose Indian name means, 'Where the bend of the river meets the cool creek off the mountain.' If he moves away, two generations from now people might remember that name, but they're not going to know where the bend in that river is or that creek. And that's about place. We can't just leave. It's unfathomable."
Jessica is a former award-winning journalist. She enjoys wild places and dispensing justice, so she considers her job here to be a pretty amazing fit.
Established in 1987, Earthjustice's Northwest Regional Office has been at the forefront of many of the most significant legal decisions safeguarding the Pacific Northwest's imperiled species, ancient forests, and waterways.