Climate Change's Big Reveal: The Inequality Problem
Rising sea levels, super storms, floods and droughts exacerbated by climate change will wait for no man, but research shows that women, especially poor women, are in greater danger.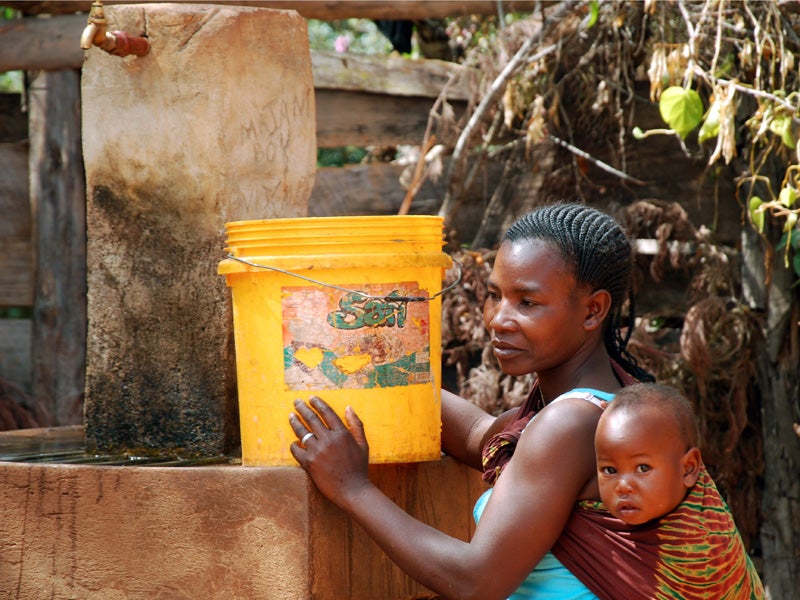 In honor of Women's History Month, I would like to focus not on the past, but on the future of women and the environment.
Climate change is coming for us all, right? That is more or less correct, but there are a few caveats worth mentioning. When disaster strikes, it doesn't deal an equal blow to the rich and poor—or to men and women.
For example, Hurricane Sandy illuminated a disparity between service workers who remained at work during the storm and the majority of the more fortunate who bunkered down at home or left the danger zone entirely. Rising sea levels, super storms, floods and droughts exacerbated by climate change will wait for no man, but research shows that women, especially poor women, are in greater danger.
Women, as the world's largest group of second-class citizens, are more vulnerable to changes in climate than their male counterparts because of existing inequalities. Women's diminished socio-economic statuses afford them fewer financial, educational and legal resources that serve as disaster safety nets.
All over the world, women make up a disproportionately large share of the poor. In the United States, around 14.5 percent of women are living in poverty compared to 11.0 percent of men, and this disparity is true in all racial and ethnic groups. In this case, poverty is defined as a single person under the age of 65 that earns less than $12,119 a year.
In other regions of the world, the poverty gap between men and women is even wider in some cases. Overall, there are 1.2 billion people around the world living in extreme poverty on less than $1.25 a day. The poorest and most disadvantaged groups of people are often the most dependent on climate-sensitive livelihoods like agriculture.
Because of women's lower incomes—on average women make 77 cents to every dollar that men make—environmental disruptions can hit them harder. For example, when drought or heavy rain threatens agricultural production, men are more able to use their savings and economic independence to invest in other sources of income or adapt to the situation. Women also tend to be more directly dependent on local natural resources such as water from wells or food from small farms that feed their families. In some areas, climate change generates resource shortages and unreliable job markets. Men tend to have a greater ability to migrate away to a new job, leaving women behind with additional agricultural and households duties.
Access to education also plays a big role in a person's ability to adapt to changes in weather and climate. Information about new agricultural technologies or cropping patterns, access to weather alerts or even basic skills like swimming and tree climbing can make the difference between life and death during a disaster. In many places, women do not have access to this life-saving knowledge, or they are culturally restricted by traditional dress, their children, or lack of permission to act without a male's consent.
Finally, women face huge barriers when it comes to access to policy and decision-making. Globally, women hold only 22 percent of seats in parliaments. Of the world's 500 largest corporations, only 24 are led by a female CEO. As a result, women are largely excluded from designing laws, strategies and programs meant to help them prevent and adapt to climate change.
Climate change is often whittled down to science and statistics, percentages of degrees, and centimeters of sea level rise. As this year's Paris climate talks inch closer, it is more important than ever to put a face, arguably a woman's face, on the destructive impacts of climate change in everyone's lives.
As a communications strategist, Miranda covers Earthjustice's Mid-Pacific and California regional offices. She has campaigned to defend public water resources in North America and is a graduate of the Master's in Global Studies program at the University of California, Santa Barbara where her research focused on climate change.