Coast-to-Coast Opposition to Exporting Dirty Energy
Communities nationwide are rejecting fossil fuel export facilities.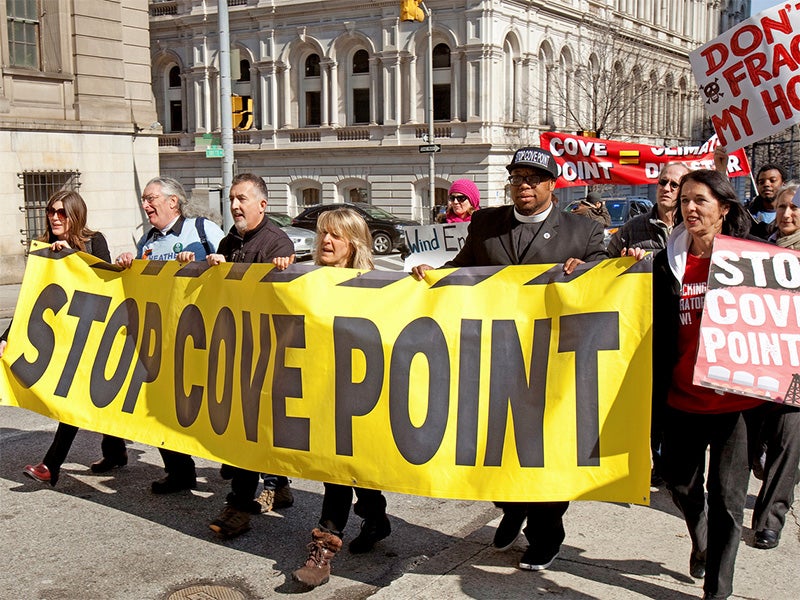 Last month, the people of Oakland, California, defeated a coal industry scheme to use export facilities to transport its dirty product to other countries. Public pressure and Earthjustice advocacy convinced port authorities to reject bids to construct a coal-and-fossil fuel export facility that could potentially transport more than five million tons of coal and petroleum coke per year.

Oaklanders are not alone in their rejection of these export beasts. With the help of Earthjustice, communities across the U.S.—in places like New York, Washington and Maryland—are rejecting these facilities, which are being used not only by the coal industry, but also the oil and gas industry to sell as much of their product as possible.
In America over the past few years, coal sales have slumped and orders for new plants are being cancelled at an increasing rate, thanks to pressure from Earthjustice and others, and competition from cheaper natural gas. As a result, carbon-intensive coal is no longer America's favorite energy source. But rather than slow down its mining operations, the coal industry is looking to emerging economies like China and India to offload its product. Meanwhile, the oil and gas industry, faced with a fracking-induced surplus, is using export facilities to transport its product both nationally and internationally.

It's a genius plan by the fossil fuel industry, but one rife with problems for everyone else.

For starters, export facilities increase the need for more fossil fuel production, which is bad for the climate as well as for those living near coal mining and fracking sites. Export facilities also take a toll on the communities that they reside in. In addition to the immediate air pollution they create, there's also the pollution from coal- and crude-filled train cars that travel from mine or fracking site to feed these facilities. These mile-long cars turn previously sleepy towns into dirty industrial depots with blackened skies and sidewalks. According to estimates from freight rail transportation network BNSF Railway, each train car can emit up to 645 pounds of coal dust into the air during a 400-mile journey. And towns with trains of crude oil passing through them don't fare much better. As the number of train cars carrying crude oil has quadrupled over the past six years, accidents, explosions and derailments have become dramatically commonplace. Last July, a runaway train carrying crude oil exploded in the center of a town in Quebec, Canada, killed 47 local residents.

With all of these problems, it's no surprise that Oakland residents aren't the only ones who don't want export facilities expanding or setting up shop in their own neighborhoods. Just this week, the county of Albany, New York, halted the expansion of crude-by-rail operations at its port terminal. The news followed pressure by a broad coalition—including community and environmental groups like Earthjustice—on the state Department of Environmental Conservation for its dangerously lax approach to skyrocketing shipments of crude-by-rail into the Port of Albany. Earthjustice is also helping communities push back on plans to build export facilities in places like Coos Bay, OregonGrays Harbor, Washington, and in Maryland's Chesapeake Bay.

Read more about the impact of coal export terminals on communities.

Jessica is a former award-winning journalist. She enjoys wild places and dispensing justice, so she considers her job here to be a pretty amazing fit.
Established in 2008, Earthjustice's Northeast Office, located in New York City, is at the forefront of issues at the intersection of energy, environmental health, and social justice.
Established in 1987, Earthjustice's Northwest Regional Office has been at the forefront of many of the most significant legal decisions safeguarding the Pacific Northwest's imperiled species, ancient forests, and waterways.