Colombia Suspends Aerial Spraying of Illegal Coca Crops
In a resounding victory for environmental and human health advocates, Colombia has suspended aerial herbicide spraying on illegal coca and poppy plantations.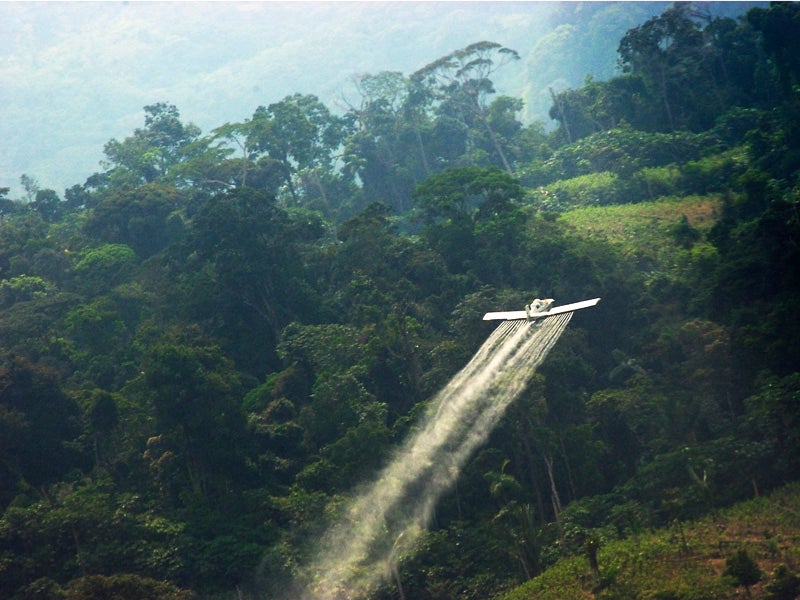 What do $9 billion dollars and more than two decades of U.S. foreign policy in Colombia have in common? Cocaine, of course—America's 1970s party drug of choice that remains popular today.
Like many "War on Drugs" policies, the story itself is convoluted, but it ends with Colombia standing up to the United States by suspending aerial herbicide spraying of the country's coca and poppy fields. This decision is a landmark departure from the U.S.-backed anti-drug campaign Plan Colombia and is a resounding victory for environmental and human health advocates.
Beginning in the 1990s, Colombia has been spraying tremendous quantities of glyphosate, the active ingredient in Monsanto's Roundup, broadly over rural forests, rivers, fields and villages in an attempt to wipe out the plants that feed the country's illegal cocaine and heroin trade. The problem? Spray from high-flying airplanes travels far and wide, damaging or killing all the leafy plants it lands on, including food crops and native species. Furthermore, the World Health Organization recently announced that glyphosate is a probable carcinogen, and thus could cause cancer in humans. In the short-term, the herbicide used in Colombia has been cited as causing rashes, fever, miscarriage and respiratory problems.
Aerial spraying was integrated in 2000 into Plan Colombia, the American military and diplomatic mission that has sucked billions of taxpayer dollars down the War on Drugs rabbit hole. The result? As of 2010, Colombia was still producing 43 percent of the world's coca leaves, and the market that was pushed out of Colombia has relocated only slightly further south to Peru and Bolivia. Spraying also encouraged growers to spread their operations out among smaller parcels and into national parks.
Earthjustice has worked with our partners at the Interamerican Association for Environmental Defense (AIDA) to end glyphosate spraying since the program began. When thousands of people started to complain about irritation and more serious injuries to their eyes and skin, we worked with concerned members of the Senate Foreign Relations Committee and others in Congress to compel the State Department to make public what exactly was being sprayed. We confirmed that it was "Roundup Export," an herbicide that at the time was banned in the U.S. because it can cause "irreversible eye damage."
Eventually, we managed to influence a change in the spraying program so that the governments started to use a product that was less directly toxic to humans and committed to avoid spraying in aquatic ecosystems. Our work also helped influence the governments of Peru, Bolivia and Ecuador in their decisions to reject similar spraying programs. Unfortunately, it wasn't until last year, after two decades of spraying, that a political shift in Colombia created a climate receptive to shutting down this destructive program.
The process began when the high court in Colombia asked AIDA and the Colombian Environmental Justice Network to provide expert opinions in cases involving harms from spraying. After the World Health Organization published its findings linking glyphosate to cancer, AIDA went on the offensive. The organization began publicizing information to influence government decision-makers and create vocal support for the suspension of the spraying program. A Change.org petition to stop herbicide spraying gathered 25,000 signatures in just six days. After years of persistence from organizations like AIDA, Colombia's president announced in May that the country is suspending glyphosate spraying.
In order for this change to become permanent, Colombia must revoke the environmental permit for spraying. But in shifting away from this practice, Colombian authorities must find other means of controlling the coca and poppy trade. Forced manual eradication, which involves security teams that pull the plants out by hand is one option. Authorities began using this method in 2007, and it is more effective than aerial spraying. Moreover, the solution doesn't really lie with attacking the poor farmers that produce the crops, but rather the narcotraffickers and drug-lords running the business.
This may be the beginning of a radical shift in Colombia's response to the narcotics problem and a reflection of a broader trend of decriminalization in Latin America's own drug war. However, without equitable and environmentally sound economic development in rural Colombia, efforts to control cocaine and heroin production are unlikely to succeed. The government must support rural communities by providing access to markets and sustained, alternative sources of income for those currently growing illegal crops.
As a communications strategist, Miranda covers Earthjustice's Mid-Pacific and California regional offices. She has campaigned to defend public water resources in North America and is a graduate of the Master's in Global Studies program at the University of California, Santa Barbara where her research focused on climate change.
The International Program partners with organizations and communities around the world to establish, strengthen, and enforce national and international legal protections for the environment and public health.