The Latest State to Buck Trump on Paris: Colorado
With Colorado committing to the Paris Agreement, Earthjustice attorney Michael Hiatt highlights four reasons why clean energy in the state is poised for significant growth.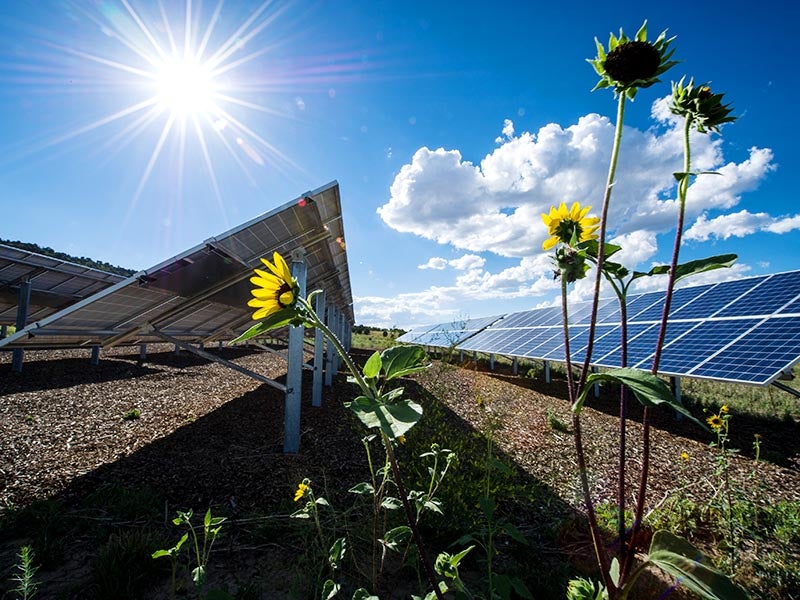 Colorado is now the 11th U.S. state to commit to the Paris climate agreement in a repudiation of the Trump administration's decision to walk away from the deal.
The growing revolt at the state level over Trump's climate policies reflects unwillingness among policymakers to turn away from years of work transitioning to clean energy. Colorado is a case in point. Gov. John Hickenlooper's recent executive order committing Colorado to meeting or exceeding the greenhouse gas reduction targets set in Paris follows regulatory developments that will propel the state toward a new clean energy economy.
Colorado has long been a national leader in developing clean, renewable energy. In 2016, it was the seventh largest wind producing state and the eleventh largest solar producing state. Over 25 percent of the electricity generated by Colorado's largest electric utility, Xcel Energy, last year came from renewable energy resources. In addition, renewables' share of the generation mix will increase to 30 percent by 2020 under the state's Renewable Energy Standard.
Currently, four recent regulatory developments are poised to accelerate Colorado's clean energy transition:
1. Wind and utility-scale solar are the cheapest resources in Colorado, today and in the future. In May 2016, Xcel filed its long-term electric resource plan, which forecasts current and future energy prices. Xcel's plan makes it clear that both wind and utility-scale solar are currently the cheapest resources in Colorado, and Xcel anticipates it will soon purchase significant amounts of new wind and solar to take advantage of these low renewable prices. What's more, Xcel concluded that wind and utility-scale solar will likely remain the cheapest resources in the future, even as the current federal tax incentives are phased out.
Working with Vote Solar, Earthjustice intervened in the Colorado Public Utilities Commission (PUC) proceeding regarding Xcel's plan to ensure it evaluated solar on a level playing field with fossil fuels. Earthjustice attorneys successfully argued the plan should incorporate the social cost of carbon when Xcel calculates the costs of burning fossil fuels.
2. Distributed solar will continue to grow in Colorado through a landmark settlement agreement. Partnering with Vote Solar, Earthjustice helped negotiate a landmark settlement agreement that preserves net metering and ensured these distributed solar resources will continue to grow in the future. As a result of the settlement, Xcel will add an additional 225 megawatts of rooftop solar and 105 megawatts of community solar by 2019. (There are currently over 275 megawatts of rooftop solar on Xcel's system and approximately 30 megawatts of community solar projects.)
The settlement will also implement a voluntary trial program to analyze a new time-of-use (TOU) rate design. This new TOU rate should further incentivize the optimal deployment of rooftop solar, energy storage and other distributed energy resources.
3. Decoupling will provide a new policy tool to encourage the growth of rooftop solar and energy efficiency, while maximizing benefits for low-usage and low-income customers. The Colorado PUC recently approved a decoupling mechanism for Xcel, which Earthjustice worked with Vote Solar to support. Decoupling removes a utility's disincentive to promote rooftop solar, energy efficiency, and other measures that reduce electricity sales. This new decoupling mechanism should help ensure Xcel continues to support rooftop solar and energy efficiency in the future.
The Colorado PUC also adopted Earthjustice's recommendations that benefit low-usage and low-income customers. The "Tucson Model" applies decoupling credits to low-usage rate tiers and decoupling charges to high-usage rate tiers in order to maximize benefits for low-usage and low-income customers. Colorado is the first state to implement the "Tucson Model" for decoupling.
4. Xcel begins construction on an additional 650 megawatts of clean energy. Xcel recently began construction on the Rush Creek wind farm located on Colorado's eastern plains. Rush Creek will generate 600 megawatts of electricity when it is completed in 2018. The project will be Colorado's largest wind farm, and it will consist of 300 wind turbines that will be built in Colorado. 
Xcel will soon begin construction on a 50-megawatt utility-scale solar facility as part of its new Renewable*Connect program. The Renewable*Connect program will allow Xcel customers to directly subscribe to the electricity generated from a large solar facility. This new solar program is due to the settlement agreement achieved by Earthjustice and Vote Solar.
This recent good news from Colorado indicates that clean energy will continue to grow and prosper despite the Trump administration, even in states with a substantial fossil fuel industry. Colorado shows that while there may be dark storm clouds at the federal level, the future of clean energy is clear.
Michael Hiatt is deputy managing attorney in Earthjustice's Rocky Mountain Office.
Earthjustice's Rocky Mountain office protects the region's iconic public lands, wildlife species, and precious water resources; defends Tribes and disparately impacted communities fighting to live in a healthy environment; and works to accelerate the region's transition to 100% clean energy.