Coming Clean in California: How the Golden State Is Winning the Renewable Energy Race
California's growing reliance on renewable energy is made possible by its forward-thinking energy policies.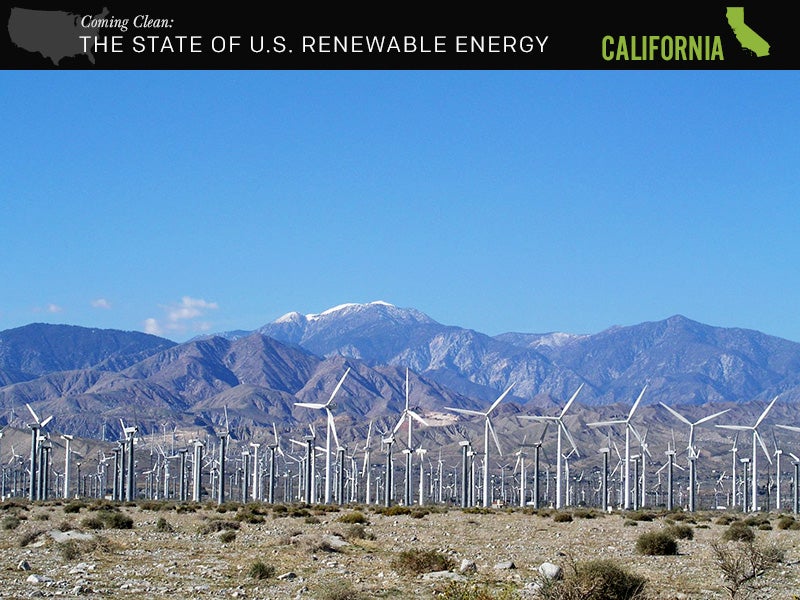 [Updated 1/5/15: Today, CA Governor Jerry Brown announced a proposal for the state to seek 50% of its electricity from renewable sources by 2030, further establishing California as a clean energy leader.]
When it comes to renewable energy, California leads the nation. You might assume that California has taken the lead because of its abundance of natural resources, such as sun and wind, that power renewable energy. But California isn't the only state where the sun shines and the wind blows. The state's growing reliance on renewable energy is really made possible by its forward-thinking energy policies.
On the national level, the comment period is soon closing on Obama's proposed Clean Power Plan. If finalized, it would be an important piece of environmental regulation. Unfortunately, in California the Clean Power Plan will have little effect as currently proposed, because it does not compare to what California plans to achieve.
Take, for example, California's plan to completely transform the electrical grid. By 2020, utilities must procure at least 33% of their electricity from renewable energy and must reduce greenhouse gas emissions to 1990 levels. And by 2050, the state aims to reduce greenhouse gas emissions to 80% below 1990 levels. The 2050 target, in particular, requires significant, transformative growth in the renewable energy sector. However, it is only a goal, not a mandate, so Earthjustice continues to push for policies and action that will increase the grid's reliance on renewable energy, energy efficiency, and energy storage.
Due in part to these goals, the California Public Utilities Commission, which regulates the state's privately owned electric utilities, strengthened its policy designed to increase use of renewables. In 2012, the Commission voted unanimously to require utilities to follow this policy when choosing energy resources to meet customer demand. The first option is energy efficiency and conservation, followed by energy from renewable energy sources (wind, solar, geothermal), and last, energy from fossil fuels such as natural gas plants.
The Loading Order contributed to a February 2013 Commission decision that required Southern California Edison (SCE) to procure 200–800 MW of renewable energy, energy efficiency, and energy storage resources. This was the first time the Commission required non-fossil fuel procurement.
The Commission built upon that foundation in October 2013, when it required California's three major utilities—SCE, San Diego Gas & Electric, and Pacific Gas & Electric—to procure 1,325 MW of energy storage resources by 2020. Those energy resources will play an important role in integrating renewable energy into the state's electrical grid, so that solar and wind energy can be used even when the winds have died and the sun is behind the clouds.   
Though California is making progress toward a fossil-free electrical grid, challenges remain and there is still much work to do. For example, SCE recently issued a proposal for buying power that includes more dirty fossil fuels than required. Earthjustice continues to advocate that California's utilities reduce purchases of fossil fuels and invest in creating a less polluting energy system.
The story of California's growing renewable energy market highlights the importance of having strong pro-renewable energy policies in place. Of course, there are still significant obstacles to transforming the electrical grid in California, but the progress California has made so far would not have been possible without the requirements and targets set by the California Public Utilities Commission, the legislature, and the governor. We need a strong national Clean Power Plan that will spur all states, including California, toward greater use of renewable energy and energy efficiency.
About this series
The Clean Power Plan sets different goals for each state to reduce its carbon emissions by 2030. As one pathway to meet those goals, the EPA suggests a renewable energy target for each state.
However, many of the states are already on track to meet or even exceed those renewable aims. Find out how your state stacks up on the road to the cleaner energy future at Coming Clean: The State of U.S. Renewable Energy.
The EPA is asking for your comments on the Clean Power Plan to be submitted before the December 1 deadline—take action today to demand strong, commonsense limits on carbon pollution from existing coal-fired power plants and more ambitious renewable energy growth.
Don't miss the previous installment of the Coming Clean blog series: Hawaiʻi, the Launchpad for Clean Energy Liftoff.
Adenike was the Sr. Research & Policy Analyst / Advocacy Representative for the California regional office in San Francisco, CA, from 2012–2018. She analyzed technical data and policy to support litigation and administrative advocacy focused on air quality, clean energy, and environmental health.
The California Regional Office fights for the rights of all to a healthy environment regardless of where in the state they live; we fight to protect the magnificent natural spaces and wildlife found in California; and we fight to transition California to a zero-emissions future where cars, trucks, buildings, and power plants run on clean energy, not fossil fuels.