Coming Clean in Kentucky: A Ray of Light in Coal Country
Kentucky Public Service Commission may approve its first solar project ever.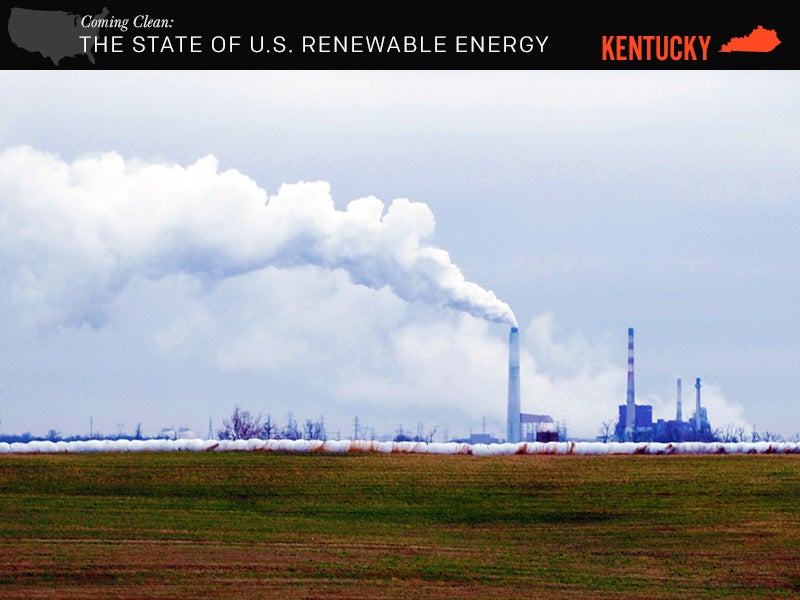 [Updated on 12.22.14] Late Friday afternoon, the Kentucky Public Service Commission approved the solar project. Expected to go online in 2016, the project becomes the Commonwealth's largest solar facility and appears to be the first utility-scale renewable energy project in the state.
---
At the foot of a dead-end street in Frankfort, the capital city of Kentucky, rests a red brick building that houses the Kentucky Public Service Commission. At first glance, the building seems somewhat insignificant. But a closer inspection reveals a site where critical decisions are made—decisions that will determine whether or not the commonwealth remains the second most coal-reliant state in the nation, or seizes the economic and public health opportunities presented by energy efficiency, wind and solar.
One pending decision may offer a new ray of light that clean energy is taking hold even in the heart of coal country.
The story began four years ago when Shannon Fisk, now the managing attorney for Earthjustice's coal program, presented his first argument before this commission. Famous for getting an industry's expert witness to admit during cross-examination that he would say anything industry paid him to say, Shannon has spent more than a decade becoming one of the most successful attorneys in the country challenging the coal industry. On this particular day, he was in Frankfort challenging a proposal by local utilities that put customers on the hook for nearly $2.4 billion of retrofits to a fleet of aging coal plants.
In a state openly hostile to a future without coal, and one that has refused to set any renewable energy goals, these utilities were eventually able to push through most of the proposal. However, they agreed to withdraw certain parts thanks to the legal arguments made by Shannon. These concessions effectively stalled further investments in multiple coal units at the E.W. Brown Generating Station—a site that would prove more significant years later.
When Shannon joined Earthjustice in 2012, he continued his work to protect the health of families and communities in Kentucky, which set the stage for our nationally-recognized fight to retire the Big Sandy coal-fired power plant. Instead of replacing an aging coal plant that burnt through 90 railroad cars of coal daily, its owner wanted to put ratepayers on the hook (a recurring theme for this story and utilities throughout our nation) by proposing a $940 million retrofit that would have raised customer rates by more than 30 percent.
Our argument was simple: Even in the heart of coal country, many aging coal plants aren't economical. When that evidence became clear, the owner withdrew its proposal and soon thereafter committed to retire the plant in 2015. Earthjustice eventually helped negotiate an agreement to double the owner's investment in energy efficiency and evaluate the addition of clean energy into plans for replacing the plant.
The retirement of Big Sandy became a watershed victory not only in Kentucky, but nationally.
Recently, Earthjustice made the familiar trip back to this red brick building in Frankfort to support commission approval of a solar project (10 megawatts). If accepted, it would become the first solar project ever approved by this Commission. To make this potential milestone even sweeter, the project stands to be constructed at the E.W. Brown Generating Station—the very ground where Shannon brought his first challenge in Kentucky.
Although Kentucky continues to lag behind in renewable energy, our work shows that the state's ongoing prosperity does not have to be linked to its historical relationship with coal. As its political leadership continues to lead the charge against stronger environmental and public health protections like the Clean Power Plan, we will continue to ensure that Kentuckians' hard-earned money is not spent on uneconomical and aging coal plants.
The sun could shine a little brighter in the heart of coal country thanks to this solar project—a ray of light that could lead the commonwealth to a clean energy future which is more economical, creates jobs and protects public health.
About this series
The Clean Power Plan sets different goals for each state to reduce its carbon emissions by 2030. As one pathway to meet those goals, the EPA suggests a renewable energy target for each state.
However, many of the states are already on track to meet or even exceed those renewable aims. Find out how your state stacks up on the road to the cleaner energy future at Coming Clean: The State of U.S. Renewable Energy.
Don't miss previous installments of the Coming Clean blog series:
Hawaiʻi: The Launchpad for Clean Energy Liftoff
California: How the Golden State Is Winning the Renewable Energy Race
From 2014–2017, Phillip headed the media team. He was based in Washington, D.C.
Earthjustice's Clean Energy Program uses the power of the law and the strength of partnership to accelerate the transition to 100% clean energy.