Port of Oakland Expansion Project Must Address Pollution
Guest contributor Margaret Gordon with the West Oakland Environmental Indicators Project says that vital environmental mitigation measures from the Port of Oakland could help reduce health problems for children in the region.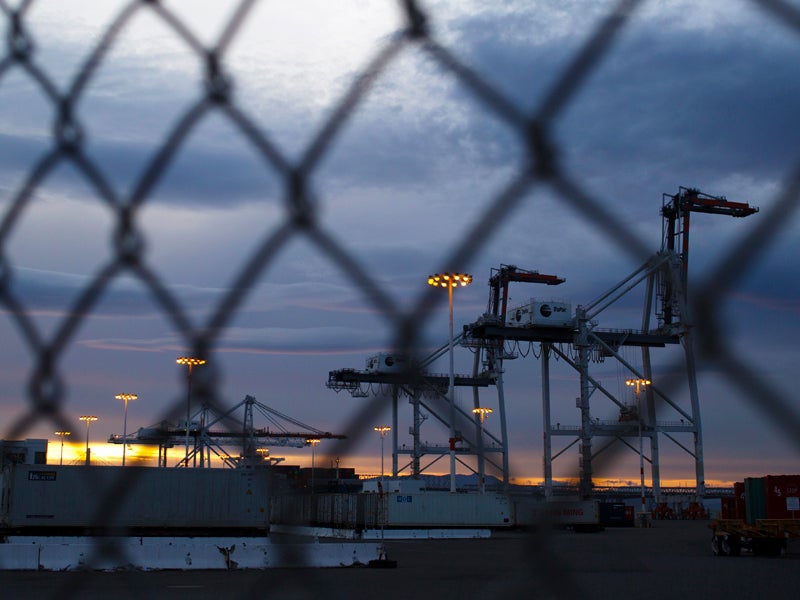 [Editor's note: The national election this month shows that local, regional, and state-level work to effect environmental change and protect community health is more important than ever. Earthjustice is partnering with local organizations in Oakland to improve families' quality of life and reduce health problems from the high concentrations of diesel exhaust in the community. Our guest contributor Margaret Gordon with the West Oakland Environmental Indicators Project has long advocated for vital environmental mitigation measures from the Port of Oakland to reduce health problems for children in the region.]
West Oakland is home to the fifth busiest port in United States and, as a result, home to the toxic diesel fumes spewed from ships, trucks, cargo equipment and trains. The carcinogenic diesel and grime from freight traffic accumulates in the air, settling thickly on surfaces across West Oakland and eventually making its way into our lungs.
One in five children in West Oakland has visited the hospital for respiratory problems. We have an astoundingly high asthma rate because diesel emissions in West Oakland are up to 90 times higher than California's average.
Our youngest and most vulnerable bear the pollution burden of freight that comes across the Pacific Ocean.
With the redevelopment of the old Oakland Army Base, we could chart a future for our city that includes secure new jobs for residents and clean air for our families. But the groundbreaking of the first piece of that development is not moving us toward that cleaner future. Not yet.
The developer, Prologis, has yet to lay out an air-quality plan for the operations of the distribution center that is kicking off development of the Oakland Global Trade and Logistics Center. The distribution center will include 250,000 square feet for cargo, bringing a flood of new trucks rumbling through West Oakland.
Construction plans include 55 truck docks and 78 truck trailer parking stalls. How will that affect the air we breathe? While I wish I could lay out numbers on the diesel pollution we can expect to experience, those aren't available — the city has yet to commission a truck-traffic analysis for West Oakland. It's time for proactive urban planning from our local leaders if we're going to be a green and resilient community.
We deserve the highest quality planning for the Oakland Global Trade and Logistics Center. This is a project being built on public land and funded in part with public dollars. What does a healthy port project look like? It looks like zero-emissions cargo handling equipment (like electric forklifts) and zero-emissions trucks.
The technology is already available today and in use elsewhere. We should think about infrastructure like electric charging stations and zero-emissions shuttles for workers to bring relief to local families breathing dirty air. Why not bring the newest freight technology to bear on some of our toughest health problems?
If we're truly ahead of the game, we should be focused on how to power the distribution center, too. The Port of Los Angeles is building an entire terminal powered by solar panels — we can do that here. The city and Mayor Libby Schaaf have touted the new Oakland Global Trade and Logistics Center as a green project for our city's future. Let's truly make it so.
Oakland is a lynchpin in the expanding freight industry in the Bay Area. The new distribution center is just the beginning. Regional leaders must create a healthy port community as we develop the Port of Oakland. For example, the Bay Area Air Quality Management District can regulate developments that bring traffic into communities.
They're called "Indirect Source Review Rules" — a wonky term for guidelines that can help offset pollution by requiring new developments to support new zero-emission technologies. That means less diesel soot in our children's lungs and fewer trips to the hospital for children who cannot breathe.
West Oakland deserves to be a healthy port community. I'm calling on our city's leaders and our region's decision-makers: Let's build a brighter future for our port city and tackle the health problems that come with freight.
This blog was first published by the East Bay Times on November 16, 2016.