Communities Around the World Forced to Migrate Due to Climate Change
Communities, including many in the U.S., are being uprooted by the impacts of climate change.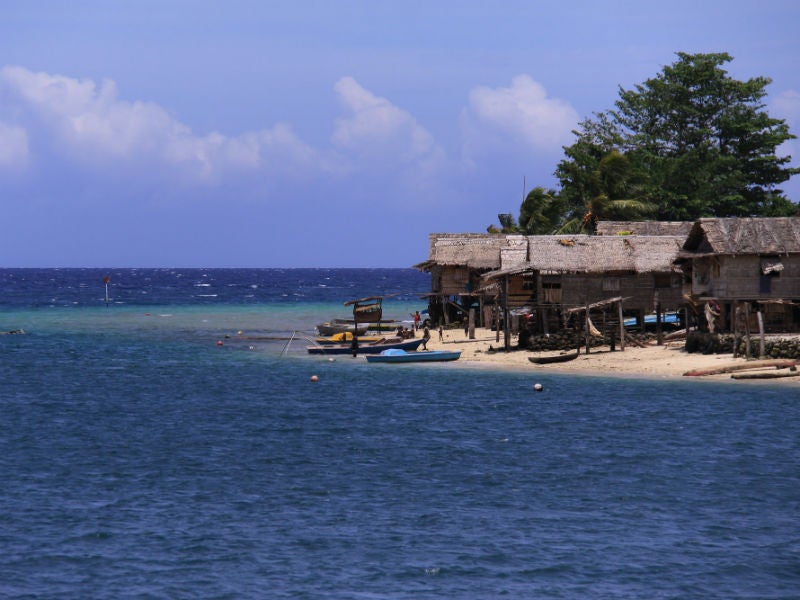 Too many people are being forced from their homes due to climate change, and folks in these communities don't have the luxury of climate denial.
When Scott Pruitt, the new EPA administrator, rejects the science of climate change, he is not only rejecting the overwhelming scientific consensus—he is willfully ignoring a driver of unclean water, unsafe air and other threats to human health. Rather than focusing on how to solve the problem by addressing the human activities that cause it, Pruitt and others in the Trump administration would rather cast doubt on the whole concept. Imagine a scenario in which a person is drowning, but the lifeguard would rather question whether water can really impede a person's breathing than try to rescue the victim; it makes no sense and puts lives at risk. By trying to create uncertainty about the causes of climate change, Pruitt and other climate deniers are putting up barriers to addressing its effects.
As officials in the Trump administration question climate change and actively work to take apart national climate safeguards, real communities are suffering. Some have even been forced to leave their homes as the local environment becomes uninhabitable. Evidence shows that climate-induced migration is affecting communities all around the world. People in Pacific Island nations like the Solomon Islands must leave their lands due to rising sea levels, communities in Syria suffer from droughts exacerbated by a changing climate and must therefore migrate and farmers in Mexico are moving due to decreasing crop yields. The Office of the United Nations High Commissioner on Refugees states that since 2008, there's been an average of 21.5 million people forcibly displaced by weather-related hazards, including floods and extreme temperatures, every year. Climate change will continue to increase this displacement.
We don't even need to leave our own country to see how climate change is affecting people's lives. Climate change is having damaging effects on communities across the United States. One example is Isle de Jean Charles, Louisiana, which has experienced significant land loss, in large part due to sea level rise. Federal agencies have identified the island and its tribal residents as particularly vulnerable.
Environmental degradation is also impacting Alaska. On August 16, the Inupiat community of Shishmaref voted to relocate from an island that has been hit hard by the effects of climate change. It will take an estimated $180 million to complete the move, and this high price tag does not account for the cultural cost of moving a community that is deeply invested in its land. The Arctic Institute reports that 31 villages in Alaska face the imminent threat of destruction due to environmental degradation and that many of the villages have only 10 to 20 years left before they are no longer inhabitable. At least 12 villages have already decided to relocate in part or entirely.
Communities forced to leave their homes do not have the privilege of questioning climate science. Instead, they must try to live with the detrimental effects of climate change.
As these cases—and countless others throughout the U.S., including displacements caused by Hurricane Katrina and Superstorm Sandy—illustrate, deterioration of our environment has disastrous  effects, especially for coastal, Native American and low-income communities. These communities are often the ones with the fewest resources to cope with the impacts of climate change. Effectively, we ask those with the least ability to pay to shoulder the greatest burden—and these are the people who've done the least to exacerbate the problem.
Communities forced to leave their homes do not have the privilege of questioning climate science. Instead, they must try to live with the detrimental effects of climate change. While people are forced to migrate, policymakers spend time debating whether the issue even exists and work to dismantle solutions that are already in place, including the Clean Power Plan. Policymakers can begin to move in the right direction by investing in more resilient infrastructure, such as Miami Beach's raised streets and water pumps. But lawmakers must also work to tackle to root causes of climate change, or else climate-induced migration will continue unabated.
Arian was an intern with Earthjustice's Policy & Legislation team in Washington, D.C. He is a graduating student at the George Washington University studying political science, with minors in philosophy and sustainability. Arian previously interned with the White House Council on Environmental Quality, with offices in both houses of Congress and with other environmental organizations.
Established in 1989, Earthjustice's Policy & Legislation team works with champions in Congress to craft legislation that supports and extends our legal gains.