Congress Attempts to Rock the Boat on Clean Water Rule
The EPA is set to announce its final clean water rule, which updates the Clean Water Act to better protect streams and rivers.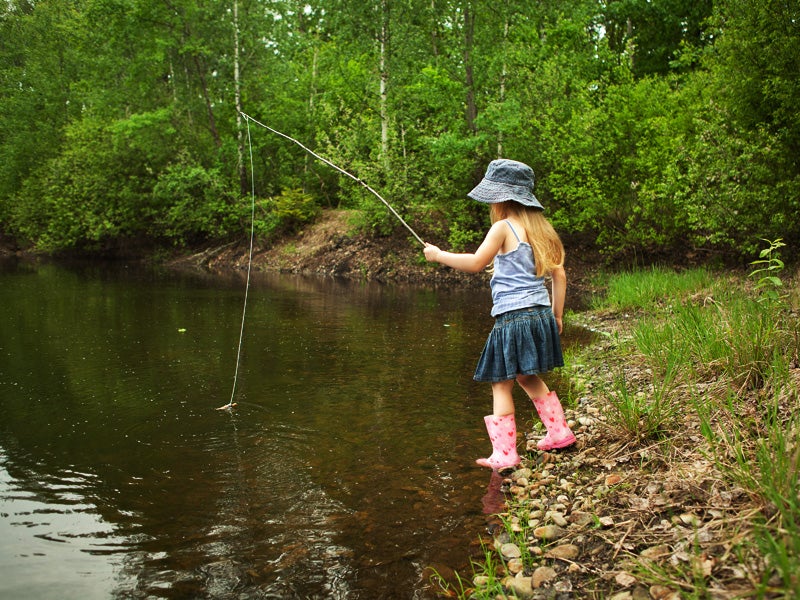 The only problem with a pastime like fishing in the middle of the Arizona desert was the absence of a real lake, but that didn't stop my grandpa Jimmy.
A WWII paratrooper from South Carolina, Jimmy had settled down in Tucson, Arizona after the war. By the time I met him, he had long retired his wild side for quieter hobbies like watching Jeopardy, writing poetry and fishing.
I was seven years old the first time I went fishing with my grandpa. We loaded up his 1983 blue Chevy Blazer with his tackle box that was too big for me to carry, his long fishing rod, and my brand new, pink miniature fishing pole that I insisted on holding during the short ride to the lake. Actually, this "lake" was a man-made pond in the middle of a city park.
But that didn't stop us. What did stop us from eating the fish on our first fishing trip together, though, was the fact that the fish weren't safe to consume due to toxic chemicals in the water.
Unfortunately, the issue of toxic fish isn't limited to fake lakes in Arizona. According to the EPA, one in three Americans' drinking water sources is in danger and more than 55 percent of our streams and rivers are in poor condition—meaning that they're unfit for swimming, drinking or fishing.
Today the EPA and the U.S. Army Corps of Engineers finalized a clean water rule that can change this toxic reality by better protecting local streams that feed lakes, rivers and oceans, making it easier and safer for everyone to enjoy their watery adventures.
Though technically the pond I used to fish at doesn't fall under these guidelines, if a majority of our waterways are protected, that means cleaner water overall, for everyone. Think of it as a "trickle-down theory", except we're talking about hydrology, rather than the dicey economic theory—unlike money, water actually does flow.
The clean water rule is supported by the public, local elected officials, small businesses, craft brewers and scientists. More than 800,000 Americans have asked the EPA to finalize this plan, and over the past decade, millions more have supported efforts to close loopholes in the Clean Water Act and protect clean water.
Today's Clean Water Rule is cause for celebration, as kids and grandparents around the country take to the waterways to fish, swim, and boat, like me and my grandpa.
Now, for the bad news. Congress is determined to put the interests of polluters ahead of the public's concerns and the health of your family's drinking (and fishing) water. Both legislative houses are doing everything they can to block this rule so that their polluter friends—ahem, campaign financers—in the agricultural, manufacturing and energy industries can cheaply offload their polluting waste products into our waterways.
That's why it's critical that we all stand up now to protect our clean water.
I want to thank President Obama, EPA administrator Gina McCarthy, and all those in the White House who advanced this important action to protect our clean water. You can thank them too by sharing this message.
While my first fishing experience was at a man-made pond, I am certainly glad that our natural waterways will be protected for future generations so that we won't all be fishing out of artificial lakes in the years to come.
As a communications strategist, Miranda covers Earthjustice's Mid-Pacific and California regional offices. She has campaigned to defend public water resources in North America and is a graduate of the Master's in Global Studies program at the University of California, Santa Barbara where her research focused on climate change.