Cooking for a Cause with the 'Soup Zine'
Anne Livingston of Seattle, Washington, has crafted a zine full of tasty soup recipes to warm hearts and raise funds.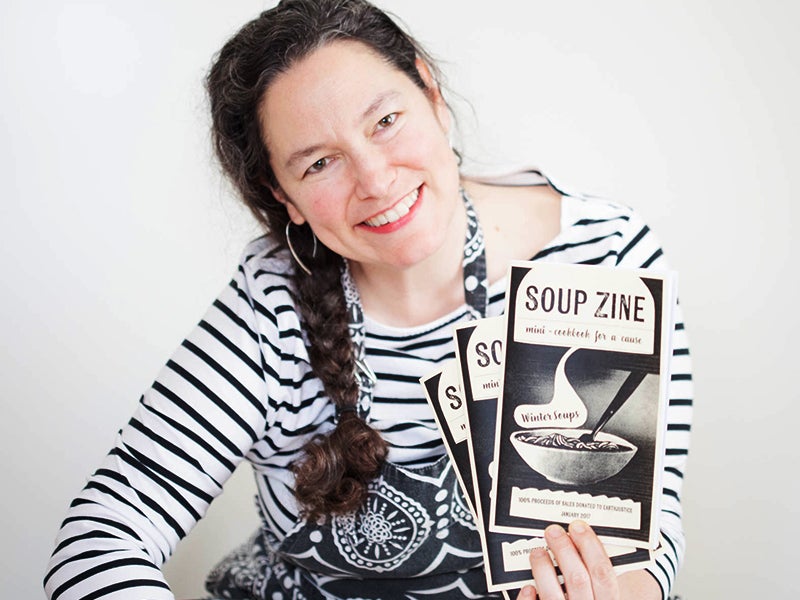 Bon appétit!
In January, Seattle resident Anne Livingston combined her creativity with her passion for the environment to raise more than $1,000 for Earthjustice. A professionally trained cook, recipe writer, food photographer and teacher, Livingston curated an original publication she calls the Soup Zine. The mini-magazine features recipes and cooking tips for "comforting soups to keep you warm all winter," and all profits from Soup Zine sales are earmarked for Earthjustice to help us protect the planet.
Earthjustice Editorial Assistant Caeleigh MacNeil chatted with Livingston about what's inspired her to cook for a cause:
Caeleigh MacNeil: How did you become interested in sustainability?
Anne Livingston: I'm from Oklahoma originally, but I've lived in Seattle since 1988. The people that I come from were farmers and my mom also taught me how to grow food. So I've been growing food for as long as I've had any type of land to grow it on. I chose [to attend] Seattle Culinary Academy because their emphasis on sustainability was a big draw. Humans, as relative newcomers on this planet, have a responsibility to tread a little bit more lightly, and I feel like if we don't focus on sustainability, we will not be around anyway.
After culinary school, I did some work with the campaign for legislation limiting GMOs. It didn't pass, which was a big bummer, but it was really related to funding and there were big companies involved to shut it down. That got me fired up about how money matters, and where it goes. So when Trump was elected, I knew I had to put my money somewhere (in so many different directions), and of course I think Earthjustice is amazing.
I didn't have a lot of money lying around, but I really wanted to do something. I thought, well, I've got two skills: I know how to do recipe development and I know a lot of people, so maybe I can bust out a cookbook and sell it so there's some money going in a direction that matters. And you were the first people I thought of. I'm so grateful to Earthjustice for doing such good work.
CM: How did you first discover that you wanted to be a chef and photographer?
AL: I've been cooking since I was about eight years old and my first and best teacher was my mom. I've also been a teacher for a really long time and I decided to go to culinary school because it was one of those mid-life, "I-need-to-follow-my-dreams" moments. And I've been a photographer for quite a long time as well. I started a food blog as a way to pursue photography and cooking while I was waiting for my opportunity to go to culinary school. When I got to school, people started asking me to take pictures of their food.
After that, I was approached by the editor of Edible Seattle magazine. She asked me to do a recipe column, including taking photos of food, and I worked with them for a couple years as their recipe columnist. I continued to do photography for Edible Seattle after that for a little while, and it all kind of fell into place.
I also illustrated the zine, and that's a life-long pursuit. I've been drawing since I was a kid, and when I was a teacher, I taught drawing in the summers as well.
CM: Why a soup zine?
AL: Besides just loving soup a lot, another area that I study is traditional Chinese medicine and how the five elements relate to nutrition. I wanted to choose a topic that was very appropriate for the winter, in terms of people's health. In the winter, the element that dominates is water. So if you eat "water foods" in the winter, that helps fortify you for months to come. Winter is the time we should be resting and dreaming and we are basically like seeds that are deep in the ground; it seems that everything is very quiet, but we are actually germinating and getting ready for the next stage—spring. Soup is the perfect food for winter.
CM: Why did you choose Earthjustice to receive the proceeds from zine sales?
AL:  I like Earthjustice first of all because I feel like they are very impactful and the money that goes to them goes to the programs making them effective. Every dollar that you give to Earthjustice has a powerful impact. But I also like the fact that Earthjustice focuses not only on helping nature, but also on how we connect with nature, and social justice as well.
I've noticed a lot recently, looking at the Dakota Access pipeline situation, how important it is to have good lawyers on the right side of history. And it has just been such a weird time—I've never appreciated lawyers more, I have to say that! It seemed like a very logical choice to me. At this moment, I'm very concerned about our country as a whole, so I wanted to support an organization that really had the big picture in mind.
Erika was a Communications Intern at Headquarters in San Francisco during the spring of 2017. She was a student at UC Berkeley and previously worked with the City of Los Angeles in the Mayor's Office of Public Engagement, as well as the Center for Asian Americans United for Self-Empowerment in Pasadena, CA.