D.C. Is Shut Down for the People — and Open for President Trump's Corporate Cronies
The government is working just fine for the oil and gas industry.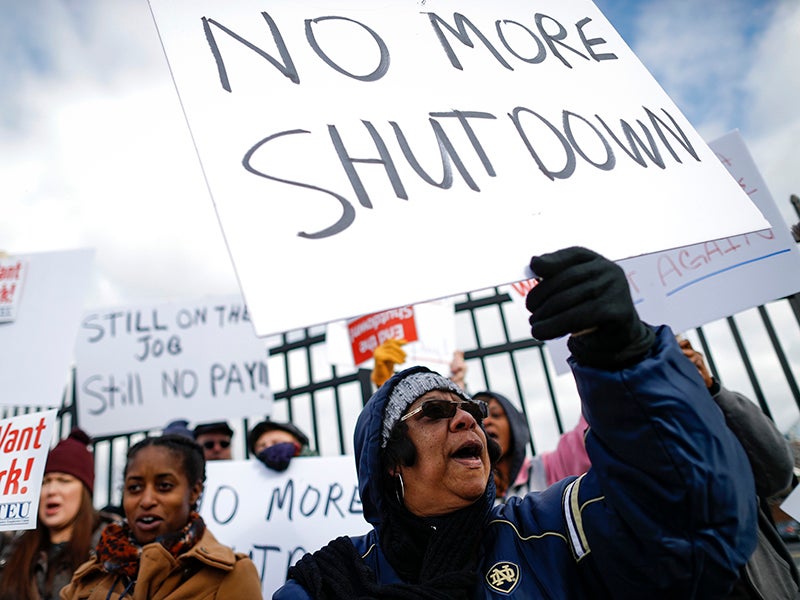 This week, the heartbreaking struggles faced by out-of-work federal employees and the people who rely on them made headlines, amplifying the impacts of the government shutdown.
Furloughed U.S. Environmental Protection Agency employees are struggling to pay for child care. Families living near Superfund sites wonder if they'll be safe from radioactive waste accidents as routine inspections have ceased. Drinking water samples that need to be checked for potentially toxic chemicals are sitting in refrigerators untested. And iconic Joshua trees — already threatened by the effects of climate change — have been felled by vandals seeking to take advantage of largely unstaffed national parks.
It would be wrong, however, to say that government isn't working right now. The government isn't working for people and communities, but it is working just fine for Trump's corporate cronies in the oil and gas industry, the logging industry and big coal.
Several examples:
The federal government shutdown — which, as we must not forget, started over President Trump's demand for an unnecessary, immoral, and costly border wall that would wreak havoc on border communities and ecosystems — speaks volumes about this president's priorities. Helping the dirty energy industry and its megadonor CEOs who helped put him in power is a priority; the people are not.
It's time for President Trump to accept that his wall isn't getting built, and if he won't, it's time for Congress to come together, override his veto, and pass legislation to reopen the government free of poison pill attacks on our environment. Call on your legislators to end this shutdown as soon as possible.
Marty represents Earthjustice on Capitol Hill where he has played a key role since 1995 in blocking attempts to eliminate environmental protections for all National Forests and promoting more protection for pristine forest lands, such as Alaska's Tongass Rainforest and all roadless forests.
Established in 1989, Earthjustice's Policy & Legislation team works with champions in Congress to craft legislation that supports and extends our legal gains.