Different Perspectives Unite for a Stronger Clean Power Plan
Earthjustice intern Elaine Lac describes her second day on the job at a Senate advocacy meeting on the Clean Power Plan.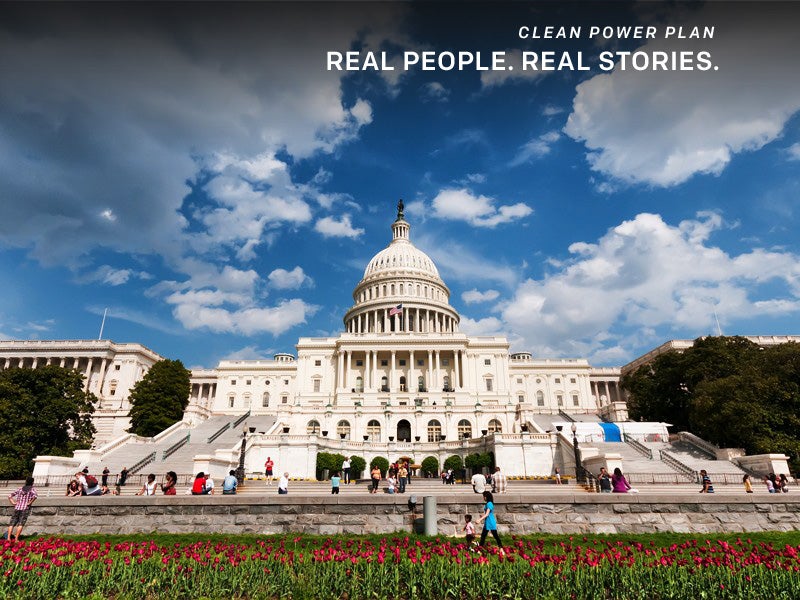 Update: On March 28th, 2017, President Trump issued a sweeping executive order that undermines federal actions to combat climate change, including the landmark Clean Power Plan. Earthjustice will continue to defend the Clean Power Plan in court against any Trump administration attempts to dismantle it.
We're rushing to the Dirksen Senate building. We're running late. It's my second day on the job interning for the Earthjustice policy and legislation team in D.C., and I'm guiding clean energy advocates from across the country to meet with their legislative representatives. Only I don't know where the office is, and I want to make sure they have the opportunity to speak to their elected officials. Miraculously, I find the way and we make it to our meeting.
I came to D.C. so I could be a part of the government's law-making process. In high school, I was introduced to the complexities of environmental justice in my advanced environmental science class and I realized few people had the tools to speak out about environmental injustice. I was frustrated because I felt like I was without a voice, so I began looking to the government as a tool to dispense justice and to empower myself and help others do the same.
Just two days into my internship, I had my chance. Seemingly unconnected individuals had made their way to Washington to tell their stories to elected officials and members of the Obama administration. The community advocates represented a broad diversity of perspectives and included representatives affiliated with the following groups: Alliance of Nurses for Healthy Environments, Creation Justice Ministries, Green Latinos, Hip Hop Caucus and Physicians for Social Responsibility. They were all advocating for a stronger Clean Power Plan to create a path forward to avoid the worst effects of climate change. The Clean Power Plan proposes cutting air pollution to reduce greenhouse gas emissions from American power plants by 30 percent by the year 2030.
I was in a team with two advocates: Cheeraz and Diane. I spent the day with them, and I had the opportunity to understand why they needed a stronger Clean Power Plan. Cheeraz Gormon, from St. Louis, Missouri, is an African American artist. She described her life to the office staffers, explaining how deficient regulations allowed pollution from abandoned factories to continuously fill the riverfront with toxic plumes that fouled the air. Diane Waddell, an experienced nurse practitioner from rural Missouri and religious advocate, connected poor air quality to health issues like the rising asthma rates and premature deaths partially attributed to the lack of federal standards on carbon pollution.
The day ended with a meeting of administration officials where the advocates each told their stories from a diversity of perspectives:
A former toxicologist and current environmental public health consultant conveyed the need for "urgent and transformative action"; an occupational and environmental medicine physician shared her moral obligation to protect the future for her eight-month-old daughter, stating, "It's time for us to take action to save lives and to ensure our children's future!"; a chemical engineer turned clergyman explained that while his former business had always complained that the EPA would bring ruin to the company's profitability, the business did just fine with the EPA regulations. He finished with this: "There is absolutely no moral justification for us to destroy the potential of future generations to live simply so that we can stay comfortable and not change," and was met with a roomful of applause.
The advocates and I shared similar experiences. Growing up in Los Angeles, Calif., I suffered from sports-induced asthma caused by smog emissions from cars and pollution from factories. When I began college in rural Pennsylvania, the asthma promptly disappeared. This is not a coincidence, and it shows that poor air quality regulations can lead to health problems. This is one reason a stronger Clean Power Plan is essential.
I definitely did not expect such a whirlwind of activity that day, but the advocates grounded the experience. The lobby day gave the advocates an opportunity to share their voices with their elected officials. This is how I envision the government should function. There were no hidden agendas, only real experiences with air pollution affecting all areas of life. From an ethical point of view, it is hard to argue politics against a stronger Clean Power Plan that protects people's health and future. 
Elaine Lac, a student at Bucknell University, interned with the Policy & Legislation team in Washington, D.C. during the summer of 2015.
Established in 1989, Earthjustice's Policy & Legislation team works with champions in Congress to craft legislation that supports and extends our legal gains.