Drilling Halted, the Atlantic Still Faces an Offshore Threat from the Oil Industry
Because of commercial seismic surveys, hundreds of whales could lose their ability to hunt prey, navigate and communicate with one another.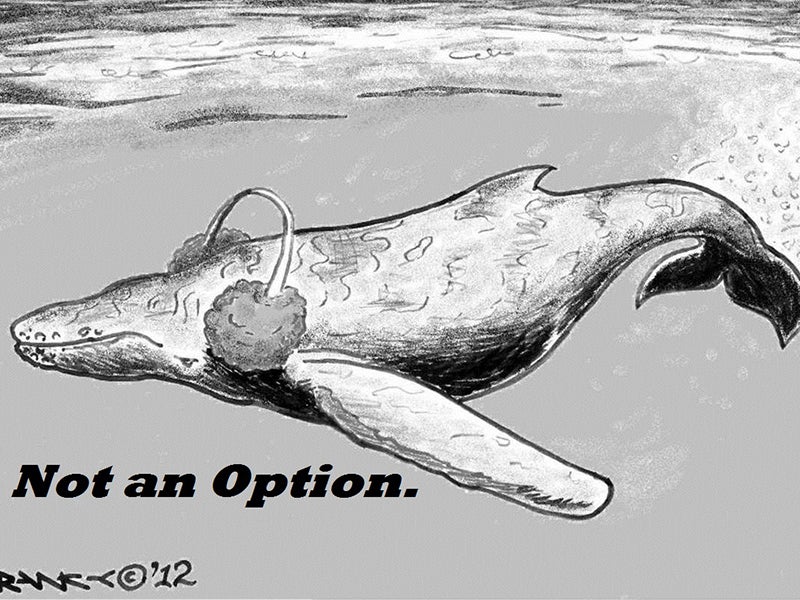 Editor's note: The Obama  administration's Bureau of Ocean Energy Management announced today that it will deny six pending permit applications to conduct airgun seismic surveys in the Atlantic Ocean. Earthjustice has worked for years to oppose harmful seismic blasting, which is used to search for oil and gas deposits under the seafloor. For whales and other marine mammals that rely on sound for survival, this extreme noise pollution can have deadly consequences. The airguns discharge resounding booms at 12- to 16-second intervals, 24 hours a day, seven days a week, for months on end. The blasting can also displace fish and harm fisheries over large areas of ocean. Read more about the decision here. 
The Obama administration recently abandoned its plan to open the Atlantic Ocean to offshore oil drilling for the next five years. The move elicited a sigh of relief from coastal communities and environmentalists who feared the federal government would court disaster by allowing offshore rigs into pristine coastal waters.  
But there is another threat facing the Atlantic, even where no leasing is possible for many years: deafening seismic surveys. The seismic threat is imminent in the Atlantic. Several companies have asked for approval to conduct surveying operations to find potential pockets of oil beneath the ocean floor as early as this year.
Allowing seismic surveys to go forward in the Atlantic would be devastating to the sensitive marine life in these rich waters. The areas impacted by this testing include critical migratory and calving habitat for the imperiled North Atlantic right whale. As more than two dozen of the world's experts on this species highlighted in a recent letter to President Obama, the additional harms from seismic testing "may well represent a tipping point for the survival" of this critically endangered whale and "contribut[e] significantly to a decline towards extinction." 
And it's not just the remaining right whales impacted by this activity. According to the government's own estimates, surveying operations have the potential to permanently deafen up to 40 percent of sperm whales found in East Coast waters, greatly reducing their chances of survival. Fish stocks would also be negatively impacted, creating a ripple effect throughout the entire food web, not to mention the fishing industry.
Before they can drill offshore, oil companies such as Shell and BP want detailed maps of the ocean floor showing where oil deposits may be found. To collect and sell this highly sought-after data, private contractors cruise the ocean in vessels that use towed air-gun arrays that emit powerful, jarring underwater blasts that reverberate off the sea floor and enable geologists to "see" underlying rock layers.    
These air-guns discharge resounding booms at 12 to 16 second intervals, 24 hours a day, seven days a week, for months on end as they're towed in a grid pattern just beneath the ocean's surface. The seismic blasts reverberate at a volume of 235 decibels, louder than a rocket launch and many hundreds of times louder than the noise level that would cause pain in the human ear. For whales and other marine mammals that rely on sound for survival, this extreme noise pollution can have deadly consequences.
Whales rely on underwater sound to guide them in feeding, migration and other behaviors that are critical to survival. Over the course of five years, the government estimates that seismic testing could harass sperm whales 85,000 times, significantly altering their behavior. This number of "takes," to use the legal term for noise harassment, is alarmingly high, considering that just 2,500 to 4,000 sperm whales exist in these waters. And with an estimated 978 instances of permanent hearing loss from these blasts, hundreds of sperm whales could lose their ability to hunt prey, navigate and communicate with one another.
For bottlenose dolphins, which are much more abundant off the East Coast, the numbers are even higher, with a predicted 1.3 million "takes" resulting from seismic survey blasts over five years.
Earthjustice attorney Steve Mashuda, who has been urging federal agencies to stop considering seismic testing in the Atlantic Ocean, reflects on how an historic obsession with hunting whales for oil once drove these intelligent giants of the sea to the brink of extinction. Popular belief says we've evolved beyond the cruelty of reckless slaughter, but "deafening a whale is the equivalent of killing that whale—it just happens more slowly," Mashuda points out.
"As much as we like to think that we stopped hunting whales for oil, injuring whales in pursuit of deep-sea oil deposits raises the question of whether that's really true." 
Nor would these pervasive booms be the only source of underwater noise pollution in the neighborhood. Naval vessels in these same waters routinely deploy underwater explosives and sonar; when these naval disturbances are combined with the projected damage from seismic surveying, the number of "takes" for many of these species doubles.
The federal agencies that issue permits for seismic testing are the National Marine Fisheries Service and the Bureau of Ocean Energy Management, the division of the U.S. Department of the Interior that also issues offshore drilling leases. Four applications for seismic survey permits are currently under review. Another four are in the pipeline. The contractors are eager to embark on these surveying voyages as soon as they get the green light from the government.
It's important to place these seismic proposals in the broader context of our fight to protect oceans from drilling and the planet from the worst effects of climate change. The administration's proposed five-year offshore drilling plan still schedules new oil lease sales in the Arctic Ocean and the Gulf of Mexico in coming years. We've long fought leasing and drilling in the Arctic Ocean and continue to oppose this leasing there. We also believe there should be no new leasing in the Gulf under this plan.
The Obama administration deserves credit for listening to coastal communities and placing the Atlantic off-limits for the next five years, but drilling threats are more imminent in the Arctic and business as usual continues in the Gulf of Mexico—both areas where new lease sales are being proposed. We're asking the administration to keep these areas out of the final five-year plan as well. And to make sure the Atlantic and Arctic Oceans, whose waters have so far been free of offshore production, stay off-limits in the future, Earthjustice President Trip Van Noppen, along with many others, has called on the president to use his separate authority under the law to put these seas permanently off-limits to drilling.
With all of this in mind, it's inexcusable for government agencies to allow seismic surveyors to use incredibly destructive technology in federal waters to gather geological information that will only sit on the shelf. The permits for Atlantic seismic operations should be denied, on the grounds that they'll cause unnecessary harm to ocean wildlife merely to identify oil deposits that must stay where they are if we are to prevent the worst impacts of climate change.
Based in Portland, OR, Rebecca is Earthjustice's Public Affairs and Communications Officer for lands, wildlife, and oceans.
Earthjustice's Oceans Program uses the power of the law to safeguard imperiled marine life, reform fisheries management, stop the expansion of offshore oil and gas drilling, and increase the resiliency of ocean ecosystems to climate change.