Joining the March for Climate Change Action
Earthjustice joins march for climate change action in New York.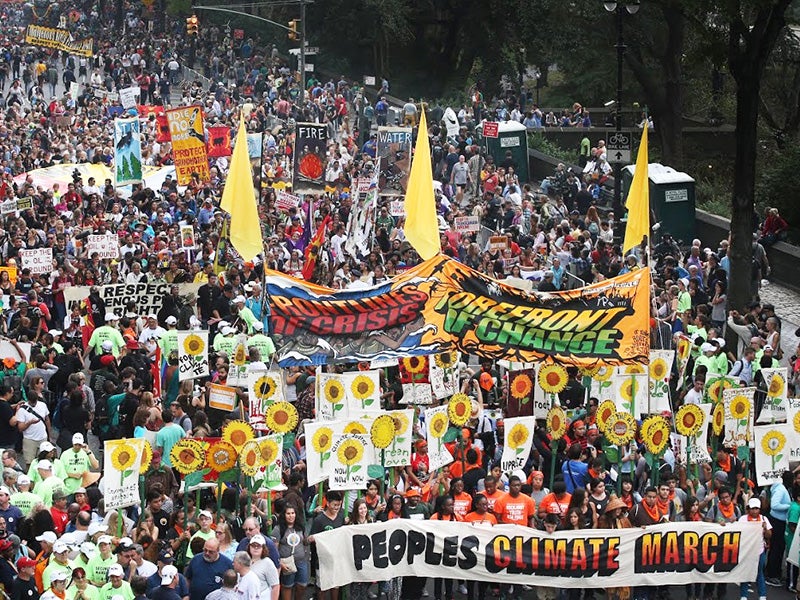 (Updated 2:35 p.m. EDT)
More than 100,000 people—including a contingent of Earthjustice staff and supporters—are marching today in New York to highlight the urgent need for climate change action by world governments. Marching with them is Earthjustice President Trip Van Noppen who made this report from the event:
I have been walking in a river of people stretching from 34th Avenue to above 80th. I saw two great signs: "There Is No Planet B" and "Act like we live here." There is an incredible amount of energy for this fight for clean energy and a just future. Advocates from all over the country are here … many young people, many faith groups.

There was an amazing moment at 12:58 p.m. as all of the people in the march went silent for a moment. Then there was a roar that swept like a wave up the street—a tsunami of noise expressing people's outrage, hope, passion and commitment.
The People's Climate March comes just two days before world leaders, business executives and activist organizations gather here for an international climate summit aimed at reaching a global climate agreement following the Kyoto Protocol. The summit, organized by the U.N. secretary general, is not part of the formal negotiation process, but is designed to rally political movement toward an international treaty next year.
President Obama is attending, among an expected 120 leaders, not including China and India—major contributors to climate change.
Earthjustice is one of more than 1,000 organizations supporting or joining in the march. In addition, students from more than 300 colleges and universities are expected to march. The conference itself is being closely watched by the international community to assess progress toward a strong global climate treaty.
Such a treaty is particularly critical to address climate change impacts already being felt by coastal areas of various countries, including the United States and island nations threatened by rising sea levels caused by global warming.
Climate change is too urgent an issue to wait, says 350.org founder Bill McKibben, whose organization is promoting today's march:
And so we take to the streets. If the scientists are ever going to get heard above the rustle of cash, they need some amplifiers. That's all of us.

We'll be out in the streets in the largest political demonstration the United States has seen in years, and the largest climate change rally in world history.
From 2006–2014, Terry was managing editor for Earthjustice's blog, online monthly newsletter and print Earthjustice Quarterly Magazine.