Earthjustice Victory Offers New Hope for Communities Living with Coal Ash
A court has ordered the EPA to create financial assurance rules, providing hope to communities living near coal ash lagoons that companies will pay to clean up their toxic spills.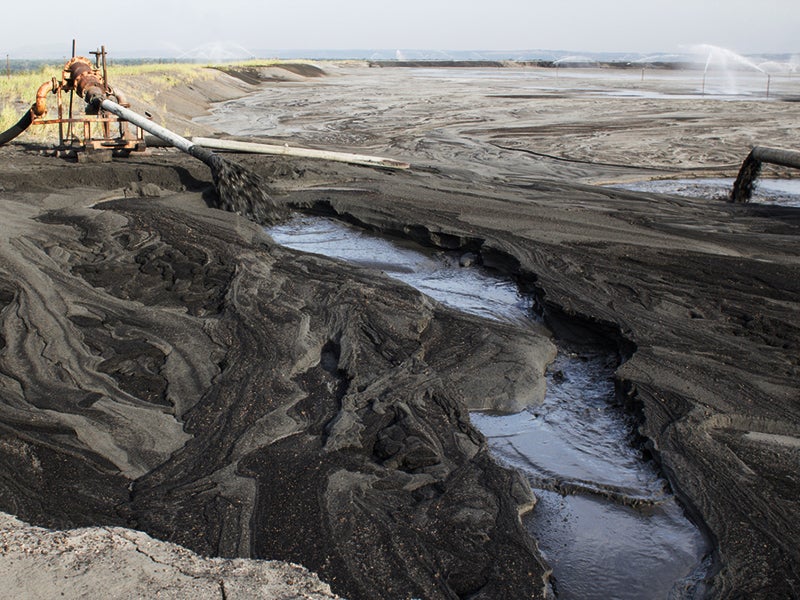 Communities near the nation's coal ash disposal facilities have been given new hope thanks to a recent Earthjustice victory. The D.C. Circuit Court of Appeals has ordered the EPA to issue "financial assurance" rules. These rules require companies with toxic waste problems—potentially including coal-fired power plants that produce toxic coal ash—to set aside funds for their own cleanup.
For decades, the nation's electric utilities have mismanaged coal ash in unlined pits and massive sludge-filled lagoons. The liability is immense, comprising over 1,200 landfills and ash ponds that could contaminate water or lead to major spills.
Across the nation, citizens living near coal ash dumps point to the serious human and environmental threats posed by these toxic pools. Paul Rolke owns a cattle ranch with his sister and mother in Franklin, Texas, six miles downstream from the Luminant Oak Grove Power Plant and coal ash impoundment. The plant discharges coal ash waste into Duck Creek, which runs through Rolke's property and floods two to three times a year.
"I'm deeply concerned about the safety, health and environmental risks of the Oak Grove coal ash impoundment for me, my family and my community," Rolke says. "I know coal ash contains many hazardous contaminants, including arsenic, cadmium, chromium, lead, mercury, selenium and thallium. If the coal ash impoundment were to fail, it would likely harm my property, my cattle and much of the local community."  
Kevin Green, who lives with his wife and mother on a fifth-generation farm in Fithian, Illinois, has similar concerns. The family's farm is located near the Dynegy Vermilion Power Station and coal ash impoundments, and the plant's smokestack is visible from their bedroom window. The plant discharges into the Middle Fork River, which is home to many threatened and endangered species and is also a favorite spot for canoeing, hiking and bird watching. Two of the plant's coal ash pits were built without liners, allowing pollutants to seep into groundwater and into the river. One of these unlined pits spans 20 acres and contains more than 530,000 tons of coal ash sludge.
"I've canoed and kayaked the river scores of times, and for years I've seen discolored seeps entering the river from the coal ash pits," Green says. "I'm concerned that Dynegy will not have enough money to respond to a spill from the coal ash pits at Vermilion. I'm also concerned that Dynegy will not have the money to properly close the pits at the Vermilion facility and conduct cleanup to make sure the coal ash doesn't continue to pollute the groundwater and river."
Rolke, Green and other residents living near coal-fired power plants have no guarantees that cleanup of the contamination will be handled in a timely manner or that there will be enough money available to cover the costs. Earthjustice's recent court victory could put that financial responsibility on the power plant owners—where it belongs—ensuring the long-term health of American communities and encouraging safer management of dangerous waste up front to prevent costly cleanups.
Our legal victory has cleared the way, but there is one more step left to take. By the end of this year, the EPA must make a final decision about whether to establish financial assurance requirements for coal ash disposal and, once this decision is made, the agency must meet an enforceable deadline for the new protections.
Once these requirements are transformed into law, communities near coal plants can breathe much easier. 
Learn more about how Earthjustice is working in court and with the EPA to finally make sure industrial polluters are on the hook for the full costs of the contamination they create.
Specializing in hazardous waste law, Lisa is an expert on coal ash, a toxic byproduct of burning coal that burdens communities around the nation.
Earthjustice's Clean Energy Program uses the power of the law and the strength of partnership to accelerate the transition to 100% clean energy.