Effectively Balancing the Climate Change Pocketbook
Panelists met during the COP20 event to discuss climate change funding.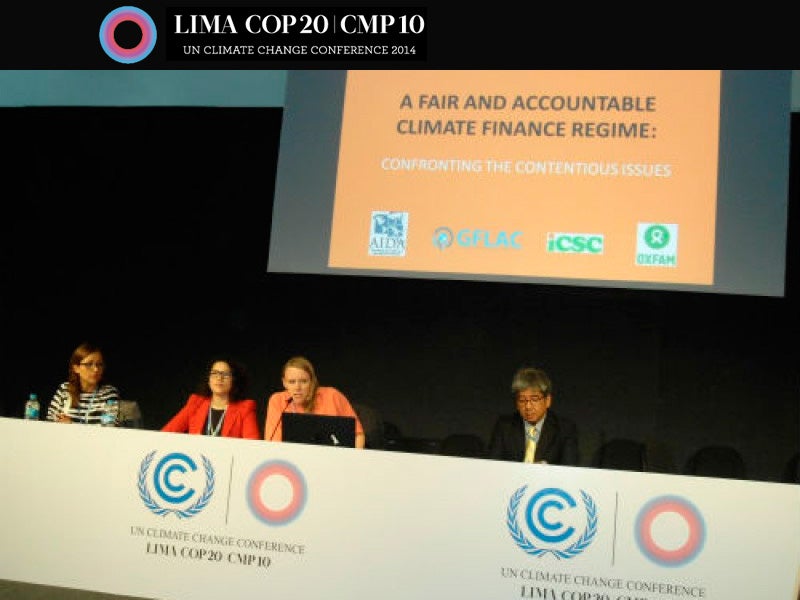 This guest blog post is from Victor Quintanilla, a Bolivian writer who works for AIDA and is attending the events in Lima. Earthjustice is a founding partner of AIDA, an organization that uses the law to protect the right to a healthy environment in the Americas, with a focus on Latin America.
The amount of money required to confront the effects of extreme climate change is much greater than the sum currently sought in global negotiations. Clearly more resources are needed, but it is also important to track the effective use of climate finance already being mobilized.
"We must recognize the enormous funding gap for adaptation efforts," says Annaka Peterson Carvalho of Oxfam America. She was a panelist on December 3 at the COP20 event, A Regime of Fair and Responsible Climate Finance: Coping with Contentious Issues.
She added that we must determine, on the basis of sound science, the real costs that countries must bear, and that a responsible finance system is needed to establish how much money each country requires and what the source for that funding will be.
Sandra Guzmán, coordinator of the Climate Finance Group of Latin America and the Caribbean (GFLAC), agrees that while it is necessary to have more resources for the fight, it's also critical to use them effectively.
"It's not just about asking for more money," she says. "We must change priorities at the national level and distribute funding so as to reassign it to activities that enable reduced emissions."
Guzmán explained that the Climate Finance Group has developed a method to determine how much money each country receives and spends on addressing climate change. This analysis encompasses many activities, including some that are not traditionally considered related to climate change. She also identified five challenges in tracking the use of climate finance:
Transparency and access to information;
Definition of the criteria for climate finance;
Institutional structures and inter-institutional communications;
Public participation in project evaluation; and
Better methodologies for monitoring, reporting, and verification to analyze the effective use of the money.
The experience of the Institute for Climate and Sustainable Cities in the Philippines demonstrates that accountability for climate finance is "everybody's business," according to Red Constantino, the institute's executive director. The institute tracks not only the funding committed for adaptation but also how this money is channeled locally.
Constantino's work has allowed him to identify challenges related to aligning funding with the real needs and priorities of vulnerable communities, as well as to identify limited opportunities for involving communities in decision-making about adaptation. It is clear that even when money flows, it is not always used efficiently or fully.
Andrea Rodríguez, senior attorney at AIDA, also highlighted the importance of ensuring that climate change programs and projects meet the requirements of countries and are directed by them. To be effective, she says, the new climate regime must find ways for countries to monitor climate finance, learn from the experiences of others, and reallocate resources for maximum impact.
"Climate finance responds to a specific need; it is not general assistance for development," adds Rodríguez. "Public participation is central to the process. If we know how funds are being used and how much money we need, we will know how much to ask for."
On this point, Constantino emphasized the need for greater coordination between local and national governments, as well as between the government and civil society sector. 
For more information, visit aida-cop.org.
Victor Quintanilla Sangüeza is a Bolivian freelance communications specialist and journalist. He is part of AIDA's communications team, working from Mexico City.
The International Program partners with organizations and communities around the world to establish, strengthen, and enforce national and international legal protections for the environment and public health.