Florida's Slimed Waters Should Prompt National Wake Up Call
A toxic algae outbreak in Lake Okeechobee that's fouling waterways on the Atlantic and Gulf coasts has focused the national spotlight on Florida's water pollution nightmare. (Spanish language version available.)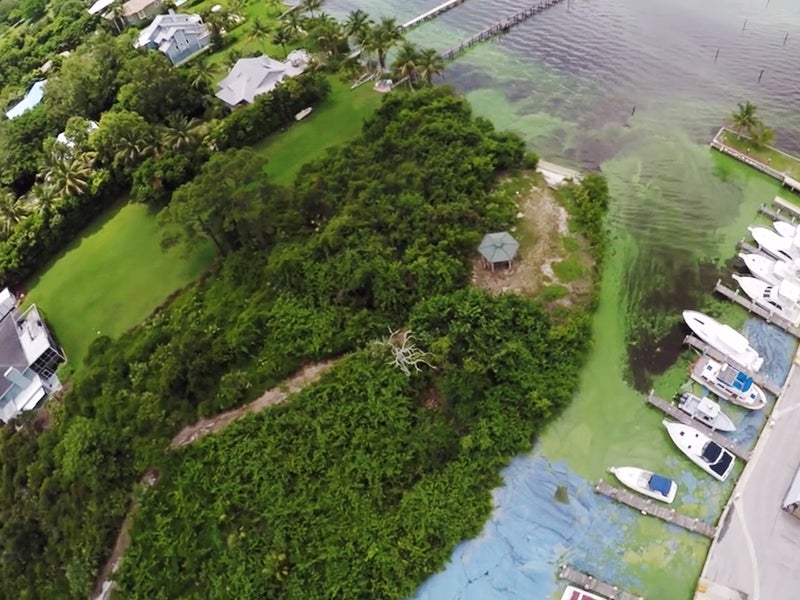 Este blog está disponible en español aquí.
In 1969, Time magazine published an arresting photo of a river so badly polluted by an oil slick that it actually caught fire.
That image became a flash point for the nation's disgust with widespread pollution. Three years later, citizens pressured Congress to pass the Clean Water Act. Today, we know that the photo of Ohio's Cuyahoga River that Time published in 1969 was actually taken 17 years earlier. But, for whatever reason, the extent of the Cuyahoga's pollution problem didn't resonate nationally until Time published that fiery photo in 1969.
We're hoping that the shocking images of fluorescent green slime coating Florida rivers and beaches, published worldwide over the Fourth of July holiday, will serve as another national wake up call. Although this may be the first time people around the country have seen this lurid slime, it's not Florida's first horrific algae outbreak.
As Earthjustice attorneys explained to media who called us from all over the U.S., we've been representing citizens trying to stop these algae outbreaks for decades. Earthjustice has argued in court and in the press that it is not fair for corporations to dump their waste into our public waterways, causing algae outbreaks that wreck the environment that our families, our tourist-based economy and our renowned wildlife depend on.
Thousands of citizens are using their cameras and social media accounts to document the ugly truth of what's happening in South Florida, where the government pumps billions of gallons of water polluted by Big Agriculture out of Lake Okeechobee, in the state's center, through rivers and out to the east and west coasts. You can check on-the-scene reports here and here and on Twitter at #indianriverlagoon. The putrid water slimes delicate coastal estuaries, the Gulf of Mexico and the Atlantic Ocean.
Pollution in the once lovely, sand-bottomed Lake Okeechobee comes primarily from fertilizer spread over industrial-scale sugar cane and vegetable fields and from manure runoff from huge beef and dairy cattle operations. This is the inland Florida that tourists don't see. Lake Okeechobee covers 730 square miles; the muck on the bottom is now so full of phosphorus and nitrogen from decades of fertilizer and manure pollution that it can no longer be diluted. The lake's algae outbreak now covers 200 square miles and NASA has documented it from space.
This pollution needs to be cleaned up at the source—period. In recent years, Earthjustice has filed numerous lawsuits to try to make that happen:
We fought to set a maximum daily limit for phosphorus allowed into Lake Okeechobee. This limit continues to be exceeded year after year.
We challenged the "backpumping" of agricultural wastewater into Lake Okeechobee. Florida agricultural operations have been allowed to take water out of the lake, irrigate fields with it and then pump the water—now polluted with fertilizer, pesticides and other pollutants—back into the lake.
We filed a challenge to stop government water managers from using taxpayer-funded pumps, pipes and canals to transfer polluted water from one place to another. Our challenge to an EPA rule allowing this practice is currently being appealed.
We sued the U.S. Army Corps of Engineers to enforce water quality standards on the Caloosahatchee River, which flows from Lake Okeechobee westward into the Gulf of Mexico. This case is also being appealed.
Will this summer's noxious algae outbreak turn out to be our "Cuyahoga-on-fire" moment? We hope so. But even if it isn't, we and thousands of anglers, surfers, swimmers, boaters and beachgoers will still be working hard to stop this environmental disaster, long after the cameras have moved on.
Las Aguas De La Florida Cubiertas de Limo Deben Provocar Un Llamado De Alerta Nacional
En 1969, la revista Time publicó una impresionante fotografía de un río tan contaminado por un derrame de petróleo que en efecto se incendió.
La imagen se convirtió en un punto clave representativo de la indignación de toda la nación por la contaminación generalizada. Tres años antes, la población había presionado al Congreso para aprobar la Ley de Agua Limpia. Hoy en día, sabemos que la foto del Río Cuyahoga en Ohio publicada por Time en 1969, en efecto había sido tomada 17 años antes. Pero, por alguna razón la magnitud del problema de contaminación del Cuyahoga no había resonado nivel nacional hasta que Time  publicara la candente foto en 1969.
Esperamos que las impactantes imágenes del lama verde fluorescente cubriendo  ríos y las playas de la Florida que fueron publicadas a nivel mundial durante las festividades del 4 de julio sirvan como otro llamado de alerta nacional. Aunque esta puede ser la primera vez que las personas  de todo el país verán esta lama espantosa, no es el primer brote horrífico de algas que se da lugar en la Florida.
Así como los abogados de Earthjustice le explicaron a los medios de comunicación que nos contactaron desde todas partes de Estados Unidos, hemos estado representando a ciudadanos que intentan impedir estos brotes de algas desde hace décadas. Earthjustice ha argumentado en los tribunales y en la prensa que no es justo que las corporaciones arrojen sus desperdicios en nuestros estuarios públicos, causando brotes de algas que arruinan el medio ambiente del cual dependen nuestras familias, nuestra economía basada en el turismo y nuestra reconocida fauna silvestre.
Miles de ciudadanos están utilizando sus cámaras y cuentas en redes sociales para documentar la terrible realidad de lo que está sucediendo en el Sur de la Florida, donde el gobierno bombea miles de millones de galones de agua contaminada por la gran agroindustria en el Lago Okeechobee, del centro del estado,  a través de los ríos y hacia afuera hasta alcanzar las costas este y oeste. Usted puede revisar los reportes desde la escena aquí y aquí, al igual que en Twitter en #indianriverlagoon. El agua podrida cubre con lama los estuarios costeros, el Golfo de México y el Océano Atlántico.
La contaminación en los fondos arenosos de lo que una vez fue el encantador Lago Okeechobee proviene primordialmente del fertilizante rociado sobre los campos industriales de caña y vegetales, y de la fuga de excremento de las grandes instalaciones de ganado para carne y productos lácteos. Esta es la Florida que se encuentra tierra adentro, la que los turistas no ven. El Lago Okeechobee cubre 730 millas cuadradas; en estos momentos el limo al fondo está tan cargado de fosforo y nitrógeno, luego de décadas de contaminación causada por el fertilizante y el estiércol, que ya no puede diluirse. El brote de algas en el lago ya cubre 200 millas cuadradas y la NASA lo ha documentado desde el espacio.
Necesitamos limpiar esta contaminación desde su origen, punto. En años recientes Earthjustice ha presentado numerosas demandas para lograr que esto ocurra:
Luchamos para establecer un límite máximo de fósforo permitido a diario dentro del Lago Okeechobee. Este límite continúa excediendo los niveles permisibles año tras año.
Impugnamos el bombeo inverso de las aguas residuales agrícolas en el Lago Okeechobee. A las empresas agrícolas en la Florida se les ha permitido sacar agua del lago, utilizarla para irrigar los campos y luego bombearla de vuelta al lago, una vez que se ha contaminado con fertilizantes, pesticidas y otras sustancias. Presentamos una querella para prohibir que los administradores de los recursos de agua del gobierno utilicen las bombas, tuberías y canales financiados por los contribuyentes para transferir el agua contaminada de un lugar a otro. Nuestra impugnación a una de las normas de la EPA que permite estas prácticas se encuentra en apelación actualmente.
Demandamos a U.S. Army Corps of Engineers para que implemente normas de calidad del agua en el río Caloosahatchee, que fluye desde el lago Okeechobee en dirección oeste hasta el Golfo de México. Este caso también se encuentra en apelación.
¿Es posible que el brote de alga nociva de este verano se convierta en nuestro momento "Cuyahoga incendiado"? Eso esperamos. Pero aun si no lo es, nosotros y miles de pescadores, surfistas y playeros seguiremos trabajando arduamente para poner fin a este desastre ecológico mucho después de que las cámaras hayan desaparecido de la escena.
Alisa joined the Florida regional office in Tallahassee in 2004. She has done extensive work on tort cases, cases to stop sewage and agricultural pollution, and coal plant challenges.
For decades, the Florida regional office has worked to strengthen regulations to clean up Florida's waterways and ensure that government and industry are held accountable and the public is informed and engaged.