Florida Towns Started Banning Styrofoam. Then Industry Crumpled the Movement.
The city of Coral Gables is going to court to keep its beaches clean.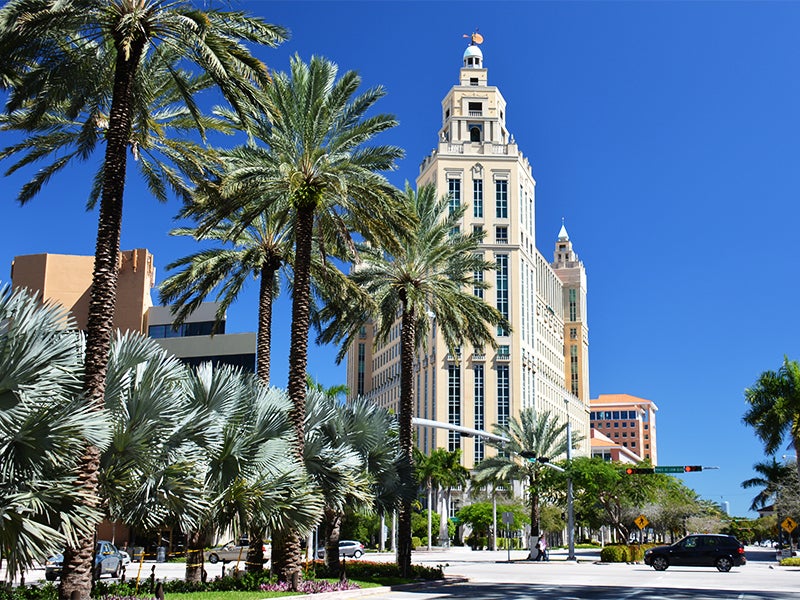 With its blue skies, palm-tree lined roads and canals winding into Biscayne Bay, the Miami suburb of Coral Gables looks like a Florida postcard. Residents want to keep it that way, but the state has blocked their efforts to fight Styrofoam litter.
At stake is the ability of local governments up and down Florida to end the scourge of Styrofoam and to take local action on other environmental problems.
Leaders in Coral Gables were growing concerned about the litter from polystyrene take-out containers, plates, coffee cups and trays in their parks, streets and waterways. Polystyrene breaks down and causes some of the most damaging kind of pollution for sea turtles, fish and birds.
In 2016, the city passed a local ordinance banning the foam containers. But powerful business lobbyists leaned on their friends in the Florida Legislature to do an end run. Just one month later, the legislature passed a state law that specifically prevents municipalities from banning foam containers. On top of that, a statewide lobbying group called the Florida Retail Federation then sued Coral Gables to prevent the city from enforcing its local ban.
That didn't sit well in "the City Beautiful," as Coral Gables is nicknamed. City leaders are refusing to back down, and Earthjustice is joining their fight.
"You can't be the 'City Beautiful' without actually putting your money where your mouth is. People come to our city and to South Florida to enjoy its natural splendor. Without protecting it, I see us in big trouble," Coral Gables city commissioner Vince Lago told a local reporter.  
Earthjustice has been active in Florida for decades and joined as a friend of the court in the case representing several local and national organizations.
In coastal Florida, the environmental impacts of polystyrene are particularly worrisome because the economy is dependent on tourism. No one wants to walk on a littered beach or fish where foam and plastics clog waterways. Out-of-state tourism generates more than $24 billion in tax revenue in Florida with over $5 billion going to local governments.
More than other plastics, polystyrene easily fragments into small non-biodegradable pieces that kill wildlife and contaminate our food chain. It can remain in the environment for hundreds of years, absorbing other pollutants from marine waters, like PCBs and DDT. Plastics account for 60 to 90 percent of marine litter and are particularly hazardous to marine ecosystems because the particles are indigestible and toxic.
Before passing the ban, Coral Gables leaders met with the business community and local residents.
"We're beyond using complacency as an excuse," said Lagos "We're a very civilized society that needs to be accountable to the environment. We need to do everything in our power to use products that are recyclable and sustainable."
Local governments have the right to protect themselves from harm, and they have a right under Florida's constitution to home rule. However, the state legislature is stepping up its efforts to quash local control, including attacks on local fertilizer ordinances, local plastic bag bans, and now, a newly introduced bill that would prevent cities and counties from passing local tree protection ordinances.
A Miami judge upheld Coral Gables' polystyrene ban earlier this year and the case is currently slated to go for oral arguments before the Third District Court of Appeals on Dec. 13.
Earthjustice is representing several organizations and legal scholars in the case: Surfrider Foundation, the Campaign To Defend Local Solutions, the League Of Women Voters Of Florida, 1000 Friends Of Florida, Rethink Energy Florida, the Florida Wildlife Federation, Save The Manatee Club and the Center For Biological Diversity.
Bonnie Malloy is a senior attorney with the Florida office. She is based in Tallahassee. Bonnie graduated magna cum laude from Florida State University College of Law with a certificate in Environmental and Land Use Law, and previously worked at the Florida Department of Environmental Protection, where she prosecuted enforcement actions.
The Florida regional office wields the power of the law to protect our waterways and biodiversity, promote a just and reliable transition to clean energy, and defend communities disproportionately burdened by pollution.