Florida Voters Pass Offshore Drilling Ban
Amendment 9 will help protect Florida's fragile coastlines from drilling regardless of which politicians run the state.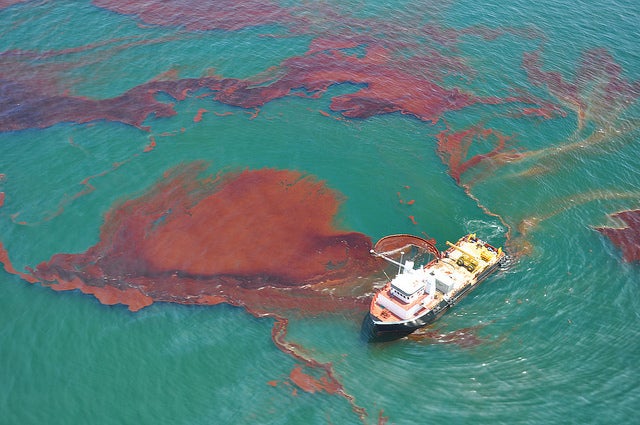 Update, November 7, 2018: In a win for environmental health and clean energy, Florida residents voted yesterday to protect the state's coastlines from offshore drilling. The constitutional amendment, which also bans vaping in enclosed workplaces, passed by more than 68 percent of the vote.
Original post, October 31, 2018: Florida voters will soon decide on an important ballot initiative that would ban drilling for oil and natural gas in state waters off Florida's coasts.
Voters should support this measure to amend the state's constitution because it will help protect the fragile coastlines from drilling regardless of which politicians run the state.
It requires a full 60 percent of the vote to pass, so please help spread the word about the importance of supporting Amendment 9.
Drilling is risky business. There are over 2,100 oil and chemical spills each year. Recently, there has been renewed scrutiny over a massive oil leak off the coast of Louisiana that has been quietly releasing millions of gallons of oil into the Gulf of Mexico over the last 14 years.
Florida has seen firsthand the devastating impacts when offshore drilling goes wrong. The BP oil spill in 2010 caused massive ecological damage, brought tar balls to panhandle beaches, and hurt both the tourism and fishing businesses.
Industry is continuing to push to expand offshore drilling. This summer a co-chair of the industry group Explore Offshore Florida, former Lieutenant Governor Jeff Kottkamp, tried to re-write history and claim that the BP spill never hit Florida.
But we know better and have pictures to prove it.
Gulf-wide, the spill caused death or serious injury to billions, if not trillions, of fish, sea turtles, whales, and other animals, including more than 100,000 individuals of species listed as threatened or endangered, according to scientists' estimates.
There is no reason to pursue more risky and dirty energy sources like fossil fuels in our waters when we have a vast and untapped supply of sunshine that could help power our state. The state government should drop its resistance to safer and cleaner energy sources like solar and wind that don't contribute to climate change. Shouldn't we do what we can to prevent spills in our waters, while reducing the pollution that contributes to rising sea levels and more intense storms?
The Florida waters the ballot initiative would impact are the waters in state control. Those waters extend 3 nautical miles off the Atlantic and approximately 9 miles off the Gulf coasts from the western shores of Florida and from the Panhandle.
A vote in favor of Amendment 9 is a vote to protect our environment, support a clean energy future, and preserve the beauty that makes Florida so special.
Bonnie Malloy is a senior attorney with the Florida office. She is based in Tallahassee. Bonnie graduated magna cum laude from Florida State University College of Law with a certificate in Environmental and Land Use Law, and previously worked at the Florida Department of Environmental Protection, where she prosecuted enforcement actions.
The Florida regional office wields the power of the law to protect our waterways and biodiversity, promote a just and reliable transition to clean energy, and defend communities disproportionately burdened by pollution.