Fossil Fuel Lobbyist Picked for No. 2 Post at Interior
The Department of the Interior will be swamped with potential conflicts-of-interest if President Trump's nominee for deputy secretary, David Bernhardt, is confirmed.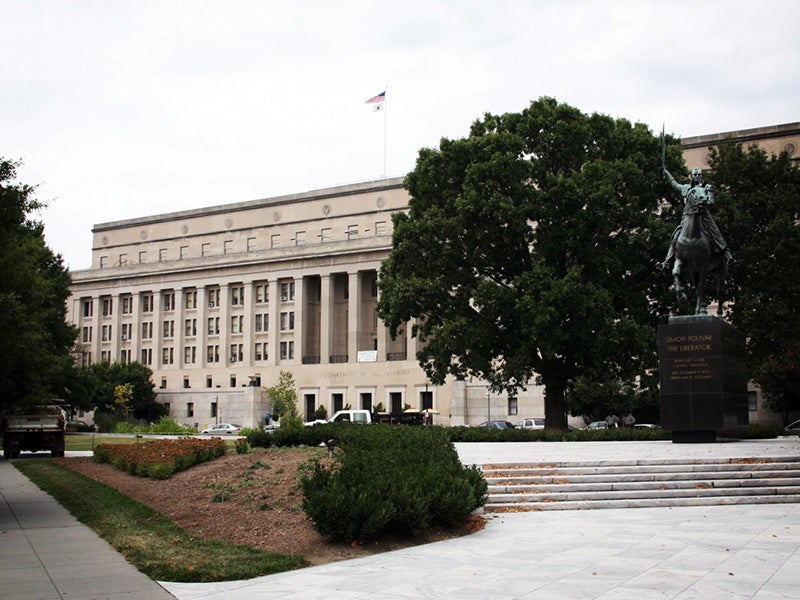 Update: On Monday, July 24, 2017 the U.S. Senate voted to confirm David Bernhardt to serve as Deputy Secretary of the U.S. Department of the Interior. Martin Hayden, Earthjustice VP of Policy and Legislation says: "David Bernhardt is a walking, talking conflict of interest who shouldn't be anywhere near the Interior Department. His confirmation is simply the latest evidence that the Trump administration has no intention of adhering to basic standards of ethics and accountability. Instead, they have set the revolving door spinning at a record pace, stacking key agencies to the gills with fossil fuel industry lobbyists and corporate shills with head-spinning conflicts – all of whom are hell-bent on dismantling bedrock environmental protections. Earthjustice will fight them every step of the way."
President Trump rallied his base on the campaign trail with promises to "drain the swamp," but his nomination of David Bernhardt for the No. 2 post at the Department of the Interior does precisely the opposite.
The role of Deputy Secretary of the Interior is essential for directing the management of our nation's parks, monuments, forests, refuges, water and wildlife, including endangered species. The San Francisco Chronicle labeled Bernhardt's nomination for the job "a Trumpian slap" at California and the country, citing Bernhardt's potential for egregious conflicts of interest. Under George W. Bush, Bernhardt served as the Interior Department's top lawyer—but in revolving-door fashion, he went on to work as a legal adviser for timber companies, mining companies and oil and gas interests.
Bernhardt lobbied for a bill to delay new air pollution limits on coal-fired power plants. He pushed for legislation that would have expanded offshore oil and gas drilling in the aftermath of the BP Deepwater Horizon disaster. And he lobbied on behalf of a mining company seeking permits to dispose of toxic waste rock in Arizona's Coronado National Forest.
Bernhardt was also a lobbyist for the Westlands Water District, a politically influential irrigation agency that has long battled the federal government on behalf of big agribusinesses in California's arid western Central Valley. Westlands has paid Bernhardt's firm $1.27 million in lobbying fees since 2011. Its demands for increased water flows to farms jeopardize endangered species in the ecologically compromised San Francisco Bay-Delta Estuary, particularly in times of drought. As a top-ranking Interior Department official, Bernhardt would be in a position to steer water allotments toward Westlands' large commercial farmers.
And speaking of swamps, toxic drainage from Westlands agricultural lands created an environmental disaster in the early 1980s, when a half-finished irrigation canal built by the federal government carried tainted Westlands water directly into a wildlife refuge. Migratory birds were killed or hatched with birth defects caused by naturally occurring selenium and heavy metals in the water. A long-running legal battle over the disaster finally culminated in a proposed settlement between the Interior Department and Westlands in 2015, which put the onus on Westlands to deal with the aftermath of the pollution while forgiving its roughly $375 million debt to the government. Bernhardt represented Westlands in the negotiation of the settlement, which is yet to be finalized.
In a letter of opposition directed to members of the Senate, Earthjustice and other environmental groups highlighted yet another of Bernhardt's potential conflicts-of-interest stemming from his work on water issues in California. "Mr. Bernhardt's lobbying firm has a significant financial stake in the Cadiz project, which seeks to pump water from an aquifer beneath California's fragile [Mojave] desert and sell it to Southern California urban water agencies," the groups wrote. "Scientists fear that the proposed pumping would significantly damage Mojave National Preserve and Mojave Trails National Monument by drying up springs and other waters that are critical for bighorn sheep, bobcats and other wildlife. The Cadiz project will require permits from the Department of the Interior to move forward, and, if confirmed as deputy secretary, Mr. Bernhardt would be in a position to approve this ill-advised project, which could make millions for his firm."
In November, Bernhardt gave up his work as a lobbyist to join Trump's transition team. Rather than ban former lobbyists from federal posts where they could deliver sweetheart deals to their past clients, the Trump administration has opted to hire lobbyists as long as they promise to recuse themselves from projects involving former employers for two years. Yet under an executive order issued by Trump during his first week in office, the president can grant waivers exempting lobbyists from this two-year ban—and no public disclosure is required when such waivers are issued.
As Earthjustice wrote in a letter to the White House counsel last week, "That's a loophole big enough to march an army of lobbyists through."
Bernhardt's confirmation to the Department of the Interior would be a gift to the extractive industries and private interests bent on monetizing our country's precious land and water, putting these irreplaceable public resources at risk. That's why Earthjustice has joined other conservation organizations and their millions of members in calling on the Senate to roundly reject his nomination.
Based in Portland, OR, Rebecca is Earthjustice's Public Affairs and Communications Officer for lands, wildlife, and oceans.
Established in 1989, Earthjustice's Policy & Legislation team works with champions in Congress to craft legislation that supports and extends our legal gains.