Giving People a Voice At the UN Climate Talks
During the UN climate talks it's important that people who aren't at the conference have a voice that is heard when their governments make critical decisions related to climate change.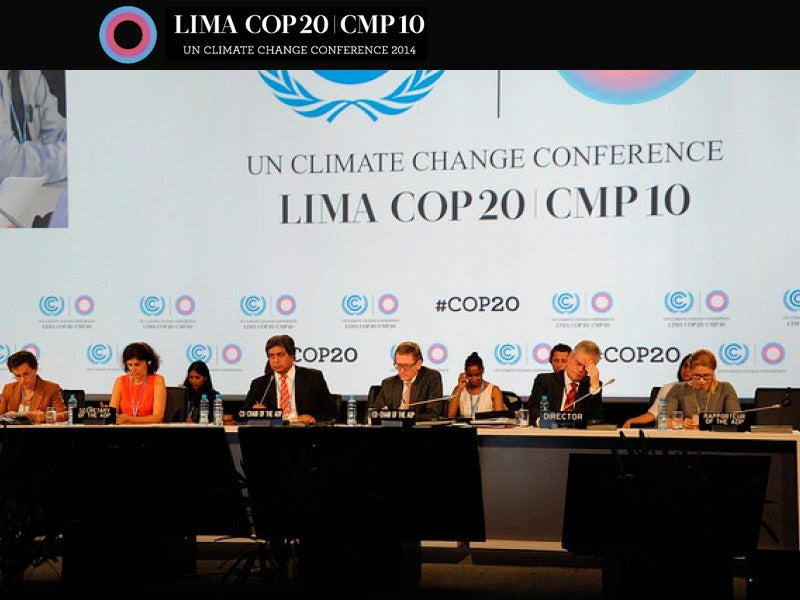 Delegates from nations around the globe are currently in Lima to negotiate the next climate agreement. But few may know that these negotiations don't occur (at least not entirely) behind closed doors. In fact, non-governmental organizations like Earthjustice can join in much of the action as observer organizations.
As we participate in the climate talks, our role as an observer is limited. We can't go to all of the negotiations. Even when we can, we don't necessarily have the right to speak. But we can help delegates understand the legal implications of including certain language in the climate agreement.
We can also help ensure that people who aren't at the conference have a voice that is heard when their governments make critical decisions related to climate change. This is because the 196 Parties that signed the United Nations Framework Convention on Climate Change (UNFCCC) agreed to promote and facilitate public participation at the national level in their efforts to address climate change and its effects.
The public has a right to participate in the national implementation of international treaties on climate, but important questions remain unanswered. How do countries make sure that participation is meaningful? How does this participation benefit these countries? And how might the convention help countries to implement their obligations for public participation?
We posed these questions to more than 100 people at an Earthjustice co-sponsored event on day one of the 20th Conference of the Parties (COP20). The intent was to actually interact with, not simply talk to, the participants in defining ways for the UNFCCC to help countries understand how and why to engage the public back home. This dialogue helped kick off the Lima Climate Talks with inspiring calls to action and highlighted the important role for public participation and each country's obligation to give their citizens a voice in the climate decision-making process. Some of the more popular suggestions we heard were:
Participation in preparation of reports required at the national level for implementation
Greater transparency between civil society and delegations
Mainstreaming public participation across all aspects of climate governance
Climate change impacts all of us. If we are to develop meaningful solutions to tackle the greatest environmental threat we have ever known, then we must recognize the value of engaging the public in this process. We may not know what will come from this particular climate conference, but we do know that the people's voices should help shape whatever agreement is achieved.
Abby Rubinson was an attorney in Earthjustice's International program, devoted to fighting for international human rights, such as community impacts from dams in Panama and Brazil.
The International Program partners with organizations and communities around the world to establish, strengthen, and enforce national and international legal protections for the environment and public health.