Green the Church: On a Mission of Faith for Sustainability
The Green the Church movement is teaming up with spiritual leaders to engage churches and other houses of worship in the climate fight. (Spanish language version available.)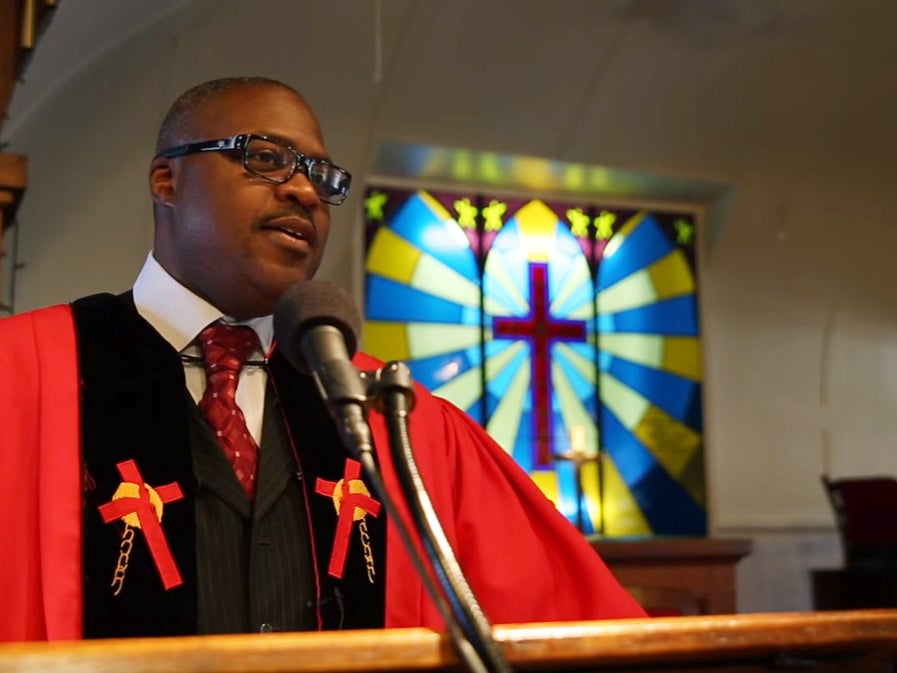 Este blog está disponible en español aquí.
African American churches have been on the frontlines of the most important social movements of the last century. The movements begin at the pulpit, with preachers stirring their congregation to action via Sunday sermons that link spirituality and faith to a greater calling.
"The bible has a call for stewardship and a call to action—there's a hook around sustainability," says Julian McQueen, Green for All's director of education and outreach.
Green for All's Green the Church is commonly referred to as a movement, with founders McQueen and Rev. Ambrose Carroll saying it is bigger than just a program – it is a force on climate action.
"I come from a very social justice church atmosphere," Carroll says. "For us, climate change is the civil rights issue of our day."
When McQueen joined Green for All in 2008 on the organization's 28th day of existence, he felt a calling to engage local community leaders and youth in protecting the environment. Now, serving as Green for All's director of education and outreach, he has found success by creating Green for All's All Fellowship program, which helps fellows develop skills to build community-generated solutions and organize in their cities. He's also spearheaded the organization's College Ambassadors Program, which supports the leadership development of students at historically black colleges and universities.
It was at Green for All some years later that he teamed up with Rev. Carroll, formerly a fellow, to pinpoint how they could move the African American church to engage in the climate fight.
In November 2014, the early stages of what is now known as Green the Church was born to grow sustainability programs and practices across the United States. To goal was to create a massive coalition of 1,000 faith partners across the country to share the need for conservation and preservation while seeking climate justice for disproportionately impacted communities.
"As we went to friends, brothers and sisters in the clergy and in the congregations, they wanted to show that this global issue was our issue," says McQueen.
Carroll, a native of Oakland, California, is passionate about serving inner city communities and had been looking for a way to draw from his faith to spotlight global warming's effects. He is working to engage with communities around how to reduce their carbon footprint and activate other tools to prevent environmental damage.  
Green the Church is close to having 400 churches in 28 states represented as of June 2016. It's focusing its efforts on states engaged in work around both the Clean Power Plan, which sets a national limit on carbon pollution produced from power plants, and the "Polluters Pay Fund," a campaign push by Green for All to make polluters pay to clean up their own toxic messes.
Gaining momentum to grow the houses of worship involved in the climate movement is not easy, but it is having a domino effect.
"It was so powerful," says McQueen. "The call went out by word of mouth and made its way through the networks of churches and the response has been real."
The national Green the Church program is a partnership between the grassroots organization's parent, Green for All, in addition to churches and the U.S. Green Building Council. While not all churches and congregation properties have the resources to be LEED-certified, the council is sharing strategies on how to make places of worship, church centers and related facilities more sustainable.
Heading into its second year this fall, Green the Church is ramping up its engagement efforts so that churches have partners and allies within the state to support each other. The support and dissemination of information is all encompassing, with guidance and educational tools on how communities can take action on environmental issues.
"This is about building power," Carroll says. "Our communities have bared the brunt of climate change and pollution enough. We want to see more churches green their facilities and share the word of sustainability. Decrease carbon emissions, raise green economy opportunities and flex the power of the African American church."
In August 2015, Green the Church hosted its first three-day summit in Chicago at Trinity United Church of Christ, which is also President Obama's home church. This summer, Green the Church is hosting faith-based trainings with clergy and leadership across the country. Among the topics is a candid discussion of how communities of color can best align and develop strategies to influence environmental solutions.
The group will descend upon the Baltimore, Maryland, region October 25 to 27 to host a summit with an expected 1,000 church leaders. The primary target for training has been church leadership—starting with pastor level leadership to reach the congregation from the top down.
"We want to make a real splash in the political fights by leading with moral calls to action to make polluters pay and invest in the communities most impacted by climate change," says Carroll. "That's my biggest hope—a push toward systemic change."
In addition to being active in the Green the Church movement, Carroll is pushing back on a proposed coal terminal in Oakland. Carroll believes there is a need for organizations of all sizes from grassroots to grasstops (for example, large NGOs) to work together and go beyond the labels of environmentalist, conservationist and others to define their commitment to saving the planet.
"Are people thinking they're environmentalists? No, they're thinking of protecting their kids from a toxic site," Carroll says. "We try to categorize and get everything to fit in these finite places, but it's our job to talk about climate change and connect the dots to social justice."
Both McQueen and Carroll are thought partners, armed with faith and passion for service to their communities with the hope of continuing to bridge a gap between the faith and environmental communities who want to create change.
They and the thousands they have signed on to the journey are guided by a moral imperative to protect the earth, but they do not define their relationship with the earth in the same ways as others.
"There's a biblical text that talks about Elijah, and at one point in his ministry he was by himself. Elijah says, 'It's I and I alone and no one else is left.' And God says, 'You are not alone.'"
"That's how we feel about doing this work," says Carroll. "It's about bringing people out of isolation."
Volvamos Verde la Iglesia: Una Misión de Fé Hacia la Sustentabilidad
Las iglesias de la comunidad afroamericana han estado al frente de los movimientos sociales más importantes del siglo pasado. Los movimientos han empezado en el púlpito, con predicadores que emocionan y animan a sus congregaciones a actuar a través del mensaje en sus sermones dominicales que unen la espiritualidad y la fé con un propósito más allá de lo terrenal.
"La Biblia contiene un llamado al liderazgo y un llamado a la acción—hay un vínculo con la sustentabilidad," dice Julian McQueen, director de educación y divulgación del grupo Green for All.
Se dice comúnmente que "Volvamos Verde la Iglesia" del grupo Green for All es un movimiento creado por sus fundadores, McQueen y el Rev. Ambrose Carroll,  pero agregan que es algo mayor que solamente un programa– que se trata de una fuerza sobre acción climática.
"Yo provengo de un ambiente religioso con mucho contenido de justicia social," dice Carroll. "Para nosotros, el cambio climático es equivalente a la batalla por los derechos civiles de nuestra era."
Cuando McQueen se unió a Green for All en el 2008 el mismo día que la organización celebraba su 28o día de existencia, sintió un llamado a involucrarse con líderes de la comunidad y con la juventud para proteger el medio ambiente. Ahora en su función de director de educación y divulgación para Green for All, ha encontrado el éxito al crear el  Programa de Fraternidad de Green for All que ayuda a los becados a desarrollar habilidades y recursos para construir soluciones generadas por la comunidad y así poder organizarse en sus ciudades. También ha encabezado el  Programa de Embajadores Universitarios de la organización que busca fomentar la creación de liderazgo comunitario y ambientalista en comunidades de color a través de apoyos a universidades de la comunidad negra.
Fue en Green for All, algunos años después, que se asoció con el Rev. Carroll, un antiguo becario, para examinar cómo podían animar a la iglesia afroamericana a comprometerse en la lucha por el clima.
En noviembre del 2014, las etapas iniciales de lo que hoy se conoce como Volvamos Verde la Iglesia nacieron para establecer programas y prácticas de sustentabilidad por todo Estados Unidos. La meta era crear una coalición masiva de mil colaboradores de comunidades de fé a nivel nacional para compartir la necesidad de velar por la conservacipon y la preservación mientras se busca la justicia climática para comunidades que son afectadas desproporcionadamente.
"Conforme contactamos a nuestros amigos, hermanos y hermanas en el clero y las congregaciones, ellos querían demostrar que éste era un problema global," dice McQueen.
Carroll, un nativo de Oakland, California, se siente muy entusiasmado de servir en las comunidades urbanas que han estado buscando la manera de usar su fé para atraer la atención hacia los efectos del calentamiento global. Está trabajando para entrenar a las comunidades sobre cómo pueden reducir su huella de carbono, así como la manera de activar otras herramientas para evitar el daño ambiental.  
Volvamos Verde la Iglesia casi ha logrado que 400 iglesias en 28 estados estén vinculados en este esfuerzo para junio del 2016. Está concentrando sus esfuerzos en estados que están trabajando en el Plan de Energía Limpia (Clean Power Plan), una iniciativa de política establecida por la Administración Obama que a nivel nacional determinó un límite a la contaminación de carbono producida por plantas generadoras de electricidad, al igual que el "Fondo los Contaminadores Pagan," una campaña iniciada por el grupo Green for All para obligar a pagar a quien sea responsable de esa contaminación.
Agarrar tracción para incrementar el número de iglesias participando en el movimiento climático no es fácil, pero está teniendo un efecto dominó.
"Fue muy poderoso," dice McQueen. "El llamado fue de boca en boca y se fue pasando por los enlaces creados entre las Iglesias y la respuesta ha sido verdadera."
El programa nacional Volvamos Verde la Iglesia es una colaboración entre la organización principal de  grupos comunitarios Green for All, al igual que las iglesias y el Consejo de Construcción Verde de Estados Unidos (U.S. Green Building Council). Si bien es cierto que no todas las iglesias y las propiedades de las congregaciones tienen los recursos para recibir la certificación LEED, el Consejo comparte sus estrategias para volver a las iglesias, centros religiosos y otras instalaciones similares más sustentables.
Al comienzo de su segundo año de existencia este otoño, Volvamos Verde la Iglesia está aumentando sus esfuerzos para que las iglesias tengan aliados dentro del estado y así respaldarse mutuamente. El apoyo y la diseminación de información es integral con la ayuda de herramientas educativas para que las comunidades puedan tomar acción sobre problemas ambientales.
"Se trata de construir poder," Carroll dice. "Nuestas comunidades han tenido que soportar el peso del cambio climático y la contaminación por demasiado tiempo. Queremos ver que más iglesias vuelvan verdes sus instalacionesy compartan las ideas sobre la sustentabilidad. Bajar las emisiones de carbono, aumentar las oportunidades de una economía verde y demostrar el poder de la iglesia afroamericana."
En agosto del 2015, Volvamos Verde la Iglesia organizó su primera cumbre con un evento de tres días en Chicago en la iglesia Trinity United Church of Christ, que también funge como la iglesia del Presidente Obama. Este verano, Volvamos Verde la Iglesia será anfitrión de sesiones de entrenamiento con base en la fé para miembros del clero y líderes de todo el país. Entre los temas habrá una discusión abierta sobre cómo las comunidades de color pueden desarrollar estrategias para lograr soluciones ambientales.
El grupo llegará a la región de Baltimore, Maryland, del 25 al 27 de octubre para recibir a alrededor de mil líderes religiosos. La meta principal para el entrenamiento ha sido el liderazgo de las iglesias—empezando con liderazgo a nivel pastoral pero que quiere alcanzar los más altos niveles de las congregaciones.
"Queremos provocar un revuelo a nivel político por medio de llamados a la ética para lograr que los contaminadores paguen e inviertan en las comunidades más afectadas por el cambio climático," dice Carroll. "Esa es mi esperanza más grande—un salto hacia el cambio dentro del sistema."
Aparte de estar activo dentro del movimiento Volvamos Verde la Iglesia, Carroll se opone al proyecto de una terminal de carbón en Oakland.
Carroll cree que hay una necesidad de que organizaciones de todos tamaños y grados de influencia (desde grupos comunitarios hasta las grandes NGOs) trabajen juntas y se puedan dejar atrás las etiquetas de "ambientalista", de "conservación"  y otros términos que definen su compromiso para salvar el planeta.
"¿Piensan ellos que son 'ambientalistas'? No, ellos piensan en proteger a los niños de un sitio tóxico," Carroll dice. "Estamos categorizando para lograr que todo quepa en estos términos limitantes, pero es nuestro trabajo hablar sobre el cambio climático y conectar los puntos hacia la justicia social."
McQueen y Carroll son compañeros de ideales, y usan su fé y su pasión de servir a la comunidad con la esperanza de unir a los grupos de fé con grupos ambientalistas que quieran ayudar a lograr el cambio.
Ambos se han unido a miles de personas cuyas firmas los comprometen a emprender un trayecto con el imperativo moral de proteger la tierra, pero no definen su relación con ella de la misma manera que los demás.
"Hay un texto bíblico que habla sobre Elías, quien en algún punto de su apostolado se encontró solo. Elías dice 'soy yo, y yo solo y no queda nadie más.' Y Dios le dice, 'No estás solo.'"
"Así es como nos sentimos sobre esta labor," dice Carroll. "Se trata de sacar a la gente de su aislamiento."
Para más información sobre Green for All o Volvamos Verde la Iglesia  visite www.greenforall.com.
From 2014–2016, Betsy was a bilingual press secretary on the Advocacy Communications team.